Gut Check has been looking back on the Riverfront Times Best of St. Louis 2012, but we're also keeping an eye on the Best of St. Louis 2013 by nominating finalists for our awards this fall. To see hundreds more winners and finalists, suggest your own contenders and download the Riverfront Times Best of St. Louis mobile app, visit our Best of St. Louis homepage.
Jennifer Silverberg
Is this the best Indian food in St. Louis?
From restaurants that are bright and splashy to those that are nestled in unassuming strip malls, St. Louis has Indian restaurants to suit most any taste and budget (lots of these have excellent lunch buffets). So read to find where to get the best saag paneer, lamb vindaloo or a little something known as a "Bollywood Popper."
India's Rasoi (25 North Euclid Avenue; 314-361-6911) A modern twist on the standard Indian restaurant, India's Rasoi offers a sleek, colorful atmosphere and serves up equally bright dishes, not the least of which includes a "Bollywood Popper," an Anaheim pepper stuffed with shrimp in a coconut sauce. Or try a unique fusion dish, the spicy "Calcutta Fish and Chips" that demonstrates the wonderful impact of Indian cuisine has had on Great Britain. But don't worry, your traditional Indian favorites are still very much a part of the menu, ready to be enjoyed with basmati rice served in abundance alongside its excellent golden-brown naan. Tandoori offerings are classed up with the spicy, complex and exceptionally tender masadelar lamb chops, and palak paneer -- cubes of homemade cheese in creamed spinach -- is right on the money. Though India's Rasoi's inspired menu is bit pricier than some of the other locations on this list, its distinctive dishes are more than worth it.
See also: - RFT Review: India's Rasoi - 2006 Best of St. Louis: "Best Indian Restaurant"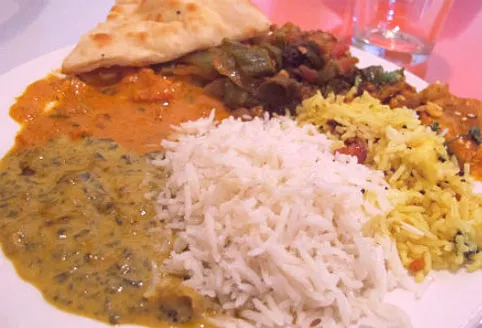 Gokul Indian Restaurant (6101 Delmar Boulevard; 314-721-1888) Sitting on the eastern end of the Delmar Loop, Gokul is a 100 percent vegetarian restaurant that offers both a set menu and an all-you-can-eat buffet. It is wondrous. For a mere $6.99 the lunch buffet is one of the best deals in town with no less than ten main dishes that are always accompanied by many fried appetizers and side dishes as well as desserts including kheer (rice pudding) and gulab jamun, milk pastry balls served in syrup. Traditional Indian fare includes the reliable saag paneer, a creamy sauce made with homemade cheese and spinach, or the vegetable korma, packed with a variety of vegetables drenched in a rich tomato sauce. And of course be sure to grab an order of naan to soak up every drop of it.
See also: - The Veggielante: "Gokul Indian Restaurant a Haven for Vegetarian Diners" - The Ten Best Vegetarian Restaurants in St. Louis
House of India (8501 Delmar Boulevard, University City; 314-567-6850) We were all a bit traumatized when word came that House of India was closing after a small fire a few months back. Thankfully, Riverfront Times' Best Indian Restaurant of 2012 came back better than ever, complete with new carpeting! The University City staple has sat atop the ranks of St. Louis' Indian cuisine for seventeen years, and it shows no signs of slowing down. A quick drive up Interstate 170 to the Delmar exit gets you straight to House of India's lunch buffet, and then it's on. Load up your plate with creamy vegetable korma, red tandoori meats straight out of the clay oven, doughy naan and rice pudding. And if that isn't incentive enough, House of India charges a flat rate of $5 per pound for a to-go buffet selection. If you're there for dinner, try lamb vindaloo or chicken karahi -- you know what? Pick whatever you want; it's going to be good.
See also: - Lunch Bucket List: "Spicing Things Up with House of India" - 2012 Best of St. Louis: "Best Indian Restaurant"



















Mayuri (12513 Olive Boulevard, Creve Coeur; 314-576-7272) Indian cuisine is often a favorite of those who enjoy dishes that leave a fiery, burning sensation, and in this respect Mayuri doesn't disappoint. A fearsome serving of lamb vindaloo and the Andhra chicken both are listed as extra spicy on Mayuri's sprawling menu, and either choice might force you to surrender to a glass of cold milk or a scoop of ice cream. If you're looking for something less intense, there are plenty of alternatives -- at Mayuri you're certain to find something that tastes good. In fact, you might initially be a bit overwhelmed by the number of options to choose from: Mayuri provides a wide selection of food from India's southern and northern regions. So, put on your brave face and try a dish you've never had before, or just ask your server for a one of their favorites.
See also: - RFT Review: Mayuri - 2009 Best of St. Louis: "Best Indian Restaurant"
Spice-n-Grill (6800 Olive Boulevard; 314-721-2421) Sitting in a nondescript building on Olive Boulevard, Spice-n-Grill is easy to drive past and never give a second glance. Oh, the misfortune. There are only a few small tables for dining in, so this is primarily a takeout kind of place that features Indian and Pakistani staples. Popular favorites, like chicken tikka masala, chana masala and saag paneer are more than satisfactory, but don't be afraid to go bold -- try the lamb or goat dishes, such as spicy, tomato-based goat karahi. There's one dish, though, that stands out among the rest: Spice-n-Grill's beef nihari, a bright Pakistani stew flavored with ginger, lime and cilantro packed with tender bits of beef shank.
See also: - Spice-n-Grill's Beef Nihari: One of 100 St. Louis Dishes You Must Eat Right Now - RFT Review: Spice-n-Grill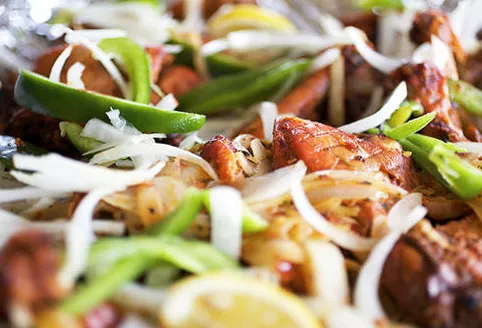 Haveli (9720 Page Avenue, Overland; 314-423-7300) Don't judge a book by its cover: Remember that adage when you pull up to Haveli and discover yourself on a relatively isolated stretch of Page Avenue. Rest assured, the trip will have been worth it once you go inside. The menu here is classic Indian fare with a wide selection of chicken, lamb and vegetarian dishes. Goat curry, rich and gamey, definitely deserves a try, while the navratan korma is a complex vegetable dish that blows away your garden-variety vegetable sampler. The chef at Haveli, Piara Ram, is a 25-year veteran, so you're in good hands no matter what dish you choose. After taking a seat, you'll be pleasantly surprised by a complementary order of pappadam. These thin lentil wafers should be dipped into the bright green mint chutney, and after gorging on pappadam you can continue to make use of the chutney by pouring it over a vegetable samosa, or anything else, really. A lunch buffet is also available.
See also: - RFT Review: Haveli - 2011 Best of St. Louis: "Best Indian Restaurant"
Raj's Rasoi (2286 McKelvey Road, Maryland Heights; 314-576-6666) Sitting in an unassuming Maryland Heights strip mall, Raj's Rasoi serves up authentic Indian food with an all-vegetarian menu. Chef-owner Raj has put together an extensive collection of dishes (more than 60 meat-free options) from vegetable korma, mixed vegetables in a creamy tomato sauce, to mutter paneer, a blend of homemade cheese, peas, onions, tomato, garlic, ginger and cream. And for you vegans, on Wednesdays the restaurant goes the extra mile with an all-vegan lunch buffet. The comfortable setting is made all the better by the friendly staff who are there to make suggestions and guide you through some of the less-familiar selections. So sit back, enjoy, and discover why Raj's is always listed as one of the top vegetarian spots around.
See also: - 2008 Best of St. Louis: "Best Indian Restaurant"