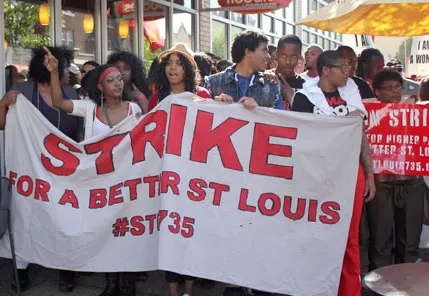 Fast-food workers and their supporters kept their pledge yesterday in staging a large and boisterous march and rally Thursday afternoon in the Delmar Loop.
See also: - St. Louis Fast-Food Workers Want Better Pay, Union Representation - Slideshow: Fast-Food Workers March Though Delmar Loop
Chanting slogans such as "get up, get down; fast-food workers run this town!" and "we want change; and we don't mean pennies!" the group of more than 100 marched past Church's, Chipotle and other fast-food restaurants before ending at Vintage Vinyl for speeches.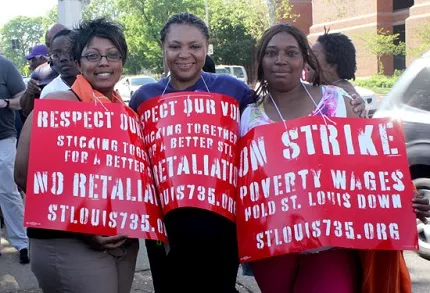 The demonstration follows similar protests in Chicago and New York in which employees walked off their jobs for a day. And like efforts in those cities, the group STL Can't Survive on $7.35 is asking that fast-food workers earn a living wage of $15 an hour and be free to join a labor union without retaliation from their employers.
Continue on for videos of yesterday's march.