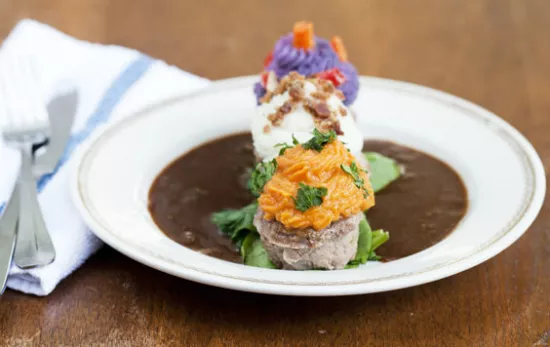 Jennifer Silverberg
Mini-meatloaf cupcakes at Plush, half-off during happy hour.
Plush (3224 Locust Street, 314-535-2686)
The Hours: 3 to 6 p.m. Wednesday through Friday, and all day Tuesday.
The Deal: Half off of well drinks, reduced-prized sixteen-ounce draft beers and half-off appetizers.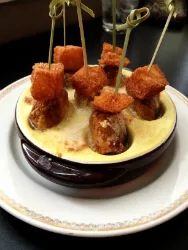 Caillin Murray
The French Onion Soup dumplings at Plush, smothered in gruyere cheese.
The Scene: Plush is your classic greasy-spoon diner, after that diner has taken one too many tabs of acid. A tower of fluffy white erupts behind the bar like trippy rainbow-dotted cumulonimbus, promising a storm of whiskey shots and showers of Sierra Nevada. Fans of Get Him to the Greek will find themselves wanting to stroke the furry wall to calm themselves down after imbibing one too many. Large, painted psychedelic flowers pulse from the walls, and even the tie-dyed napkins suggest that Plush isn't your ordinary Midtown spot. The surprisingly large diner/bar/venue is separated into three floors, with the first floor split with seating on one side, a music venue on the other. The second floor is host to more seating (some of which is bean bags) and various games like ping pong and the largest shuffle board Gut Check has ever seen. The venue side has a fully stocked bar, and both local and nationally touring bands perform on its small, intimate stage.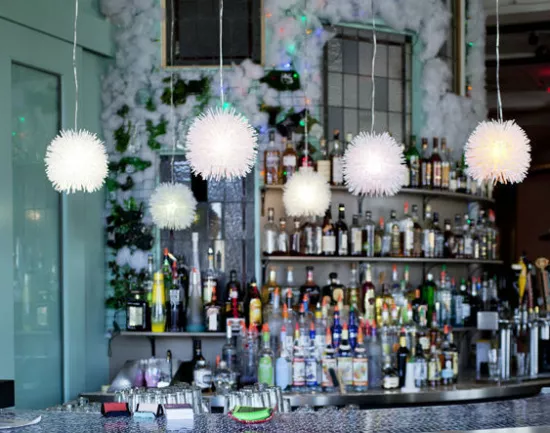 Jennifer Silverberg
Grab a drink at Plush's lush bar.
The food satisfies a wide range of appetites, from gourmands to stoners. French onion dumplings served with gruyere cheese share menu space with meatloaf cupcakes and chicken-fried bacon strips. The kitchen stays open till Plush closes at 1 a.m. so late-night munchies are sure to be satisfied. The bar itself is well-stocked, with a variety of liquors, wines and beers. The draft list is quite impressive, with quite a few local breweries, and Delerium Tremens making a surprise appearance. For liquor drinkers, Plush has a decent selection of vodkas and whiskeys, if you're looking for something other than rail.
Why You'll Go Back: Plush is a no-frills, come-as-you-are, shabby chic joint that feels intimate despite its 40,000-square-foot floor-plan. Plush's enormous plate of "Pfries" are comforting diner fare, but the restaurant's selection of ten different dipping sauces remind you that Plush is more than a greasy spoon.
The Verdict: Fighting with friends over what to do on a Friday night? With dinner, drinks, live music and ping pong all readily available at Plush, Gut Check thinks that suggestion would be a safe bet -- not to mention a heck of a good time.