St. Louis' neighborhoods are gems in their own right: full of history, great people and, as far as Gut Check is concerned, fantastic food. Each week we'll take you into a specific neighborhood and point you in the direction of the best places to grab some bites.
View West Delmar in a larger map
The Delmar Loop is one of St. Louis' biggest attractions, and for good reason. But sometimes you have to wander off the beaten path and do some exploring. That's why we suggest you check out Delmar Boulevard, west of the Loop, between Big Bend Boulevard and Interstate 170. Here, you'll find a collection of unique spots including a general store, a taco joint and a pizzeria serving it up New York style. In this post Gut Check will head west to discover Delmar's other side.
Winslow's Home (7213 Delmar Boulevard, University City; 314-725-7559) Winslow's Home is many things: A gourmet general store with a to-go case full of fresh, ready-to-heat-and-eat items including lasagna and hearty soups, and hearty meatball sub sandwiches. Dessert, you ask? The bakery counter churns out pastries, pies and addictive goat-cheese cookies. Winslow's Home stands out for its to-go selections alone, but wait, there's more. The kitchen boasts access to its own farm, which means it pulls the freshest ingredients for its seasonal soups and sandwiches. The beef brisket sandwich, slow-cooked and topped with Havarti cheese, is so in-demand that it often sells out early in the day. And then there's the grilled cheese, named by Esquire Magazine as one of America's best. It's wholly deserving of the title. With an expanding dinner menu (fried chicken Tuesday!), a popular brunch (quiche!) and a not-too-shabby wine selection, Winslow's Home satisfies on every level.
See also: - 2012 Best of St. Louis: Best Takeout Counter (Gourmet Division) - Gut Check's Mother's Day Brunch Roundup
Dewey's Pizza (559 North and South Road, University City; 314-726-3434) Though a Cincinnati-based pizza chain, Dewey's is quickly becoming a St. Louis favorite with four locations in the metro area. The menu has all your traditional pizza toppings (pepperoni, black olives, anchovies), but you can also kick it up a notch with gourmet choices (Amish chicken, goat cheese, pine nuts) for your thin, but not St. Louis-thin, pie, which can be eleven, thirteen or seventeen inches. The "Edgar Allan Poe," topped with mushrooms, kalamata olives, whole roasted garlic cloves and three cheeses, is one of many specialty pies with a clever name (others include "Socrates' Revenge" and "Dr. Dre") and tasty combinations of ingredients. Dewey's also offers salads and calzones, but besides pizza, the best part of the menu is the rotating tap of craft beers that go perfectly with whatever pizza you decide on. Edgar Allen Poe would approve.
See also: - 100 Best St. Louis Dishes: The "Edgar Allan Poe" at Dewey's Pizza
Momos Ouzaria Taverna (630 North and South Road, University City; 314-863-3511) Though tucked away off the beaten path, Momos might be the best place to find both classic and modern Greek fare in St. Louis (in fact, we named it "Best Greek Restaurant, 2012"): dolmades, kebabs, gyros and orzo alongside lima-bean salad and baked phyllo with a rich chocolate sauce. The atmosphere (belly dancers!) and décor (an elaborate tile mosaic and pressed-tin ceiling painted ocean blue) matches the Mediterranean cuisine. Start with the htipiti, a roasted-red-pepper spread topped with capers, feta cheese and olive oil awaiting warm pita bread. Of course, you can't go wrong with a traditional gyro, but Momos crams more than 65 items onto its menu, categorized into cold and hot plates (or mezes). If you're overwhelmed, the lamb is pretty much a no-brainer, available on a kebab with leeks and red peppers and or solo with fig puree to spice it up. And did we mention the drink menu? Well, it's extensive, featuring cocktails named for gods and goddesses and the famed Greek anise liqueur ouzo, strong enough to make you sway in rhythm with the belly dancers.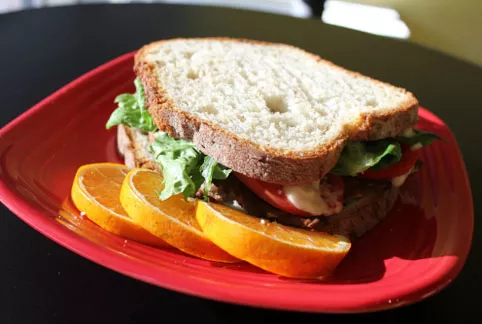 Frida's Deli (622 North and South Road, University City; 314-727-6500) Frida's Deli is a vegetarian deli. You heard us right: a vegetarian deli. The menu is chock full of veggie, vegan and gluten-free options put together by owner Natasha Kwan, a 29-year veteran of all things green and healthy. "Everything on the menu is what I'd want to order, what I'd want to have available to me," says Kwan. And that includes meat-free alternatives such as seitan, tempeh and Match Meat that are utilized in familiar deli items like "crab cake burger," "steak" sandwich, tempeh "BLT" and spicy buffalo "chicken" sandwich. Most of the sandwiches are in the $8 to $10 range and pack enough heartiness to fill you up while keeping your arteries clear. The best example might be the Frida burger, which Kwan says customers have likened to the flavor of a "Big Mac" from McDonald's -- without the fat and cholesterol, of course.
See also: - 2012 Best of St. Louis: Best Burger (Non-Beef Division)
La Pizza (8137 Delmar Boulevard, University City; 314-725-1230) This is an authentic East Coast pizza joint, so get ready to fold that monster slice in half and enjoy some of the best pizza you'll ever sink your teeth into. Starting with the foundation, the crust is thin but crispy, and strong enough to support the 100 percent whole-milk mozzarella sitting on top. And this is no chain, just a small kitchen where everything is housemade, from the meatballs to the lasagna noodles. The owners are alums of Bob's Seafood, so you can top your pie with lobster, crab, shrimp and even salmon -- call ahead, though. Beyond pizza, try the stromboli, or calzone, or the sausage roll or...you get the point. Anything covered in La Pizza's rich, creamy tomato sauce works just fine.
See also: - Cheese Pizza at La Pizza and The Amazing Spider-Man - The Five Best Thin-Crust Pizzas in St. Louis
Flaco's Cocina (8400 Delmar Boulevard, University City; 314-395-4343) Flaco's knows tacos, and it has some of the best fish tacos in town. The tempura-battered fish tacos are the best place to start, served with tart cabbage slaw and a mildly spicy sauce in soft flour tortillas. But this hole-in-the-wall Tex-Mex delight offers more than just tacos: enchiladas served with a rich, complex mole, and the surprisingly fiery chiles rellenos, or you can go big with the chorizo kebab topped with delicious saffron barbecue sauce. The regulars, though, will point you to the mixed-grill platter, a chef's choice of fresh fish of the day, two large shrimp and the option of chorizo, chicken or steak, plus a massive pile of garlic sweet-potato hash and a serving of sautéed spinach. This entree is big enough to share...but that's ridiculous, be greedy.

Jilly's Cupcake Bar (8509 Delmar Boulevard, University City; 314-993-5455) After multiple wins on Food Network's Cupcake Wars, Jilly's cupcakes have garnered some legit street cred. Their lineup includes the "Carrot Cake," moist carrot-cake base with cream cheese frosting and slivers of candied carrot, and the "PB and 'J'illy," which features raspberry and peanut-butter buttercream. For the ultimate dip into decadence, go with the "Chocolate Thunder," chocolate cake stuffed with dark chocolate ganache, with milk chocolate buttercream, vanilla buttercream, chocolate shavings and chocolate bark. Keep your eyes peeled for seasonal specialties, like the "Chicken and Waffles," which looks and tastes exactly like it sounds. Jilly's also offers a lunch menu with a long list of soups and sandwiches, which are all great, but afterward you'll have to get dessert. The stacks of cupcakes simply cannot be ignored.
See also: - Jilly's Cupcake Bar & Cafe Wins Cupcake Wars a Second Time
House of India (8501 Delmar Boulevard, University City; 314-567-6850) A few months ago, a small fire forced a temporary closing at one of U. City's most prized possessions, a sad day indeed. Thankfully, the Riverfront Times' "Best Indian Restaurant, 2012" made a quick recovery. But don't call it a comeback: It's been there for seventeen years, and that's longevity. For lunch, saunter up to the buffet where you can load up your plate with creamy vegetable korma, red tandoori meats straight out of the clay oven, and throw on some doughy naan and rice pudding. If you're there for dinner, try the lamb vindaloo or chicken karahi. The menu is massive and filled with about a gazillion traditional Indian dishes, which just means you'll have to go back about gazillion times to try them all.
See also: - House of India Reopens Today After Fixing Fire Damage
Guo Bin (8600 Delmar Boulevard, University City; 314-997-0906) Guo Bin can be found in the Brentmoor Retirement Community building (look for the Chinese déco) just west of Interstate 170, so it's a bit out of the way. But the massive menu boasts pretty much every Chinese dish you've ever heard of, and even some you haven't. Start with the crab rangoon and move on to the Peking duck for a simple introduction. Whether you're there to pick up or dine in, take advantage of the full bar, and try out some Chinese cocktails. The next time you go -- and you will go back -- explore the menu to find a new favorite. Guo Bin is vegetarian friendly, open seven days a week and will deliver, so there's really no excuse to bypass this little gem.