Mabel Suen
El Jibarito, a fried plantain "sandwich" with pork belly, tomato-chipotle jam, avocado and pickled red onion.
From the formidable forces behind the successful pizza empire that is St. Louis chain Pi Pizzeria comes a new concept called Gringo (398 North Euclid; 314-449-1212), which opened its doors in the Central West End last week with a full menu of tacos, margaritas and more.
See also: - Pi Pizzeria Team Opening Gringo - First Look: New Moon Room at the Moonrise Hotel - First Look: Central Table Food Hall
Co-owner Chris Sommers describes Gringo as, "a mid-century Baja beach party," and the brightly lit 3,300-square-foot dining room complete with a hanging swordfish matches his vision accordingly. Finished wood, a recurring bright blue and yellow logo, and black-and-white portraits of Gringos in Latin American garb accentuate the space.
There's room for 24 at the bar, 84 in the dining room and 68 on an outdoor patio that wraps around the building at the corner of Euclid and McPherson Avenues.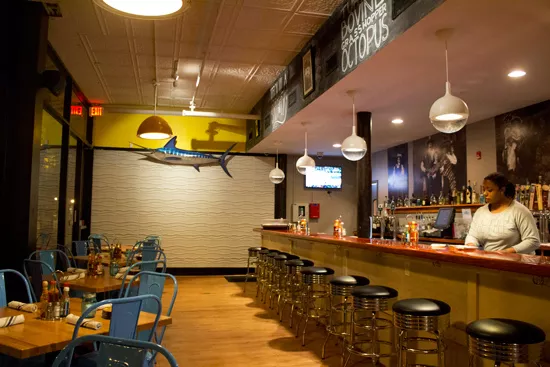 Pi executive chef Steve Caravelli heads up the menu with sous-vide cooked meats. Each meal begins with chile dusted tortilla chips and house roasted tomato-chipotle salsa -- the first one's on them and then it's about a buck for a refill.
Tacos come in options such as al pastor ($3.50), grilled octopus ($3.50) and Sommers' personal favorite, pescado ($3.50), with grilled or fried snapper, Napa cabbage slaw, chipotle crema and toasted pepitas. Brave and bold bug-loving folks can go for chapulines ($4.50) made with sauteed grasshoppers, guajillo pepper and avocado.
See a photo of the grasshopper taco on the next page!
Mabel Suen
Al carbon (marinated hanger steak), chapulines (sautéed grasshoppers) and pescado (fried snapper) tacos.
Other options include a list of starters including turkey ribs ($8.95) slow roasted and tossed in mole poblano, beef nachos ($6.95) and queso fundido ($7.95) with housemade chorizo, chihuahua cheese and poblano rajas. Quesadillas are served with roasted tomatillo sauce, and protein-focused entrees come with corn tortillas and rice and beans. Sides ($1.95) include street corn, stewed pinto beans with bacon and house-pickled jalapenos.
Beverage director Coby Arzola (also of Pi) shakes it up with a menu of specialty margaritas. Try them on tap for $6.25 (or $3.95 during happy hour Monday through Friday from from 3 to 6:30 p.m.), or choose from margaritas in a handshaken variety, tequila cocktails, micheledas and tequila shots.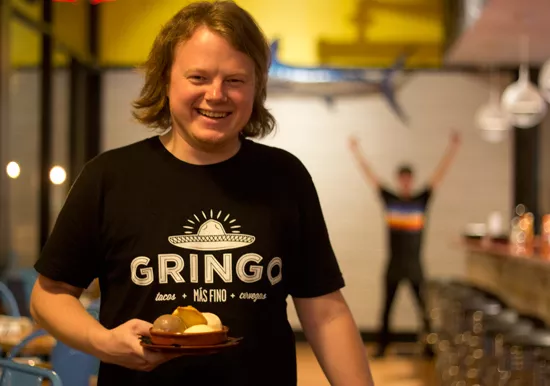 Mabel Suen
Here's our friendly server with dessert. Gut Check approves this photobomb.
"Coby literally grew up in his dad's Mexican restaurant, Chuy's, and went on to found Agave in the Grove. This guy knows his way around a handshaken margarita," says Sommers. "...Schalfly came through huge in developing a beer program for us based on the traditional beer styles of Mexico. We are offering a Schlafly/Gringo Pilsner, Vienna Ambar and Munich Negra."
Gringo is open Monday through Saturday from 11 a.m. to 12 a.m. and Sunday from 11 a.m. to 11 p.m. A weekday lunch special is available for $8.95. Visit gringo-stl.com to view the full menu.
Click through for more photos!
Mabel Suen
A shaken "classica" margarita ($8.25) with Espolon Blanco, Cointreau and fresh lime.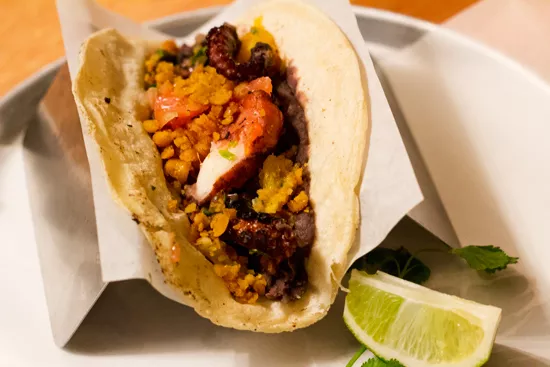 Mabel Suen
An "octo taco" with grilled octopus, black bean puree, cilantro gremolata and crunchy garbanzo beans.
Mabel Suen
Pozole ($4.95) with pork, hominy and chiles.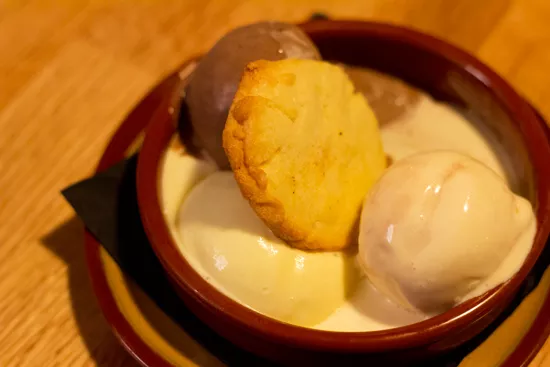 Mabel Suen
A trio of housemade ice creams for dessert -- dulce de leche, Mexican chocolate and margarita flavors.