Anyone who drinks soda in the Midwest has probably heard of Fitz's. The St. Louis soda empire first churned out its famous root beer in 1947, and since then, it's become the craft-soda standard with twelve year-round sodas and numerous other seasonal and special-edition soda flavors.
The best part? Fitz's Bottling Company (6605 Delmar Boulevard, University City; 314-726-9555) has a bar. With booze. Which a bartender will mix with Fitz's fancy soda.
Sure, Fitz's root-beer floats are the thing of legend. But we're adults here. Let's skip the ice cream and add some vodka, shall we?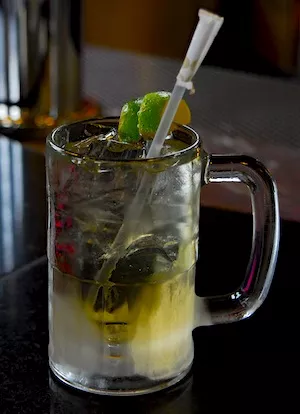 Fitz's does have a short list of recommendations for soda-alcohol pairings, but you have to ask for it. If you're feeling adventurous, you can also order off the menu, which is what Gut Check did on this occasion.
We asked the bartender to make us something with Fitz's special Pi Ginger Beer, a robust ginger beer with a delicate balance of spicy natural ginger and real cane sugar. It's only available through the summer, so now seemed like the perfect time to try this limited-edition brew. (In case you've never had it, ginger beer is almost always non-alcoholic and not actually a beer drink.)
Bartender Brian Schuman made us what he called the Schuman Mule (for no reason other than the fact that he invented it on the spot) with Fitz's ginger beer, vodka and lime juice. The ginger beer makes it a much spicier drink than one mixed with ginger ale, and it nearly masks the taste of the vodka. Our slight buzz upon downing the drink told us the vodka was there though. At $3.50 for a big ol' mug of booze and soda, the Schuman Mule is a great deal, too.
Fitz's just introduced another summer soda flavor on Sunday: key lime. We haven't tried it in a cocktail yet, but you totally should. Let us know what alcohol-soda combo is your favorite!
Editor's note: Wednesday. Hump Day. Congrats, you've made it halfway through the work week! Unfortunately, you still have two days to go.
Dunno about you, but in order to survive the midweek blues, we're going to need a drink. Which brings us to our Wednesday Gut Check feature: "Gut Check's Hump-Day Cocktail Suggestion."
Each week we take you to one of our favorite St. Louis bars (and, oh, the list is long) for a drink (or two) we -- in consultation with the bartender -- highly recommend.