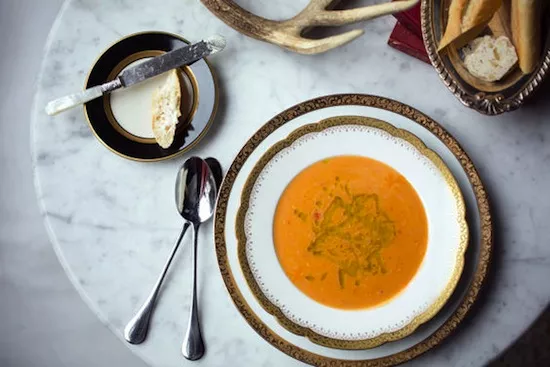 The lobster bisque at Bar Les Frères | Jennifer Silverberg
You could easily spend your entire time at Bar Les Frères (7637 Wydown Boulevard, Clayton; 314-725-8880), the new venture from restaurateur Zoë Robinson Pidgeon and her go-to chef Ny Vongsaly, discussing and (in my case, at least) admiring its quirky décor. Yet to do so would ignore the most important aspect of this tiny new Clayton spot: Its classic French cuisine is really, really good.
See Also: - Ian Froeb's RFT Review of Bar Les Frères (2013) - Jennifer Silverberg's RFT Slideshow of Bar Les Frères (2013)
Those of you who have burned before by the promise of old-school French dishes in contemporary St. Louis restaurants need look no further than the lobster bisque.
This is an unimpeachable dish. Unlike 98.2 percent of all lobster bisques in St. Louis and perhaps elsewhere (just a rough approximation), it brims with actual meat, and its flavor speaks of lobster with a whisper of sherry's sweetness.
Make sure your server brings you bread along with your soup course. You'll want it to soak up every last drop of broth.
The Gut Check One Hundred is our accounting of the 100 dishes in St. Louis that you must eat right now. These are the best dishes at the newest restaurants and the newest dishes at the best restaurants. These are the 100 dishes that define St. Louis dining in 2013. Our list culminates this fall when the Riverfront Times Best of St. Louis 2013 names the "Best Dish" of the year.
Is there a dish that you think belongs among the Gut Check One Hundred 2013? Let us know!
The Gut Check One Hundred 2013 (So Far)
The barbacoa dish at Taste | Ian Froeb
- Taste's "Barbacoa" - Green Bean's "Pueblito" Salad - Taste's Grilled Asparagus with Crisp Poached Egg - Guerrilla Street Food's Filipino Fried Chicken - Spice-n-Grill's Beef Nihari - Kim Cheese's "Kim Cheese Burger" - The Shack Pubgrub's "Shack-Which" - Sameem Afghan Restaurant's Muntoo - Local Harvest Cafe & Catering's "Organic Banh Mi" - Sugarfire Smoke House's Beef Brisket - Mad Tomato's Cavatelli with Spring Lamb Ragù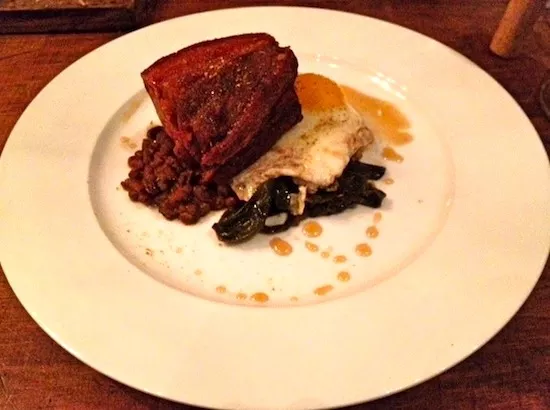 The "Pork-n-Beans" at A Good Man Is Hard to Find | Ian Froeb
- A Good Man Is Hard to Find's "Pork-n-Beans" [No Longer Available] - The Kitchen Sink's Corn Fritters - Chop Shop's "El Camino" Roll - Quincy Street Bistro's BLT - Home Wine Kitchen's Fried Chicken - Riverbend Restaurant & Bar's Red Beans and Rice - Fork & Stix's Sai Oua with Naam Prik Nuum - Gobble Stop Smokehouse's Turkey Tips - Seoul Taco's Burrito - Five Star Burger's Green Chile Cheeseburger - Olio's Octopus Salad
The Porchetta "Louie" at Dressel's | Jennifer Silverberg
- Dressel's Porchetta "Louie" - Cleveland- Heath's Seared Beef Tongue - Cleveland-Heath's Cauliflower Soup - Pastaria's Italian Ramen - Pi Pizzeria's "Grove" Pizza - Famous Szechuan Pavilion's Spicy Wonton Soup (Novice) or Yu Shan Pork (Advanced) - La Tejana Taqueria's Goat Soup - Hendricks BBQ's Ribs - Sauce on the Side's "Costanza" Calzone - Siete Luminarias' Guanajuato-Style Carnitas - Fork & Stix's Khao Soi