The ceiling and the iconic Moonrise Hotel moon | Kaitlin Steinberg
The Moonrise Hotel (6177 Delmar Boulevard; 314-721-1111) opened its brand-new rooftop bar last week for a special media preview of the space called the New Moon Room. Gut Check was there to scope it out and to chat with the duke of U. City and the man behind the New Moon Room, Joe Edwards.
"I never wanted to close the rooftop terrace bar in the evening because I wanted visitors to St. Louis to be able to enjoy it, as well as St. Louisans," Edwards says. "We also wanted to create something that is really green and responsible. This is the first hotel restaurant in the country where the roof is made of solar panels. It generates enough power to power everything on this whole rooftop as well as most of the next floor below us."
Indeed, the entire ceiling is composed of solar panels accented by globe lights painted to resemble different planets. The interior is painted in turquoise and dark purple with an obvious lunar-cycle motif expressed in the decorations around the space. Pops of color come from the plastic furniture that resemble the red chairs in the space station in 2001: A Space Odyssey.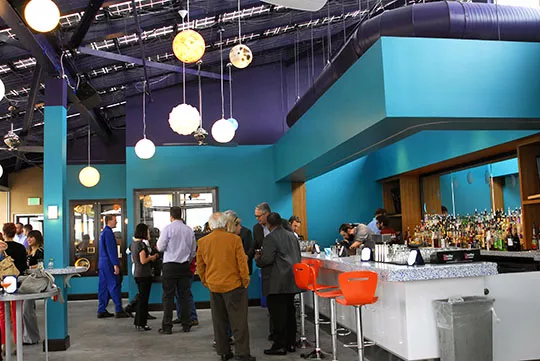 A view of the bar and the surrounding space | Kaitlin Steinberg
The chefs from Eclipse catered the media preview event, which offered up sliders, crispy egg rolls and homemade moon pies, among other treats. There were also waiters and waitresses in modified NASA uniforms walking around with trays of "lunar" sweets like Pop Rocks and packaged moon pies.
Homemade moon pies | Kaitlin Steinberg
The room is 2,100 square feet of lounge space and will be open to the public from 5 p.m. to 2 a.m. The space officially opens to the public tomorrow, Wednesday, May 8. It can also be rented out as a venue for private parties and events.
The well-stocked bar at the New Moon Room | Kaitlin Steinberg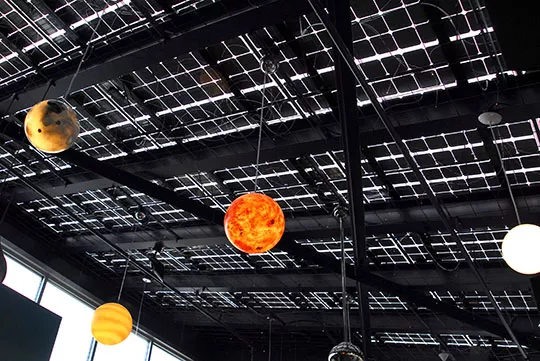 Light fixtures painted to resemble planets and fiber optic "stars" | Kaitlin Steinberg
After making a grand entrance in a space suit to the thunderous tones of "Thus Spoke Zarathustra" (another 2001: A Space Odyssey reference), Joe Edwards sat on a large cutout of the moon to take photos with media and invited guests.
"I love doing whimsical, one-of-a-kind things for the Loop to make life enjoyable," Edwards says. "We have certain globes painted like different planets, and then there are 600 fiber-optic filaments. As the night goes on and it gets a little bit darker, it looks like it's a starlit roof. There are 60 feet of glass on the front that opens up, so it really is an indoor/outdoor feel. And in the wintertime, when it's snowing, people will love coming up here to just watch the snow."
Photos of Joe in his rad space getup on the next page.
One small leap for Joe Edwards... | Kaitlin Steinberg
Joe playing the part of a hippie astronaut. | Kaitlin Steinberg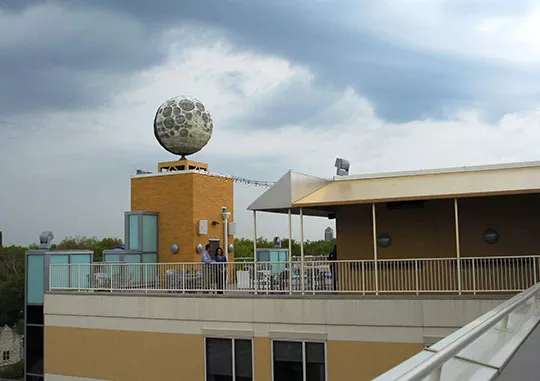 The New Moon Room is our new favorite spot to watch a storm roll in. | Kaitlin Steinberg