The Veggielante has had it up to here with people bitching that St. Louis restaurants are vegetarian unfriendly. Sure, we'd like to see more restaurants offering more meatless dishes, but there are excellent choices out there if you take the trouble to look for them. We're not here to proselytize about greening up your diet. Our only motive is to spread the word about places where you can order good grub that ain't got no meat. To enhance your reading experience, we've settled on a handful of criteria we'll use to suss out a restaurant's vegetarian friendliness.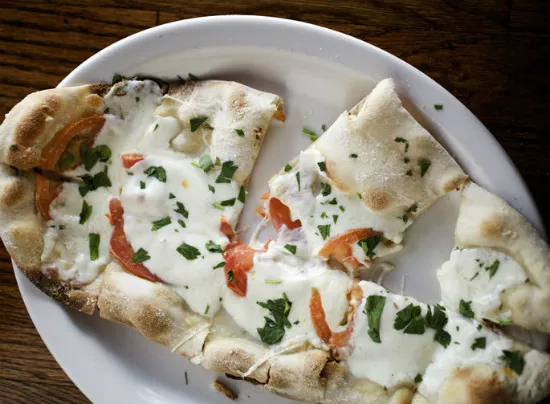 Jennifer Silverberg
The caprese flatbread at Three Kings serves stone-baked flatbread topped with fresh tomatoes, mozzarella and basil.
Destination: Three Kings Public House (6307 Delmar Boulevard, University City; 314-721-3355)
Neighborhood: Delmar Loop
Cuisine: New American
See also: -The Royale Serves Up Classics with a Vegetarian Twist -Sugo's Spaghetteria in Frontenac Serves Rustic, Hearty Vegetarian Italian Eats -Vegetarian Toasted Ravioli and More Meat-Free Meals at Sandrina's
Overview: Three Kings Public House opened two years ago in the Delmar Loop as a gastropub of sorts, offering a modern, New American twist on classic bar food. Although Three Kings is most certainly a pub, co-owner Ryan Pinkston makes sure the establishment is family-friendly during the day. When asked about the meaning behind the restaurant's name, Pinkston says it represents the three aspects of his business: food, drink and entertainment. Oh, and there are also three owners, or the "three kings" of the business.
Highlights: The gastropub's Mediterranean flatbread ($8.99) is light but filling. The crispy, baked flatbread is topped with buffalo mozzarella, feta, caramelized balsamic onions, spinach and roasted red peppers. The balsamic definitely adds a noticeable zing to the dish.
Jennifer Silverberg
Inside Three Kings in the Delmar Loop.
Three Kings' potato skins ($6.99) aren't your typical hollowed-out potato. Four crispy potato skins come stuffed with spinach, artichokes, toasted pine nuts and lemon-spiked Parmesan cream; it's a vegetarian delight, sans the traditional bacon.
Tara Mahadevan
Artichoke-spinach potato skins at Three Kings.
On Saturday, May 11, Three Kings will be hosting its two-year anniversary party, which will be celebrated with delicious eats and craft beer made friendly for diets of all kinds.