It was a damp and chilly opening day for the eighth season of the Tower Grove Farmers' Market (Main Drive & Center Cross Drive, west of the wading pool; 314-771-4410 ), but that didn't stop St. Louisans from showing up to enjoy food, music and the variety of crafts from local artisans.
Chilly weather and overcast skies didn't scare away the multitudes who flocked to the Tower Grove Farmers' Market for opening day.
Since its opening opening day in 2006, the Tower Grove market has burgeoned in size and range, attracting thousands of visitors each week and featuring vendors who offer fruits and vegetables galore, not to mention specialty items such as hand-spun angora yarn and organically cultivated mushrooms.
Herbs are a popular early-season offering at farmers' markets everywhere. These are from EarthDance Farms.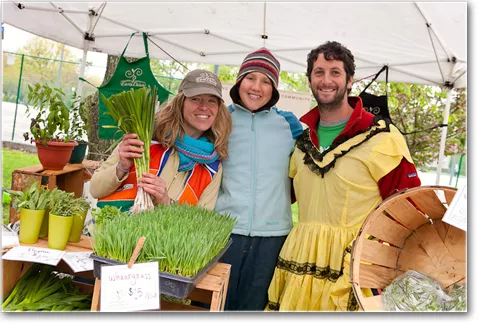 Part of the EarthDance Farms team: Founding director Molly Rockamann with Stephanie Jansing and Matt Lebon.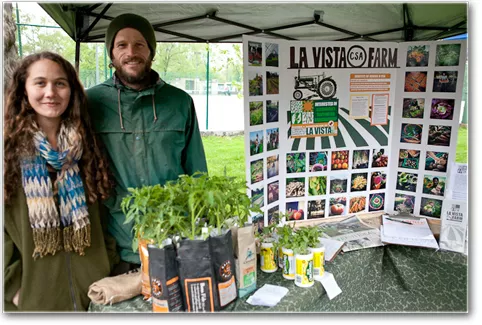 Crystal and Eric Stevens of La Vista, a CSA in Godfrey, Illinois, display tomato plants in recycled coffee bags.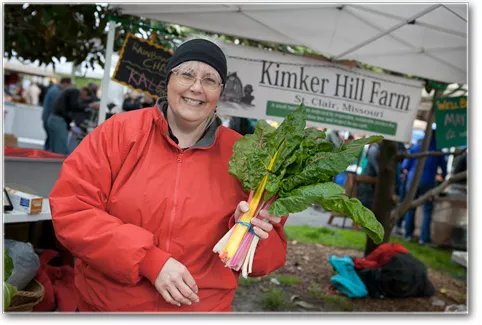 Gut Check's dream of a lifetime come true: Chard by the yard! Denise Wissman of Kimker Hill Farm in St. Clair, holds up a recent batch of her rainbow Swiss chard.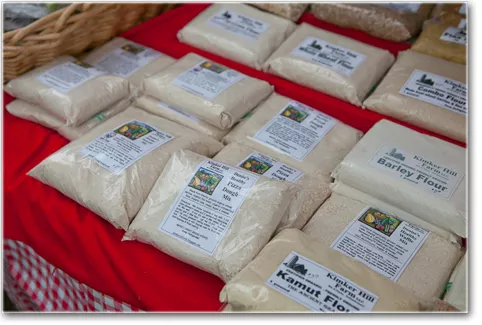 Kimker Hill Farm grinds various types of flour to offer for sale at the market.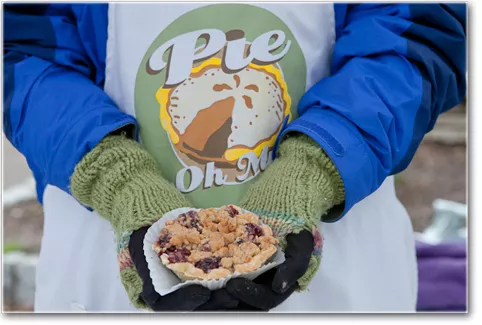 Jane Callahan shows off a blackberry mini-pie from her business, Pie Oh My! in Maplewood (2719 Sutton Boulevard; 314-704-4416)-- a popular stop for market-goers.
Carrie Jaeger and her son Gabe enjoy cinnamon buns from the Companion Bakehouse booth at the market.
The McCoy family enjoys an early breakfast from another of the market's food vendors, the Holy Crepe! food truck.
Spring vegetable Israeli couscous, with asparagus, tomatoes, radishes and herbs, served at the Kitchen Kulture booth.
Dan and Nicky Hellmuth are the owners of Ozark Forest Mushrooms located in the Big Springs region of the Missouri Ozarks. They cultivate and harvest their mushrooms naturally and organically: on logs in the forest.
A sample of Ozark Forest's organic bounty: Yellow oyster mushrooms.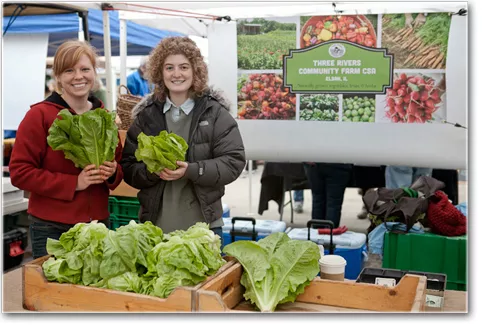 Carolyn Cosgrove-Payne and Ann Sebring brought lettuces harvested from Three Rivers Community Farm, a CSA in Elsah, Illinois.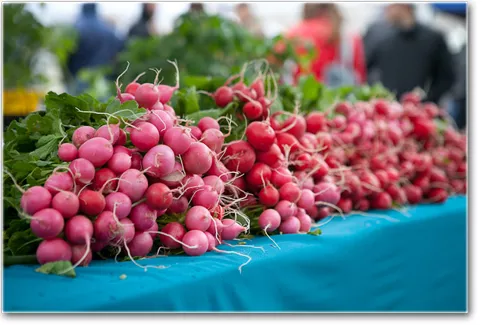 Bunches and bunches and bunches of radishes, courtesy of the Yoder Farm north of Branson.
Editor's note: Sometimes food renders Gut Check speechless. That's why God invented the DSLR. In our continuing effort to cause your mouth to water onto your keyboard, we bring you our weekly Food Photo Essay.
More Food Porn! - The Block Restaurant Butcher and Bar - 2013 Stout and Oyster Festival at the Schlafly Tap Room - Gooey Butter Cakes & More from Ann & Allen Baking Company - Kakao Chocolate Revs Up for Easter - Companion Baking's Early Bird Outlet - Finned, Scaled, Shelled at Bob's Seafood - Songkran Festival 2013: Thai New Year Celebration - Midwest Pasta Company on Cherokee Street: Fresh-Made Noodles in Pixels - Sump Coffee in South St. Louis