The Gut Check One Hundred is our accounting of the 100 dishes in St. Louis that you must eat right now. These are the best dishes at the newest restaurants and the newest dishes at the best restaurants. These are the 100 dishes that define St. Louis dining in 2013. Our list culminates this fall when the Riverfront Times Best of St. Louis 2013 names the "Best Dish" of the year.
The barbacoa dish at Taste | Ian Froeb
Taste (4584 Laclede Avenue; 314-361-1200) is the latest restaurant to notch a second dish in this accounting of 2013's best. If you're asking yourself, "Why?" then you've been away from Taste too long.
Chef Matthew Daughaday and his crew are killing it.
See Also: - Taste's Grilled Asparagus with Crisp Poached Egg: One of 100 St. Louis Dishes You Must Eat Right Now - Chef's Choice Profile: Matthew Daughaday of Taste - Taste's Kyle Mathis: Winner of Iron Fork's Mixology Competition and Featured Bartender of the Week
I fell in love with Daughaday's "Barbacoa" dish when it first hit the menu last year. A few intervening months have not diminished its awesomeness.
The dish is a playful take on Mexican street tacos. Taste transforms the tortilla part of the taco into plump, moist masa cakes. On these sit a tangle of braised, shredded beef cheek, luscious and full of a rich, deeply beefy flavor. Pickled red onions and salsa verde add sharp, hot accents -- and, in the case of the onions, vivid visual appeal. Crumbled queso fresco and cilantro garnish the dish.
The "Barbacoa" is everything that is great about Taste in 2013: a dish deceptively straightforward in its presentation and fun to eat ("Oh! Hey! Tacos!"), but almost bottomless in the depth of its flavor.
Is there a dish that you think belongs among the Gut Check One Hundred 2013? Let us know!
The Gut Check One Hundred 2013 (So Far)
The "Pueblito" salad, unmixed, at Green Bean | Jennifer Silverberg
- Green Bean's "Pueblito" Salad - Taste's Grilled Asparagus with Crisp Poached Egg - Guerrilla Street Food's Filipino Fried Chicken - Spice-n-Grill's Beef Nihari - Kim Cheese's "Kim Cheese Burger" - The Shack Pubgrub's "Shack-Which" - Sameem Afghan Restaurant's Muntoo - Local Harvest Cafe & Catering's "Organic Banh Mi" - Sugarfire Smoke House's Beef Brisket - Mad Tomato's Cavatelli with Spring Lamb Ragù - A Good Man Is Hard to Find's "Pork-n-Beans"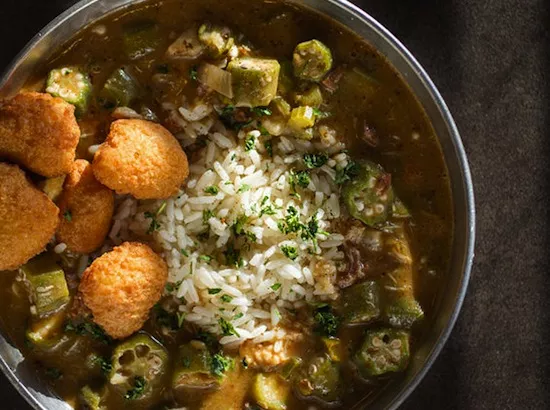 Corn fritters garnish the seafood gumbo at the Kitchen Sink | Jennifer Silverberg
- The Kitchen Sink's Corn Fritters - Chop Shop's "El Camino" Roll - Quincy Street Bistro's BLT - Home Wine Kitchen's Fried Chicken - Riverbend Restaurant & Bar's Red Beans and Rice - Fork & Stix's Sai Oua with Naam Prik Nuum - Gobble Stop Smokehouse's Turkey Tips - Seoul Taco's Burrito - Five Star Burger's Green Chile Cheeseburger - Olio's Octopus Salad - Dressel's Porchetta "Louie"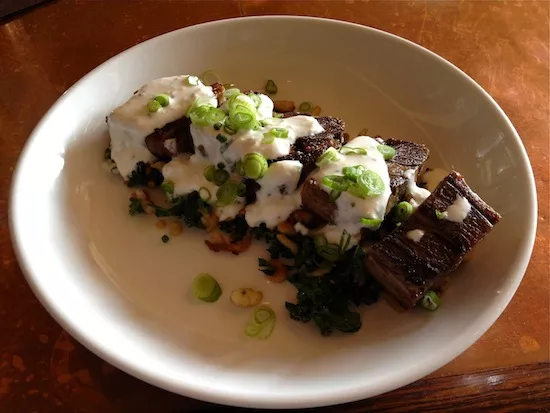 The seared beef tongue at Cleveland-Heath | Ian Froeb
- Cleveland- Heath's Seared Beef Tongue - Cleveland-Heath's Cauliflower Soup - Pastaria's Italian Ramen - Pi Pizzeria's "Grove" Pizza - Famous Szechuan Pavilion's Spicy Wonton Soup (Novice) or Yu Shan Pork (Advanced) - La Tejana Taqueria's Goat Soup - Hendricks BBQ's Ribs - Sauce on the Side's "Costanza" Calzone - Siete Luminarias' Guanajuato-Style Carnitas - Fork & Stix's Khao Soi