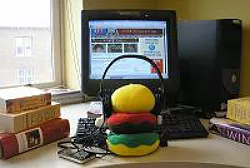 Gut Check dishes on our favorite St. Louis food blogs.
Rhubarb and Honey: Kimberly made roasted crimini mushrooms, marinated with olive oil, Worcestershire, soy sauce and butter.
Eat Write: Judith made Mexican chocolate angel food cupcakes right in time for Cinco de Mayo.
A Veggie Venture: Alanna shared "party" asparagus and aoili.
A Periodic Table: Shannon made chocolate chip cupcakes with chocolate ganache.
Iron Stef: Stef shared lemon-sage roasted chickpeas.
Family Style Food: Karen made sweet pea bruschetta with ricotta and mint.
Cupcake Project: Be still our beating heart -- Stef shared cupcakes made entirely of frosting.
The Sweets Life: Natalie made Greek lentil salad.
Sounding My Barbaric Gulp: Kelly shared creamy spring mushroom soup.
Sauce magazine's blog: Dee made fried tofu with dipping sauce with just five ingredients.