It's freakin' beer mania here in St. Louis this week! Deschutes Brewery is in town from Portland, Oregon, and they're partnering with various bars and restaurants in town to bring you a plethora of beer-related activities and events.
The festivities, which Deschutes calls Base Camp for Fanatics, officially started on Friday, May 3 with St. Louis Microfest. There are events continuing throughout this week, so to help you decide how best to divide your time, we've created a handy list of all the Deschutes offerings. Of course, to make it simple, you could just go to everything. In fact, we recommend it.
See Also: - Deschutes Brewery Brings Weeklong Craft-Beer Campaign to St. Louis Beginning Today - Scenes from the 2013 St. Louis Microfest
Monday, May 6: Deschutes River Ale Launch Party Tonight Deschutes is celebrating their new River Ale with a launch party at Llywelyn's Pub (17 Moody Avenue; 314-962-1515) in Webster Groves. At the launch party, Deschutes will be introducing the never-before-tasted River Ale, which Deschutes' regional events manager, Erik Frank, describes as a "session beer." A session beer is a low alcohol-by-volume brew (4 percent) that invites drinkers to consume several pints in one extended "session" without having to worry about falling off their barstools at the end of the night. The launch party starts at 6:30 p.m. and ends at 10 p.m., but we suspect the revelry will continue until Llywelyn's closes for the night.
Tuesday, May 7: Hats off to Homebrewers Beer geeks and homebrewers, this is the event for you. The gang from Deschutes Brewery and Perennial Artisan Ales will be at the International Tap House (1711 S. 9th Street; 314-621-4333) in Soulard with Perennial Brewmaster Phil Wymore and Deschutes Brewmaster Brian Faivre to celebrate homebrewing. A $25 ticket will get you complimentary brewing supplies, including recipe books and bags of hops (while they last), six beer samples, a commemorative snifter, a full glass of a collaboration brew between Perennial and Deschutes and tacos from chef Jason Tilford of Mission Taco Joint (and Milagro and Tortillaria). There will also be a Q&A with the brewmasters to help all you homebrewers become masters yourselves.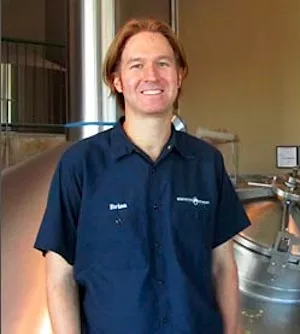 Wednesday, May 8: Meet the Brewmaster Come mingle with Deschutes Brewery's Brewmaster Brian Faivre at Lukas Liquor (15921 Manchester Road, Ellisville; 636-227-4543) from 5:30 p.m. to 7:30 p.m. to learn all his tricks of the trade. The event is free and will feature tastings Deschutes beer, including Mirror Pond Pale Ale, Black Butte Porter, Chainbreaker White IPA, Twilight Summer Ale, Inversion IPA, Obsidian Stout and the new Deschutes River Ale. The brewery's giant traveling beer barrel, Woody, will also be on site to pose for photos with adoring fans.
The giant beer barrel, Woody | image via Deschutes
Women and Craft Beer Because women obviously have a different understanding of beer than men, Deschutes is hosting a special event they're creatively calling "Women and Craft Beer." Deschutes describes it as "an informal and fun gathering of women who love craft beer (and men who love women who love craft beer)." OK... The girls' night will take place from 8 p.m. to 10 p.m. at Bridge Tap House and Wine Bar (91004 Locust Street; 314-241-8141). Executive Chef Stephen Trouvere will be serving a flight of ice cream made with Deschutes beers to pair with more Deschutes beers. Flights are $20 and can be purchased at the venue.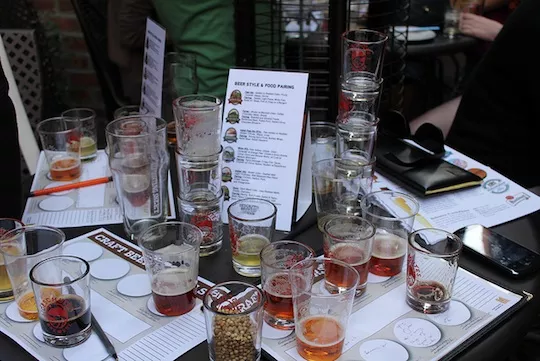 The remnants of a food and beer pairing | image via Deschutes
Thursday, May 9: Build Your Own Beer Dinner For those who like to drink while they're cooking (or cook while they're drinking), Schnucks Cooks Cooking School (12332 Manchester Road, Des Peres; 314-965-3094) chefs Gay DeMichele, Lucy Schnuck and Tory Bahn will be leading guests through a how-to for cooking with beer. Deschutes Brewmaster Brian Faivre will talk about making beer, and Schucks chefs will recommend beer and food pairings. It's supposed to feel like you're watching a Food Network cooking show, but we sincerely hope none of the Schnucks chefs has a laugh like Rachel Ray, or guests will be downing beer instead of drinking it. Tickets are $30 per person and include a five course beer dinner and demo.
Friday, May 10: Beer and Cheese Though wine and cheese may be a more classic pairing, beer and cheese taste pretty awesome together too. Deschutes has partnered with The Wine and Cheese Place (7435 Forsyth Boulevard, Clayton; 314-727-8788) to provide an educational tasting of beer and cheese with the Deschutes brewmaster and folks from the Marcoot Jersey Creamery. The brewmaster will be talking about how the beer is made, and the cheesemasters (yes, that is their new title) will be discussing the nuances of cheese-making. The beer and cheese pairings will be Black Butte Porter with Marcoot Aged Gouda, Chainbreaker White IPA with Marcoot Fresh Mozzarella, Inversion IPA with Marcoot Cheddar, The Stoic with Marcoot Heritage and Deschutes River Ale with Marcoot Tomme. The event will take place from 5 p.m. to 7 p.m., and admission is free.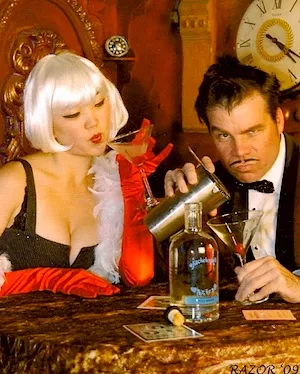 Naughty Pierre and one of his girls | image via
Beer-lesque: Tastings and Tassels Cause nothing goes with beer quite like boobs, amirite? Naughty Pierre, a burlesque host out of Denver, Colorado, will be hosting a show that will feature a Deschutes Brewery beer in each burlesque and variety stage act. The show will be at Cicero's (6691 Delmar Boulevard, University City; 314-862-0009) from 8 p.m. to 10 p.m., and admission is $10 for a seat or $5 to stand. The event is 21 and over, and Cicero's will, of course, be serving Deschutes Beer. We just hope those burlesque chicks aren't pouring it all over themselves, cause that would be a real waste of a craft brew.