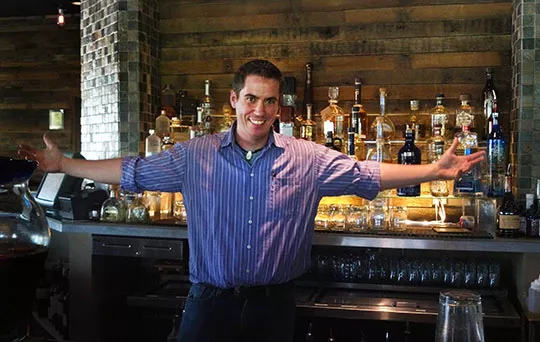 Bielke gestures to the insane array of tequila available at Miagro | Kaitlin Steinberg
The agave has been juiced, the limes have been purchased and the tequila has been stocked. Milagro Modern Mexican (20 Allen Avenue, Webster Groves; 314-962-4300) is ready to make hundreds of margaritas in celebration of Cinco de Mayo. Milagro isn't hosting a garish Cinco party, but as the winner of RFT's "Best Margarita" in 2012 and one of the bars with the best tequila selections in town, Milagro is bound to attract a tequila-loving crowd.
If you stop by the Webster Groves Mexican restaurant during lunch, you'll be greeted by Craig Bielke, general manager and lunchtime bartender. He claims he's not really a bartender, but his lack of bartender title belies his skills.
Though he's been working for Milagro for the last few years, Bielke got his start as a sushi chef in Texas. He credits his sushi training with helping him understand the subtleties of crafting a stellar cocktail.
"There are so many little ingredients that make a roll really good," Bielke says. "When you become a sushi chef, you don't get to touch rice for five years. The tiniest variation can make sushi rice good or bad. It's the same thing when you're crafting a cocktail. The ingredients might be pretty simple, but if you put too much of one thing, it's not balanced."
Bielke's boss was a sushi chef from Korea who had trained for ten years in Japan to become a master. He wanted to send Bielke to Japan to continue his training, but Bielke decided sushi was no longer his thing. He moved to Missouri to attend Eden Theological Seminary. The seminary may not seem like the obvious choice after studying to be a sushi chef, but the move from seminary to bartending is even more surprising.
"I decided that bartending could be a type of ministry," Bielke says. "I get to talk to a lot of people. I get to do what I love to do. I love business. I love the challenges that business presents. And I get to host a party with 150 to 300 guests every night. How cool is that?"
Hey, no arguments here.
Welcome to Girl Walks Into a Bar, a weekly Gut Check feature that spotlights local bars and bartenders. This week, Kaitlin Steinberg profiles Craig Bielke of Milagro Modern Mexican. Below is a Q&A with Bielke, followed by the recipe for a "Carpe Dia."
Describe your bartending style in three words. Sweet, refreshing and simple.
A girl walks into a bar and orders _______. She has just earned your undying admiration. The Carpe Dia. (The recipe's below.)
Where do you go to drink other than your own place, and what do you get? Llywelyn's Pub, and I get a whiskey on the rocks.
What is one thing that most people don't realize about crafting cocktails or bartending? It's not just throwing ingredients together and shaking it up. You have to make the drink to the guest's palate. Rum and coke can only go so far. If you put something else with the rum, you can make it taste like a whole different world. Who would you most like to have a drink with and why? Iron Man. Well, not actually Iron Man. Tony Stark. He's classic. He's suave and debonair, but he's still kind of a rogue. He's countercultural, yet he's the epitome of what culture is with his ultra consumerism. I'd drink a dirty martini with him.
What is the most bizarre or worst drink someone has ordered from you? We had one guest order a $30 shot of tequila and put it in a margarita. It was very painful. Let's just say that whenever you have an ultra premium tequila, you put it on the rocks.
What's the coolest or weirdest thing that's happened while working at Milagro? The transformation that's happened since we first started. We weren't this cool spot. It was kind of a plain, blank slate, and we've grown organically into what we are. All the art and the stars hanging from the ceiling is all new. The transformation from this plain Mexican restaurant to becoming the bar standard for other Mexican restaurants in the area is really cool.
What do you think is the next big bartending trend? It seems like whisky is big right now. And moonshine. There are a lot of moonshines that are coming out, and we get to taste a lot of them. The Thunderbeast Storm is one of my favorites.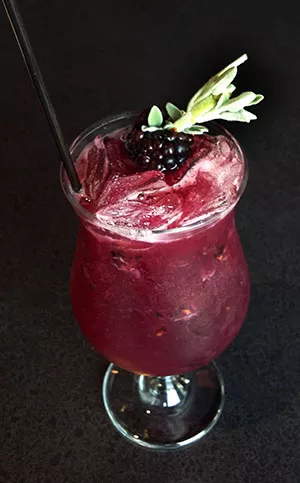 Not exactly a margarita, but who cares when it's this tasty? | Kaitlin Steinberg
What's your favorite ingredient to use in cocktails? Fresh herbs. I just started using herbs. We have one drink called the "Sonora Pass" that uses sage simple syrup with gin and grapefruit juice.
What's your favorite drink? Hate me, love me, whatever: cosmopolitans. A cosmo on the rocks using Tito's vodka.
Carpe Dia
1.5 oz Milagro reposado tequila 1 oz sage simple syrup 3 fresh blackberries 1.5 oz fresh lime juice 1.5 oz agave nectar
Muddle the blackberries and sage simple syrup in the bottom of a mixing cup. Add tequila, lime juice, agave nectar and ice. Shake until chilled and mixed. Pour into a poco grande glass over ice. Garnish with a sage-skewered blackberry.