The Gut Check One Hundred is our accounting of the 100 dishes in St. Louis that you must eat right now. These are the best dishes at the newest restaurants and the newest dishes at the best restaurants. These are the 100 dishes that define St. Louis dining in 2013. Our list culminates this fall when the Riverfront Times Best of St. Louis 2013 names the "Best Dish" of the year.
The "Pueblito" salad, unmixed, at Green Bean | Jennifer Silverberg
The Central West End fast-casual restaurant Green Bean (232 North Euclid Avenue; 314-361-4444) prompts the question, "Can salads be cool?"
Actually, it prompts two questions, "Can salads be cool?" and, "What are you doing with your life?"
See Also: - Ian Froeb's RFT Review of Green Bean (2012) - Jennifer Silverberg's RFT Review of Green Bean (2012)
CEO Sarah Haselkorn founded Green Bean when she was a junior at Washington University. And this isn't some half-assed, "Gee whiz, guys, let's open a restaurant!" operation. This is a slick, smart joint that you could easily see replicating itself across the area -- and beyond.
I'll just let that sink in for a moment.
You can build your own salad from Green Bean's array of ingredients, but the restaurant's own creations are generally excellent. The best of these is the "Pueblito." Grilled beef and romaine lettuce comprise the bulk of the salad, but the charms are in its accents: the heat and sweetness of chile-dusted pineapple and a tangy tomatillo-lime dressing. Corn kernels, queso fresco and crumbled tortilla chips round out the salad, which, it should be obvious, is substantial enough to be a main course.
Yes, salads can be cool. As for your life -- well, only you can answer that question. Me? I'll be in a corner of Green Bean, weeping softly into my salad.
Is there a dish that you think belongs among the Gut Check One Hundred 2013? Let us know!
The Gut Check One Hundred 2013 (So Far)
Grilled local asparagus with a crisp poached egg and orange aioli at Taste | Ian Froeb
- Taste's Grilled Asparagus with Crisp Poached Egg - Guerrilla Street Food's Filipino Fried Chicken - Spice-n-Grill's Beef Nihari - Kim Cheese's "Kim Cheese Burger" - The Shack Pubgrub's "Shack-Which" - Sameem Afghan Restaurant's Muntoo - Local Harvest Cafe & Catering's "Organic Banh Mi" - Sugarfire Smoke House's Beef Brisket - Mad Tomato's Cavatelli with Spring Lamb Ragù - A Good Man Is Hard to Find's "Pork-n-Beans" - The Kitchen Sink's Corn Fritters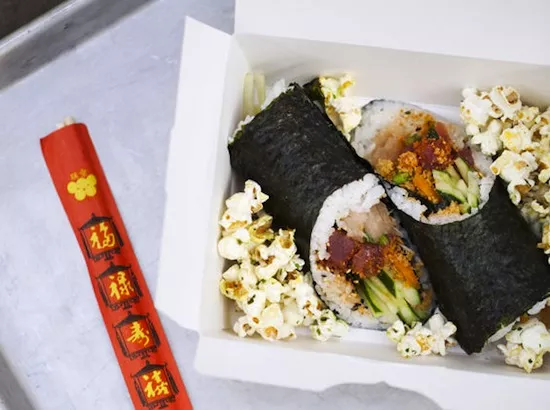 A Chop Shop roll nearly identical to the "El Camino" | Jennifer Silverberg
- Chop Shop's "El Camino" Roll - Quincy Street Bistro's BLT - Home Wine Kitchen's Fried Chicken - Riverbend Restaurant & Bar's Red Beans and Rice - Fork & Stix's Sai Oua with Naam Prik Nuum - Gobble Stop Smokehouse's Turkey Tips - Seoul Taco's Burrito - Five Star Burger's Green Chile Cheeseburger - Olio's Octopus Salad - Dressel's Porchetta "Louie"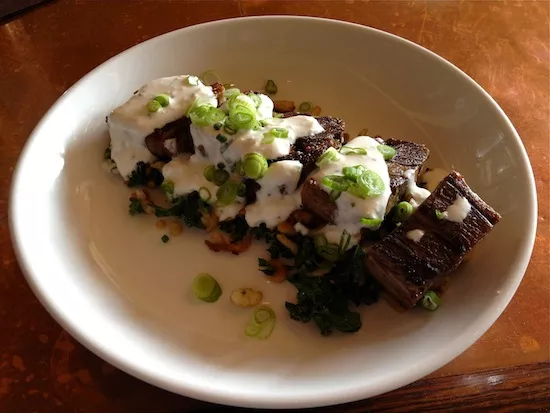 The seared beef tongue at Cleveland-Heath | Ian Froeb
- Cleveland- Heath's Seared Beef Tongue - Cleveland-Heath's Cauliflower Soup - Pastaria's Italian Ramen - Pi Pizzeria's "Grove" Pizza - Famous Szechuan Pavilion's Spicy Wonton Soup (Novice) or Yu Shan Pork (Advanced) - La Tejana Taqueria's Goat Soup - Hendricks BBQ's Ribs - Sauce on the Side's "Costanza" Calzone - Siete Luminarias' Guanajuato-Style Carnitas - Fork & Stix's Khao Soi