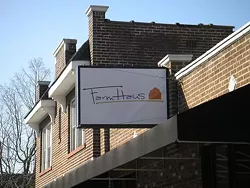 Seats remain for the first wine dinner at Kevin Willmann's acclaimed Farmhaus (3257 Ivanhoe Avenue; 314-647-3800) next Wednesday, May 8. The dinner will pair four courses with wines from Shane Wine Cellars. Shane owner and winemaker Shane Finley will attend the event.
In an e-mail to Gut Check, Farmhaus general manager Eric Scholle explained the connection between Shane Finley and Farmhaus:
See Also: - Andrew Jennrich of Farmhaus Sees St. Louis on the Precipice of National Recognition - Restaurant Industry Tweet of the Week: Farmhaus and Dishwasher Part Ways
Gut Check is always hungry for more restaurant news. Feed us your tips.
Last fall I went out and worked harvest with a wine maker named Shane Finley in Sonoma County. Shane is the head wine maker at Lynmar Estate (which currently isn't carried in the state of Missouri) and he has his own label called Shane that we've had on our list at Farmhaus for a few years. Shane is a young and engaging guy and invited me to stay with him and his family while I worked out there. I learned a huge amount of wine and about how much work it is to produce anything good (including sorting grapes for 14 hours in a row one day).

He's making a visit to St. Louis in early May and we've decided to put on out first wine dinner ever at Farmhaus. We're planning on talking to guests about our experiences out there and maybe sharing some insight into the wine making process that most people aren't really familiar with.The wines featured with be a: rose of pinot noir, grenache blanc, pinot noir and syrah. Chef Willmann and the kitchen staff will be shaping a menu to compliment the flavors of the wines. Should be a cool experience for all involved.
The cost is $90 per person, and there are two seatings, 6 p.m. and 8:15 p.m.