This is part two of Gut Check's Chef's Choice profile of Qui Tran of Mai Lee. Read part one, a profile of Tran, here. Part three, a recipe from Tran, will be available on Friday.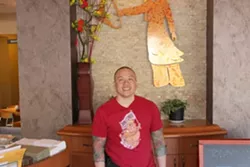 Qui Tran, chef of Mai Lee | Ian Froeb
Mai Lee (8396 Music Memorial Drive, Brentwood; 314-645-2835) isn't simply a job for chef Qui Tran. It's his legacy.
His mother, Lee, founded the restaurant in 1985, eight years after the family had fled near-certain death in Vietnam. He spent his childhood washing dishes and papering houses and cars with copies of the menu. Though he initially resisted making a career in the restaurant industry, he realized that it was what he "was bred to do."
Under his stewardship, Mai Lee is more popular than ever. Its Brentwood location is much larger than the original University City spot, but is still packed at lunch and dinner.
And, yes, Mom still checks in to see how her son and his staff are doing.
"She's an old immigrant woman," Tran says and laughs. "You're not getting her out of here ever. As much as you try to."
See Also: - Qui Tran Lives the American Dream and Continues His Mother's Legacy at Mai Lee
Tran and I met in an empty Mai Lee during its one closed day earlier this week to talk about his family's remarkable journey from Vietnam to St. Louis (read part one for that story), his incredible and infectious enthusiasm for the St. Louis restaurant scene and its chefs, why we shouldn't be afraid of MSG and much, much more.
What's a typical meal at home for you? My wife's a phenomenal cook. Her family had a restaurant. Her grandmother was incredible -- made some of the best soups. She's learned it from her grandmother. (They're a central Vietnamese people; we're southern. It's different recipes, different things.)
We like to do tamarind-style soups, savory and sour. We'll do a lot of soups -- or caramelized meats, very traditional stuff. Or I'll have a nice charcuterie plate at home with all these awesome cheeses from the Wine Merchant. But we haven't cooked much at home just because it's so awesome [to have the chance to say] "Let's go to Brasserie tonight!" or "Let's go somewhere!"
So you're as likely to go out on your off-night (Monday) as stay home? [laughs] I always say to my friends, "Why the hell aren't you open on Mondays?", and they're like, "Why aren't you open on Mondays?" [laughs] We try to eat out and support the local guys as much as we can.
Any guilty pleasures? Something we'd be surprised you like? My guilty pleasure has got to be cheese. That's not good for my waistline, but I love cheese.
What's on top of your pizza? Right now my favorite topping on a pizza is the "Roman" pizza at Pastaria. It's so simple. I cannot get enough of that pizza. I can't live without it. I crave it. I literally want that damn "Roman" all the time.
(The "Roman" comes with tomato, garlic, bacon, mozzarella and pecorino cheeses and chiles. It is, indeed, awesome.)
What's your drink of choice? Coconut water. It's my go-to. Well, and Champagne. Not together. I'm a big wino: Champagne, Burgundy and southern Rhone. I'm not a big cocktail drinker. I'm a big French wine guy. I will always get a good glass of wine over a cocktail.
What are your favorite St. Louis restaurants, not counting your own? Gerard Craft's four restaurants are on my top list anywhere in the country. What he's accomplished is absolutely amazing. Four distinctively different restaurants, and they're all excellent in my eyes. I highly recommend them all the time. Sidney Street -- what Kevin Nashan is doing down there, it's incredible food. I'm excited about Josh Galliano, who's reopening [at the Libertine]. I don't care what he does -- he could just open a fried-chicken restaurant.
Which St. Louis chef most impresses you? What Gerard has accomplished. One restaurant is hard enough. So for him to do four distinctively different, and they're all excellent? Yeah, he's my hero. He really is, because that's something I don't think I could do or attempt to do. You can one have great restaurant. He's got four of them. He's my superhero.
What's your favorite city for food and restaurants? My favorite city in all of America is Vegas. Here's why. Not so much for the gambling part. There's the biggest concentration of chefs nationwide and even worldwide that have put their name on [restaurants]. It's like you go to Vegas, and you only go two days, you feel like you've accomplished so much because everything's so close by. The food in Vegas incredible.
Any particular restaurant in Vegas stand out? There's one restaurant we love a lot called Raku. They don't do sushi. They're grill masters. They import all the charcoal from Japan. Classic Japanese cooking.
The most essential ingredient in your kitchen? It would probably be garlic. All of our stir-fries and our sauces -- it all starts with garlic. Garlic and fish sauce.
An ingredient you'll never allow in your kitchen? I don't refuse to use anything because I love food. Food's evolved so much. That's what makes these [chefs] so amazing. It's just like fighting. If you watch MMA now, the guys that do mixed martial arts, it's evolved so much. There's nothing they don't know. Same with chefs. Everything they do has some kind of something infused from somewhere else, whether it's from parts of Asia or an African spice. They're so knowledeable about their food. [In the past], people were like, "Ugh, fish sauce." Now, everybody's using it, no matter how stinky it is. The stinkier, the better. [laughs]
Favorite cookbook? I don't really have a favorite. I started off with some East Meets West-type cookbooks from Ming Tsai, stuff like that. Being a big Italian fan, Mario Batali's books, Michael Chiarello's books. I try to stay away form books where I can't cook the food. Like, I have Thomas Keller's book, but I don't know if I can cook any of his food.
Any advice or a favorite tip for the home cook? Season well. Don't be afraid of seasonings. When I taught a class at the Kitchen Conservatory, I could see some of the students looking like, "Wow! That's a lot of...." I'm like, "No, no, no. Trust me."
David Chang is going on this MSG crusade. He's telling people it's fine. During that class someone asked me about MSG. I said, "Listen, if an Asian cook tells you he doesn't use MSG, he's lying to you. They all use it." I tell people it's OK. There was a Berkely report in 2011 -- they did ten years of research -- in the report it says it is scientifically impossible for you to be allergic to MSG.
It's a natural substance that comes from seaweed. If you cook a bowl of pasta, there's more glutamate in that pasta, in the tomato sauce, than in any Chinese restaurant you can go to. Let's put it this way: if you feed the rat ten times its weight in salt, it's going to have a damn heart attack; if you feed it ten times its weight in sugar, it's going to be diabetic; so if you feed it ten times its weight in MSG, sure, something's going to happen.
I rarely eat Vietnamese food out of town. Los Angeles, I'm not a big fan of their Vietnamese food. I don't think it's done well. It's underseasoned. The quintessential Vietnamese ingredient is fish sauce. You eat it with spring rolls, noodle bowls -- I mean, everything! But most fish sauces on the west coast I've found no sambal, some places don't even put garlic in it. It's awful. I'm just like [makes retching noise].
Favorite kitchen tool? My Chinese block knife. It's versatile: smash, chop. And it's so big I can use it for everything, even breaking down chicken.
Most useless kitchen tool? I've seen a lot of useless tools. I can't even think of one right now because I've blocked it out. You know Williams-Sonoma, they'll come up with some ridiculous tool, where you're like, "Really, are we that lazy?"
What's the strangest or most memorable thing that's ever happened to you in your restaurant career? For me, a lot of times, [those kinds of stories] are about these review sites. I never get on these sites, but for some reason, many, many years ago, something happened and I ended up on Yelp. I looked at some of the reviews on my place, then I looked at some of the reviews on my friends' places. One of the restaurants was Kevin Nashan's place, Sidney Street. I was so upset I almost slammed the computer.
Basically, the whole review was this: "I'm never coming back They got rid of the chalkboard. They don't use the old candles anymore. So I give it one star. But the food was great." I'm like, "What? Did you just give this person one star? You said the food was good...."
The restaurant business is hard enough. When we first opened, my sister was like, "We've got five bad reviews on here." I said, "Let me show you something." I pulled up the POS. (This was when we first opened.) "We've seen 60,000 people here. And five bad reviews? I'm going to wory about the 59,995 people that have come here and spent their money rather than these five people that disliked it. And that's OK. You can't please everyone."
This is part two of Gut Check's Chef's Choice profile of Qui Tran of Mai Lee. Read part one, a profile of Tran, here. Part three, a recipe from Tran, will be available on Friday.