Cinco de Mayo is a celebration of the successful clobbering of the French military by a group of ragtag Mexicans defending the town of Puebla de los Angeles. France had been trying to carve out an empire in Mexican territory, and when the country sent 6,000 troops to the small town in east-central Mexico, they were confident they would overthrow the Mexican army. Thanks to some stellar planning (and heavy artillery) the Mexicans defeated the French, killing 500 soldiers.
The holiday isn't that special in Mexico outside of the state of Puebla, but here in 'Merica we like to celebrate the French getting cut down to size by feisty Mexicans. And how do we do that?
With tequila. Lots of tequila.
To help you celebrate, we've compiled a list of the restaurants with best tequila selections outside of Mexico. Actually, these are just the ones in St. Louis, but they'll definitely do the trick.
Diablitos Cantina (3761 Laclede Avenue; 314-644-4430) Diablitos claims to have the largest tequila selection in all of St. Louis, including eight house-infused varieties. To create the house-infused flavors like hibiscus, cucumber or tea, Diablitos starts with Aqui Vamos Tequila made in El Paso, Texas, and adds other flavorful ingredients to create tequilas you can't find anywhere else. It also carries more than 100 different types tequila, including reposado and mezcal varieties.
La Cantina (35 North Gore Avenue, Webster Groves; 314-968-3256) With an extensive tequila list including plata (silver), reposado ("rested" but not aged), anejo (aged) and even extra anejo (extra super aged), it's hard to know where to start. You could go big and order a 1942 Don Julio Blanco for $26, or you could order one of its simple yet perfect margaritas made with Sauza Hornitos Plata tequila, Cointreau, fresh lime juice and agave nectar. Just like our abuela used to make!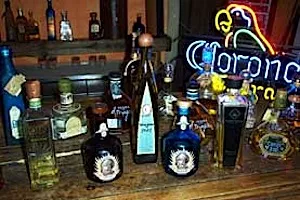 Just some of La Chata's tequila selection.
La Chata (2027 Highway K, O'Fallon; 636-978-5329) La Chata's bar isn't just called the bar. It's referred to as the "Tequila Bar." Like Diablitos, La Chata claims to have the largest tequila selection in St. Louis (also more than 100 varieties) of premium and super premium bottles. But honestly, anyone who has more than 100 types of tequila is a god among restaurants in our opinion. La Chata is a little off the beaten path in O'Fallon, but we think we might have to go there soon anyway. You know, just to count all of the tequilas. And maybe taste them while we're counting.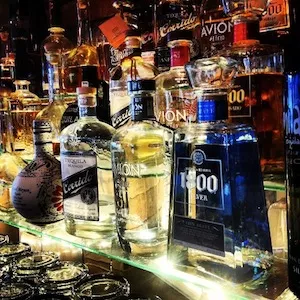 Milagro Modern Mexican (20 Allen Avenue, Webster Groves; 314-962-4300) Milagro may not have the same quantity of tequila as some other Mexican restaurants in town, but Milagro's selection is all about quality. It has about twenty different tequila brands behind the bar and three ages (blanco, reposado and anejo) of each brand. It's what Milagro does with its tequila that makes it so spectacular, though. The bar offers several different marg varieties including top shelf, the Milagro margarita, a house margarita, a blood-orange margarita and rotating seasonal varieties. There's also a drink called the Amante Picante with jalapeno-infused tequila that's out of this world. If you're feeling super brave, try the "El Diablo" with habanero-infused tequila. It's not for the faint of heart or stomach.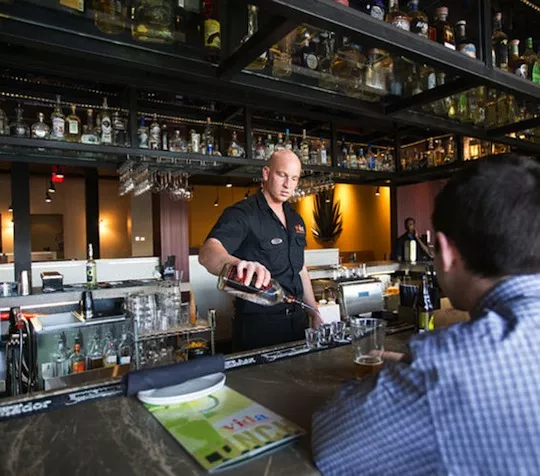 Vida Mexican Kitchen y Cantina (1137 St Louis Galleria; 314-863-1150) Feeling overwhelmed by crazy extensive tequila selections? Vida has the solution. Vida offers more than 80 varieties of tequila, but what sets it apart from other insane tequila bars are its tequila flights. Flights come with a choice of three tequilas, most of which include one blanco, one reposado and one anejo. If you're a fan of a particular age of tequila, choose from ten different blanco, reposado or anejo tequilas and create your own flight.