Since Sump Coffee (3700 South Jefferson Avenue; 917-412-5670) opened its doors to the public in December 2011, owner/coffee baron Scott Carey has been bringing a "Third Wave" coffee experience to south St. Louis.
Sump Coffee owner Scott Carey pulls a shot from his Slayer espresso machine.
Carey wants his clientele to enjoy coffee's simplest and subtlest pleasures, with no artificial intervention. that means high-quality beans, freshly roasted on the premises in small batches and brewed to reflect coffee's complex flavors.
See also: - Sump Coffee Brings Third Wave Coffee to South City - RFT Best of St. Louis choice for "Best Coffeehouse" in 2012
A latte to go.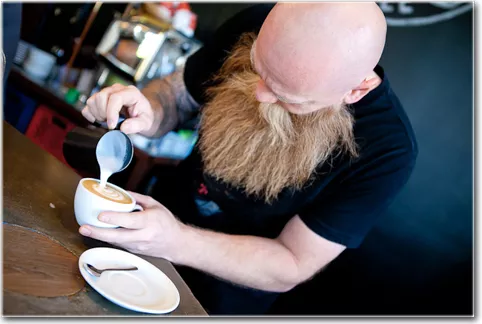 Scott Carey creates a design in the foam of a cappuccino.
A finished cappuccino.
Some customers prefer to consummate their caffeinated experience while still on the premises.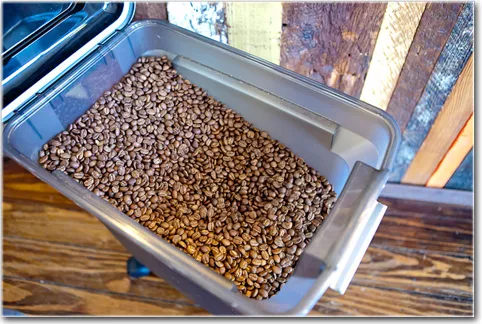 Freshly roasted beans. Colombia Esperanza offers a hint of cherry sweetness.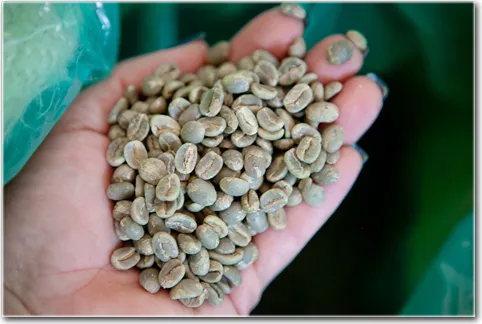 Sump has its beans shipped in green, in 70-kilo bags (that's 154 pounds, gringo).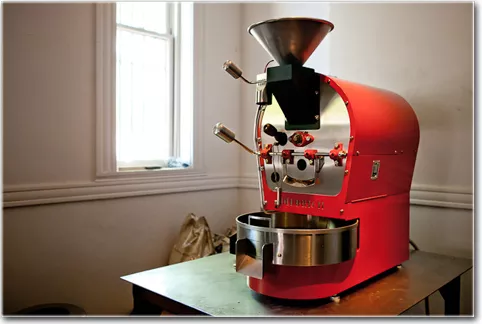 Carey roasts in small batches to maintain freshness. You can order yours with or without caffeine here, but Sump serves only light-roast coffees.
Carey and Marlene Yamaguchi demonstrate the "pour over" method of brewing coffee.
Carey pours a potful the old-school way.
Sump Coffee's storefront at the southeast corner of Jefferson Avenue at Winnebago Street, just up the block from the Chippewa/Broadway confluence.
Editor's note: Sometimes food renders Gut Check speechless. That's why God invented the DSLR. In our continuing effort to cause your mouth to water onto your keyboard, we bring you our weekly Food Photo Essay.
More Food Porn! - The Block Restaurant Butcher and Bar - 2013 Stout and Oyster Festival at the Schlafly Tap Room - Gooey Butter Cakes & More from Ann & Allen Baking Company - Kakao Chocolate Revs Up for Easter - Companion Baking's Early Bird Outlet - Finned, Scaled, Shelled at Bob's Seafood - Songkran Festival 2013: Thai New Year Celebration - Midwest Pasta Company on Cherokee Street: Fresh-Made Noodles in Pixels