This is part one of Gut Check's Chef's Choice profile of Qui Tran of Mai Lee. Part two, a Q & A with Tran, will appear tomorrow. Part three, a recipe from Tran, will be available on Friday.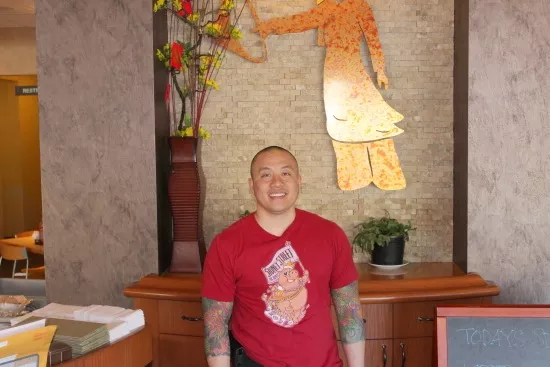 Qui Tran inside his family's Vietnamese restaurant, Mai Lee | Ian Froeb
Qui Tran can't discuss his childhood without mentioning Mai Lee (8396 Music Memorial Drive, Brentwood; 314-645-2835), the restaurant that his mother founded in University City in 1984 -- not incidentally, the first Vietnamese restaurant in St. Louis.
"As a kid, I used to ride my bike up and down Delmar, passing out menus," Tran recalls. "That was my job. I was either washing dishes, because we didn't have a dishwasher, at eight years old, or biking up and down the street, passing out menus door to door, putting them on cars."
See Also: - Loving Las Vegas and MSG: A Q & A with Qui Tran of Mai Lee
"It's the American dream," Tran says of the creation of Mai Lee.
His mother, Lee, had no restaurant experience when the family arrived in St. Louis at the beginning of the 1980s. She did know how to cook, though -- she was already a very good cook, Tran says -- and found work at a succession of Chinese restaurants.
"She learned the business," Tran explains. "She watched them and learned how to set up a kitchen. It's amazing. Now with me being in the business for so long, with all my knowledge of and experience in the restaurant business, I don't even know how the hell she did it.
"In this business it's always, 'Keep it simple, stupid.' We have a few things, and we need to do [those things] well. I don't know how the heck she did it, but she actually kept adding [more things] and figuring out how to do it well."
The Trans did not simply leave Vietnam, but fled the country, fearing for their lives.
"We were poor," Tran says of their life there. "We didn't have anything. My dad was a soldier in the South Vietnamese army, so he was out fighting the Communists. My mother, [her family was] all a bunch of farmers."
The situation reached a crisis point in 1977: "They were going to kill my dad and hence kill all of us, so we had to get the hell out of there. So we jumped the fence. We were boat people. We jumped the fence, hopped on a boat.
"My mom and dad had decided if we're going to die, we're going to all die together, and if we're going to make it, we're all going to make it together.
"They just left their country, a war-torn country, in search of freedom."
The Trans came to St. Louis in 1980, having spent the intervening years in refugee camps in Malaysia and Indonesia. Qui Tran doesn't remember at which American port the family arrived, but he distinctly remembers his father circling St. Louis on a map, and the American authorities sending them here.
"It worked out great," he says.
Tran's mother opened Mai Lee in late 1984 in a strip mall on Delmar Boulevard at the western edge of University City. In its original state it was not a Vietnamese restaurant, but a Chinese one.
"That's what she knew," Tran says. "That's what she learned, and she was like, 'These guys are making money, people like Chinese food.'
"We were not very successful, and she decided, 'Well, we're Vietnamese, why don't we do a Vietnamese restaurant?' It was a big gamble, because no one in St. Louis had done Vietnamese food ever. No one had specifically put a sign up. So we were actually the first Vietnamese restaurant in St. Louis."
At the time, Tran reckons, the Vietnamese population in St. Louis was "miniscule" -- mostly, he believes, friends of the family.
"My mom still has a book of who she borrowed money from to open the restaurant," he adds. "You can see $50 from this guy, a $100 here. She still has the book, and it was from all her friends.
"It was pretty amazing. She's incredible. She's an extraordinary woman."
Mai Lee's big break arrived with a visit from a legendary St. Louis restaurant critic, the late Joe Pollack. Pollack had never eaten Vietnamese food before, Tran remembers. "He ate it, he wrote about it the next week and said, 'This food is amazing. I've never had anything like this before.'
"The rest is history."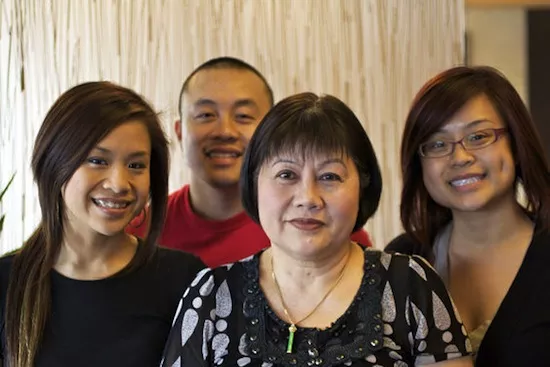 Jennifer Silverberg
Mai Lee founder Lee Tran (front center) with children (from left) Linda Tran, Qui Tran and Sara Tran
Though a refugee from Vietnam who spent many of his childhood hours at his mother's Vietnamese restaurant, Tran felt no tension between his background and his living in the United States.
"The cool thing is, I grew up on the Hill," Tran explains. "We lived right down the street from Cunetto and all the markets. So after school I would walk around to the markets and be like, 'What's that? Let me try that. Let me get that soppressata.'
"I had a love of Italian food growing up. It's a natural thing for me -- a bowl of pasta and a bowl of noodle soup, there's not that much difference for me."
However, Tran did at first resist entering the family business as an adult.
"Growing up, you almost resent the business because you were forced to do it," he says. "You had no choice. My spring break was here. For me, it was always go to school, make As, and then come to work at the restaurant. There was nothing else.
"So I used to resent it as a kid. I was like, 'Man, I don't have a childhood, My friends get to do this, they get to go here, and I always have to work.'"]
Tran's epiphany struck at the age of 25: "This is what I was bred to do."
He continues, "Your mom comes over, she creates this legacy -- this restaurant that people in St. Louis love. I came in and studied under her and, hopefully, now made it better than it ever has been. It's more a tribute to what she's done and what I've learned from her."
It was Tran who championed the biggest -- and at the time riskiest -- decision in Mai Lee's history: the relocation from University City to the first floor of a new MetroLink parking garage in Brentwood.
Lee Tran didn't want to make the move. Qui insisted it would allow them to make Mai Lee the restaurant they wanted it to be -- and would draw even greater crowds. Doing his due diligence on the new space, he learned that, after the rebuilding of Interstate 64 was over, the new access road along which the parking garage was located would see a significant influx of traffic.
"So in my brain, that's, like, a thousand cars a day that will see us," he said. "And in the old spot the signage was bad, if you didn't know where we were, you wouldn't see it anyway.
"So it was a no-brainer for me, and knock on wood, it's exceeded expectations."
You need only visit Mai Lee to see evidence of that success: a crowded dining room, every bar stool occupied, servers trying to make their way through the throngs waiting just inside the front door. As telling, perhaps, is the praise heaped upon Mai Lee by some of St. Louis' best-known chefs, like Gerard Craft of Niche.
The praise flatters Tran, though he is quick (and in this critic's opinion, mistaken) to put himself a few classes below his peers: "I respect those guys and love them to death. I can't do what they do. I'm a self-taught cook. I learned from my mother. They create stuff. I just imitate stuff."
Indeed, though Tran admits to loving the "high" of working in the kitchen (where soup is his favorite station), he is most enthusiastic talking about the dining scene in St. Louis as a whole. (Indeed, during our interview he wears a T-shirt from Sidney Street Café.)
"I'm so proud of the city for what it's become. And I'm proud of the restaurateurs and chefs in St. Louis. I love the fact that the people of St. Louis -- I've seen it the last ten years the people have really embraced local and independent [restaurants].
"And they should because there is so much exciting food."
While Tran speaks with me, his mother is visiting family in Vietnam. Tran himself has returned once, in 1997. He isn't keen on another trip.
"Vietnam is a beautiful country, the people are wonderful, but I don't like to deal with the politics," he admits.
"And not only that, it's a Communist country. I don't want to go to Vietnam, don't want to go to China, don't want to go to Cuba. I don't want to give our free money, our capitalistic money, to these governments that treat their people really bad.
"It's so much politics. Like if you and I went to Vietnam right now, we'd be in two separate lines in the airport. Your line would be like, 'Oh! Ian! Welcome to Vietnam. It's beautiful here. Whatever we can do to help you.' In my line I gotta bribe these officials to get through the airport.
"I was born there, but I'm an American. I don't want to be anywhere else but here. This is my country."
This is part one of Gut Check's Chef's Choice profile of Qui Tran of Mai Lee. Part two, a Q & A with Tran, will appear tomorrow. Part three, a recipe from Tran, will be available on Friday.