Eckert's Country Store does pie right.
This month has nothing to do with pies. There is no holiday in April (or May, even) when one is expected to eat pie. It's not National Pie Week or Celebrate Pie Day. It's not March 14 (National Pi Day) or January 23 (National Pie Day). So why are we writing about pie now?
A reader bugged us about it. And here at Gut Check, we like to keep our readers happy. We like pie as much as the next person, but we really weren't intending to write about it until we received repeated requests from a certain fan of RFT.
Don't say we never did anything for you.
See Also: - The 6 Best St. Louis Sports Bars for Food - Best Toasted Ravioli in St. Louis in Honor of National Ravioli Day - Best Bloody Marys in St. Louis: A Roundup
A pie in the making at 4 Seasons Bakery. | Image via 4 Seasons Bakery
4 Seasons Bakery (2012 Campus Drive, St. Charles; 314-288-9176) Even Julia Child, she who made it her mission in life to convince ordinary American home cooks that they, too, could produce classic French cuisine -- even Julia conceded that pie crust is problematic. It's a delicate balance: flaky yet flavorful; tender yet sturdy enough to stand up to the filling. You could spend your life trying to make the perfect pie crust. Or you could go to 4 Seasons Bakery in St. Charles and leave it in the flour-covered hands of Agi and Aaron Groff. Their crust has achieved the perfect medium. (We're told that the trick is adding some steam to the convection oven, a maneuver we are not prepared to try at home. Even if we had a convection oven.) The fillings, made from seasonal fruit, are good, too: sweet but not cloying. But it's the crust that gets us. Oh, pie! We love you so, even enough to cross the mighty Missouri.
Ruth Eckert's glazed strawberry pie.
Eckert's Country Store (951 S. Green Mount Road, Belleville, Illinois; 618-233-0513) Its motto is "Our only competition is Grandma." And that only applies if Grandma is an expert baker with a repertoire that includes apple-cranberry pie and caramel-apple-walnut pie. The crust is crisp, flaky and baked to perfection, and the apple and peach fillings are sweet yet mouth wateringly tart. Go ahead. Spend some time picking apples when they're in season and try to bake your own apple pie. Then realize you can't beat Eckert's, and let them do the picking and baking for you. Sure, fresh apples are good for your health and whatnot, but fresh pie is good for your soul.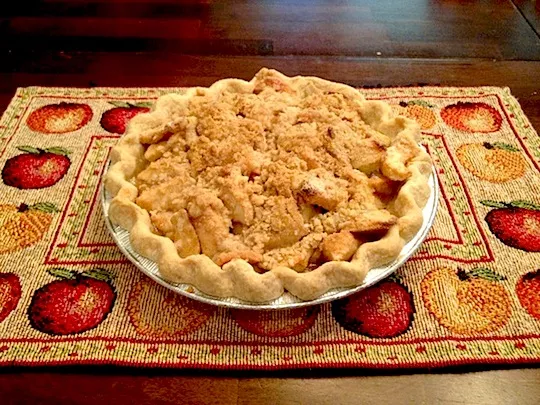 Apple crumb pie from It's Easy As Pie.
It's Easy As Pie (www.itseasyaspie.com; 314-282-5861) Cindy Grunik wants to make sure that everyone has a little pie in their lives. She started It's Easy As Pie in the fall of 2012 as a pie-delivery company that allows people to order online and customize crust and filling. The shop doesn't have a storefront yet, but it seems like it may not need one. With nine different crust options (including pub cheddar and pretzel brittle) and fillings for any occasion, there's something on the menu for everyone. Gunik's apple-crumb pie, made with a blend of three varieties of apples, cinnamon and sugar nestled in pub cheddar, crust got third place in last year's Ladue News holiday-dessert recipe contest, and it's not hard to imagine why. Apples and cheese? Yes, please!
A strawberry-rhubarb pie nestled among other goodies.
Lubeley's Bakery & Deli (7815 Watson Road, Webster Groves; 314-961-7160) For several generations now, Lubeley's Bakery & Deli has been the go-to place for the good people of Webster Groves, Affton and other points in south county whenever there's something worth celebrating. Or, sometimes, if there are sorrows that need to be smothered with sugar. Lubeley's probably gets the most attention for its cakes, but this family-owned gem, now well into its seventh decade of operation, is also a pie mecca. It offers thirteen varieties of pie on its regular menu, but its bakery-case offerings change daily. Lubeley's also has a charming café (if you just can't wait till you get home and have too much dignity to stuff your face while sitting in your car in the parking lot).
A variety of pies from the Original Fried Pie Shop. Start your own franchise now!
The Original Fried Pie Shop (1 W. Fifth Street, Eureka; 636-587-7743) You didn't think we'd make a best pie list without including at least one fried pie, did you? Initially, we scoffed when we walked into the Eureka outpost of the Original Fried Pie Shop, a small chain that originated in Oklahoma more than 100 years ago, took over most of Texas and has now begun the long march north. Pie is one of those foods that's perfect as it is. Why mess with it? Our doubts were wiped away with our first bite of a deep-fried coconut-cream pie, which we'd finally settled on after a long struggle: The menu has fruit pies, nut pies and cream pies, and also a selection of savory pies stuffed with various combinations of meat, veggies and cheese. Each pie is freshly made and fried to order in peanut oil for a crisp crust with minimum greasiness. The store keeps some ready-made pies on hand, but it's best to wait. What's five minutes in the long run, when the memory of your fried pie is everlasting?
Mini banana-chocolate cream pies. | Mabel Suen
Pie Oh My! (2719 Sutton Boulevard, Maplewood; 314-704-4416) Pie Oh My is proof that pie -- which was probably invented by the ancient Egyptians and has since seen terrible incarnations thanks to the frozen food aisle -- is trendy again. Jane Callahan started off in a small rented commercial kitchen downtown, where she prepared her from-scratch pies by hand to sell at markets or deliver personally to customers' doors. She continues to offer the same level of loving care with her baked goods at Pie Oh My, but now she makes enough pies to fill a store. She offers both traditional flavors as well as funkier flavors like chocolate-bourbon-pecan (Derby Day, anyone?), and her pies and tarts come in four sizes. We recommend ordering the largest size possible. You'll be glad you did.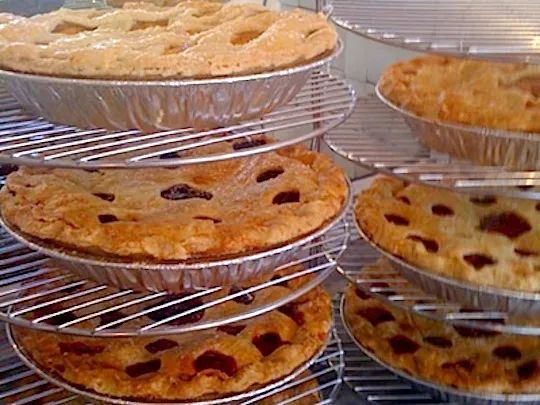 Pies cooling on racks at Sugaree Baking Company.
Sugaree Baking Company (1242 Tamm Avenue; 314-645-5496) When we were crowdsourcing to compile this list, Sugaree was mentioned more than any other pie shop in town. Don't believe us or our foodie friends? Just check Yelp. With reviews like "BEST. BAKERY. EVER." and "FINALLY, I have discovered the best pie in the world," you know Sugaree must be baking up something stellar. Standard-sized pies are a steal at $15, and flavors vary weekly. Sugaree's pies are divine, the flaky, buttery crust baked to the gorgeous golden brown of autumn wheat, the fillings full of fruit expertly spiced. But you can't go wrong with the warming spice and tart fruit of the classic apple pie. A summer pie, with strawberry and rhubarb, offers an ideal balance of sweet and tart. Whatever pie you choose, know that you can purchase it in either ten- or five-inch sizes, the latter perfect for two. Or one. We won't tell.