Gut Check tells you what's new and tasty at our favorite restaurants.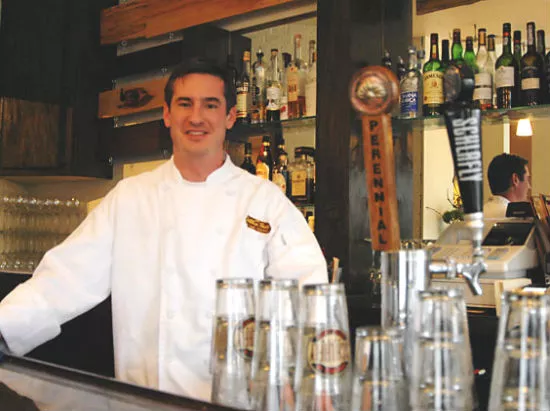 Jamey Tochtrop, owner and chef of Stellina in Lindenwood Park | Emily Wasserman
When I first visited Stellina (3342 Watson Road; 314-256-1600) several years ago, it was known as Stellina Pasta Cafe, and the restaurant's fresh pasta was the main attraction.
See Also: - Chef's Choice Profile: Jamey Tochtrop of Stellina - New Favorites, Old Friends: An Updated Guide to Restaurants in Lindenwood Park
The pasta is still a draw, of course, but as the Lindenwood Park spot's shortened name suggests, chef Jamey Tochtrop has broadened his focus and now changes his menu frequently -- daily, even -- with the latest seasonal produce.
I caught up with Tochtrop this morning to see what he's excited about this weekend.
"We have first morels of the season locally," Tochtrop says. "They're going to be [served] with a grilled Saratoga rib eye."
As a seafood option, Stellina will offer Hawaiian mong chong (or pomfret).
And, of course, there will be a pasta special.
"Our agnolotti is something we do maybe once or twice a year," he says, "Fresh english peas with mint and mascarpone as the filling, in an orange-dill butter."
St. Louis restaurants: Do you have a new dish to share with Gut Check readers? Drop us a line.