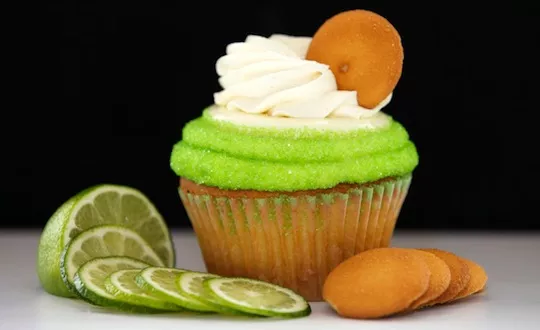 The first time they were on Cupcake Wars, they took home the grand prize and all the glory. When they returned for the "Battle of the Champions," they got cut back down to size. On May 5, Jilly's Cupcake Bar (8509 Delmar Boulevard; 314-993-5455) is back in the competition, duking it out against bakers from across the country at the South Beach Wine and Food Festival.
The local cupcakery known for its jumbo stuffed cupcakes filmed the episode back in February. Though they can't tell us too much about the outcome, the Director of Baking and Pastry, Casey Shiller, did sit down with us to talk about the experience of being back on Cupcake Wars for a third time.
"We were very excited to be asked back a third time," Shiller says. "Obviously any exposure for St. Louis on a national arena is phenomenal, and that's what our mission is. We put out a phenomenal product that's worthy of exposure at any high profile event, and we were ecstatic to find out when they started taping that it was the South Beach Wine and Food Fest."
According to the Cupcake Wars website, the winning bakers got to serve their cupcakes alongside some world-renowned chefs at the festival. Food Network's "Sandwich King," Jeff Mauro, sat in as the guest judge.
Shiller is able to tell us that the theme had something to do with Miami, a city he happens to know well.
"My brother lives in Miami, and I've been to Miami a lot, so it was right in our wheelhouse," Shiller says. "It was one of those moments that you just feel comfortable, not only with the secret ingredients that they showed, but with the theme in general. I know what that South Beach theme feels like, and we wanted to be true to that."
To prepare for the competition, Shiller and his baking partner Dana Holland, Jilly's Executive Chef, come up with a number of cupcake recipes that can be modified to accept almost any new ingredient. There's a very liquid recipe that needs something solid to absorb it and another recipe that needs moisture in case the competition serves up a wet secret ingredient.
In addition to working at Jilly's, Shiller is a full-time professor at St. Louis Community College. Every day, he says, he reminds his students that baking is a science, complete with formulas and equations. If Cupcake Wars hands him something crazy to incorporate into a cupcake, he just needs to figure out the right chemistry to make it work.
There is one ingredient, though, that Shiller is convinced never works, no matter how good the chemistry: offal.
"When they unroll offal, I just squirm," Shiller says, visibly shuddering. "Cupcakes are meant to have whimsy and make people smile, and I just don't think anyone could ever smile from a pig heart cupcake."
It seems Jilly's won't be incorporating internal organs into their cupcakes any time soon, but they will be rolling out a new product on May 5 at a special screening of the episode for invited guests.
Jill Segal, owner of Jilly's, wouldn't tell us what new product they're creating, but she did tell us, "It's delightful. It's delicious. It's a yum-fest."
Customer will just have to stop by the shop on May 6 to find out what new treat Jilly's has cooked up. And check out Cupcake Wars May 5 at 7 p.m. on the Food Network to see Jilly's represent St. Louis in Miami.