Welcome to Girl Walks Into a Bar, a weekly Gut Check feature that spotlights local bars and bartenders. This week, Kaitlin Steinberg profiles Keyan Still of Hendricks BBQ. Below is a Q&A with Still, followed by his recipe for a "Hendricks' House Bloody Mary."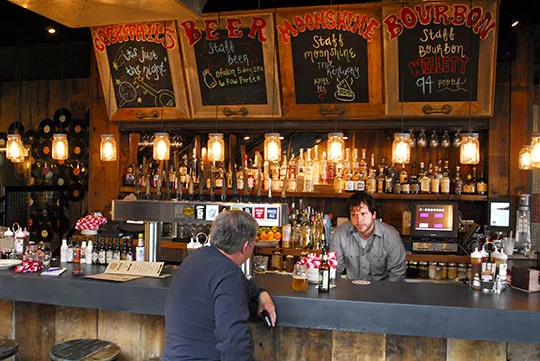 Keyan Still is intent upon talking to everyone who sits at his bar. It doesn't get in the way of his service. In fact, it adds to it.
If you don't immediately know what you want, Still will ask you three questions: What's your favorite wine? What's your favorite beer? What's your favorite cocktail?
Based on your answers, he will mix you the perfect drink. Seriously. Go challenge him.
Still started running the bar program at Hendricks BBQ (1200 S. Main Street, St Charles; 636-724-8600) when it opened in September 2012, and he's been the driving force behind putting the small bar in the giant barbecue restaurant on the map.
Still was originally in marketing, but he grew tired of the cubicle life. While on a trip to Spain when he was 22, he tried alcohol for the first time in the form of a flaming shot. If ever there was a way to start a life devoted to alcohol, that has got to be it. Now, at 28, Still feels like he's finally caught up to his peers who started drinking at a much younger age. And he also feels like he's found his passion.
"It's a learning experience," Still says of mixing cocktails. "I've learned so much more about people and history through drinks than I ever did in school."
His excitement about spirits is evident when he talks to customers, but also, it seems, when he talks to the rest of the bartending staff. As I was preparing to leave, one of Still's bartenders pulled me aside to tell me about his boss.
"You know," he said, "Keyan's a really good teacher. He trained all the bartenders and servers. There are 300 people in here at some point, and all the servers have to know how to talk to people about the drinks. And that's all because of his training."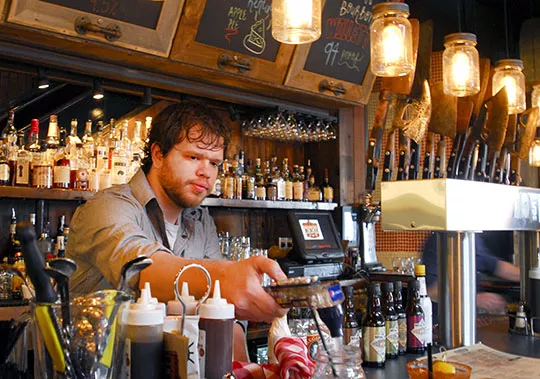 Describe your bartending style in three words. Guest comes first. I don't put much ego into it. It's all about making sure that they get what they want.
A girl walks into a bar and orders _______. She has just earned your undying admiration. A shot of whiskey neat with a beer.
Where do you go to drink other than your own place, and what do you get? Obviously, Sanctuaria. Eclipse, because I don't get out of here until late, and they're open until 3 a.m. I usually just get a shot and a beer. I made a lot of cocktails, but I do enjoy the taste of spirits, so if you have a good spirits program where I can come in and taste something new that I've never had, that's great.
What is one thing that most people don't realize about crafting cocktails or bartending? It's a lot like cooking. You just need to taste everything and learn the flavors. Once you actually understand what you have to work with, it's a lot easier to make stuff for people. As long as you listen to what people have to say, you're going to come up with an amazing drink for them.
Who would you most like to have a drink with and why? I guess I'd have to say Plato. He's someone who really changed the way people were thinking. Just sitting down with a bottle of whiskey and that guy would be an incredible experience. The best thing about drinking isn't getting wasted. It's sitting down with someone and talking about things, so you might as well talk to someone who's redefined the way that people talk to each other.
What is the most bizarre or worst drink someone has ordered from you? I've had people order Georgia Blue Paddle or something like that. People will drink something they like at another bar but not realize that those bars are making up their own cocktails. They'll come in and ask for those and just expect everyone to know them. Which is fine. My response is always, "What does it taste like? What do you like about it?"
What's the coolest or weirdest thing that's happened while working at Hendricks BBQ? The coolest thing here is the staff. A lot of them had never done bartending like this before, and now we have people making it into competitions, and we have people coming in and saying we have the most knowledgeable bar staff. That's just amazing to me.
What do you think is the next big bartending trend? Personally, I'd like to see beer cocktails take off. I's use whiskey, which comes from beer or cognac, which comes from wine. It's a great way of showing where those flavors come from. It's almost like putting history into a glass.
What's your favorite ingredient to use in cocktails? Honestly, I like crème de cacao. I put it in all kinds of things. That and peppercorn syrup.
What's your favorite drink? Water! OK, OK, favorite alcoholic drink...I'd have to say a Manhattan. You can make a different Manhattan for every person who walks in the bar.
Hendricks House Bloody Mary
This bloody mary features "moonshine" instead of vodka. It's called Kentucky Black Dog, and the corn is smoked in the same house where tobacco is smoked, giving this white whiskey a bit of a tobacco flavor that compliments the spices in a bloody mary beautifully.
1.5 oz. MBR Kentucky Black Dog moonshine 1 oz. house bloody mary mix with St. Louis BBQ sauce splash of Charlottesville Hoptimistic IPA House-made rib rub House-made pickles
Stir the moonshine, bloody mary mix and a splash of hoppy beer in a glass. Rim a separate glass with rib rub. Pour mix into the rimmed glass over ice. Garnish with skewered pickles.