Mabel Suen
Prasino's polar bear roll with crab, white tuna, avocado, wasabi mayo, cucumber, unagi sauce and wasabi tobiko.
What exactly is "eco chic?" Walk into the newly opened Prasino (1520 South Fifth Street, St. Charles; 636-277-0202), an upscale, Chicago-based chain of restaurants that just opened its first location outside of Illinois in St. Charles, and your well-informed wait staff will begin to tell you all about it.
We sit down in the vast dining room for dinner, and our friendly server Mark tells us that every piece of wood in the 9,000 square foot space has been reclaimed from Northern Missouri. He also points out the recycled seat belts that make up the upholstery of some of the 280 seats available in the dining room and bar. Those cool looking neutral toned light fixtures that go with the overall natural-colored theme? They're made of recycled, laser-cut cardboard.
As he pours cool house-filtered water into recycled tempered glasses, general manager Charles Leon introduces himself. It's a quiet, rainy night during their soft opening, so he and executive chef Jared Case stop in intermittently to give us recommendations and tell us all about owner Ted Maglaris' vision for Prasino (which, by the way, is Greek for "green").
Executive chef Tony Marchetto, general manager Charles Leon and company executive chef Jared Case.
"The restaurant is sustainable, so everything inside it is green or from a renewable source," says Maglaris, a third generation restauranteur, during a phone interview earlier this spring. He elaborates on the menu offerings thusly: "The food is all from local farmers. All meats are hormone- and antibiotic-free."
Why St. Charles? One of the first farmers' markets in the country originated there, says Maglaris, who's done some research -- and he's not the only one. In order to maintain Prasino's local, organic and sustainable sourced mantra, the company's residing lead chef Case has done his homework on the area's food history and offerings.
"It wouldn't make any sense for me to create a brand that claims itself to be sustainable and locally sourced without appreciating what the local community has to offer," says Case, who has lived in St. Louis before. "That's why it's so important to me that we put pork steak on the menu and make waffle cones, gooey butter cake and toasted ravioli."
Besides implementing some St. Louis themed dishes into the menu with its already established signature dishes, Prasino also works with local farmers including Ole Tyme Produce, Fox River Dairy and Kern Meat Company to obtain its stock.
Mabel Suen
Prasino's take on gooey butter cake with a vanilla merlowe sauce.
"Keeping with the theory of the company and how we operate, nobody was brought down from Chicago," says general manager Charles Leon, who has resided in St. Louis since 2006. "Everyone that's hired here is local."
The executive chef for Prasino's St. Charles location is Tony Marchetto, formerly of BC's Kitchen and Cardwell's at the Plaza.
Prasino has three separate, elaborate menus for breakfast, lunch and dinner with Mediterranean, Tex-Mex and Asian influences. Breakfast ranges from $6 to $15, sandwiches are in the ballpark of $9 to $15 and entrees range from high teens to upwards of $20. Breakfast includes fruits and grains, eggs, omelets, eggs benedict options and a section called cakes, crepes and toasts.
Lunch includes appetizers like their signature lobster avocado with mango salsa and chili beurre blanc in addition to tacos, whole wheat flat breads, salads, burgers and more. Dinner takes the same list and adds a pile of sushi rolls and many more entrees including short ribs with cauliflower gratin, swiss chard and truffle-mushroom cabernet sauce ($26) and black cod ($28) with dashi, buckwheat soba, bok-choy and shitake.
Mabel Suen
The dining room.
Beverage director Todd Ekis was on hand to tell us about the menu's drink offerings, featuring artisinal wines beers and spirits: "I have a breakfast menu with mimosas, bellinis and brighter morning drinks. We have six different bloody marys... Then, we have seasonal cocktails served throughout the day, draft beer and a decent wine list."
Prasino is certainly a large-scale undertaking, unprecedented for the area and poised to continue growing. To see if the formula works, stop in it and see it for yourself.
Current hours of operation are Monday through Wednesday from 11 a.m. to 10 p.m., Thursday through Saturday from 11 a.m. to 12 a.m. and Sunday from 11 a.m. to 10 p.m. Starting April 30, Prasino will open at 8 a.m. daily and the dining room will stay open an hour later daily (except Sunday) offering a "bar bites" menu. View menus online at prasino.com.
Click through for more photos!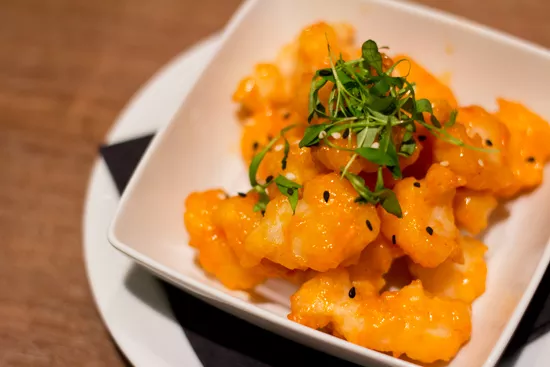 Mabel Suen
Lava rock shrimp with spicy sriracha, sesame and cilantro.
Mabel Suen
A non-alcoholic grapefruit cooler and a "summer thyme" with American Harvest organic vodka, blueberry honey syrup, lemon, soda and torched thyme.
Mabel Suen
Wood grilled shishito peppers with sweet soy and bonito flakes.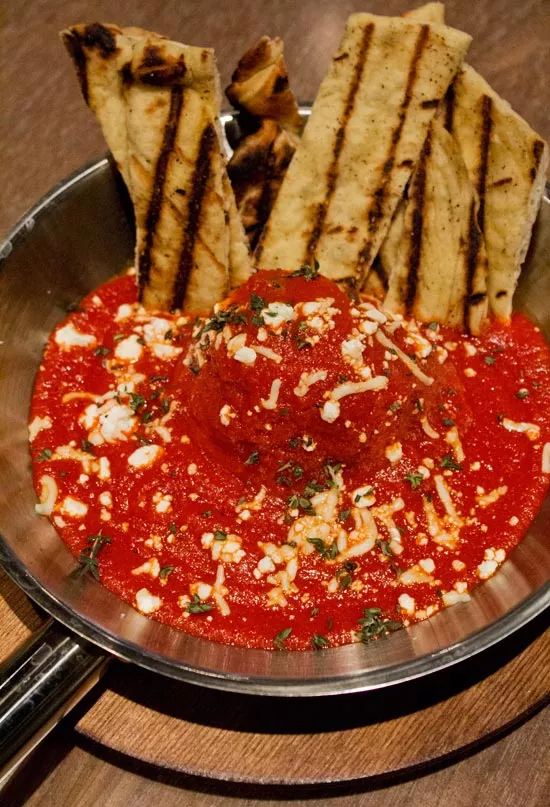 Mabel Suen
Kefte with lamb meatballs, pepper coulis, feta, olive oil and pita.
Mabel Suen
A selection of craft draft beer.
Mabel Suen
The bar at Prasino.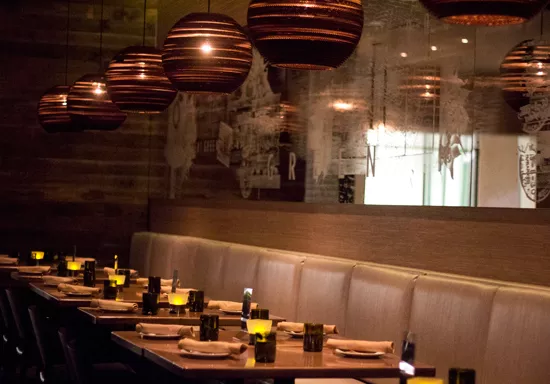 Mabel Suen
The dining room.