This week, our crystal ball told us to check out the Fortune Teller Bar (2635 Cherokee Street; 314-776-2337) to see what kind of magic it is mixing up.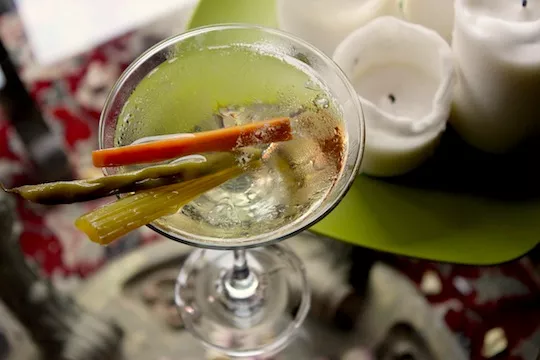 Our charming bartender, Kelly, suggested we try the "Mason Jar" because it's composed of all housemade ingredients (aside from the dry vermouth, but close enough). The "Mason Jar," which is served in a martini glass, not a Mason jar, has a base of pickle-infused vodka that comes from a big ol' container filled with vodka and pickles on a shelf behind the bar. If you didn't know any better, you might assume you were getting pickle moonshine, but this drink goes down way smoother than moonshine ever will.
The pickle vodka is shaken with housemade lemon-hopped bitters and dry vermouth and garnished with an assortment of pickled veggies, also made in-house. They're not merely garnishes, though. With this drink, you get a tasty snack.
The folks at the Fortune Teller Bar are working on constructing an urban garden behind the building so they can grow all of their own fruits, veggies and herbs to use in their food and drinks. They hope to start pickling the home-grown vegetables and adding pickles to several more drinks.
Unless you're a bloody mary connoisseur, pickles and booze may not seem a likely pair, but trust us. It so works.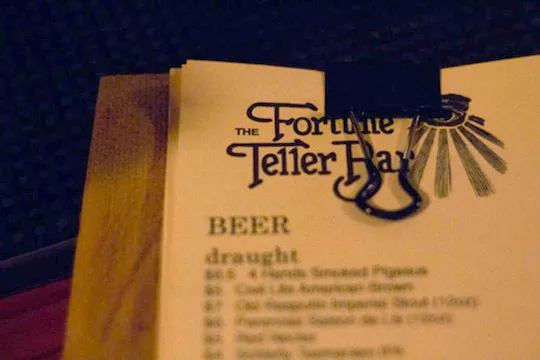 If you're looking for something a little sweeter than a pickle-y martini, try "A Pendulum." It's a refreshing blend of Espolón Reposado tequila, fresh lime juice, house-made lingonberry shrub and ginger beer. (A shrub is an infused vinegar, and yes, Gut Check is obviously having a vinegar moment.)
Stop by the Fortune Teller Bar this evening for one of these inventive cocktails and a bit of a celebration. From 6 to 9 p.m., chef Clara Moore will be at the bar launching a Kickstarter campaign to fund her new cookbook. She'll most likely have some mock-ups to show potential investors, as well as some food to demonstrate her culinary skills. We also heard something about a strolling ukelele player, but we're not getting anything definitive from our tarot cards at the moment.
Editor's note: Wednesday. Hump Day. Congrats, you've made it halfway through the work week! Unfortunately, you still have two days to go.
Dunno about you, but in order to survive the midweek blues, we're going to need a drink. Which brings us to our Wednesday Gut Check feature: "Gut Check's Hump-Day Cocktail Suggestion."
Each week we take you to one of our favorite St. Louis bars (and, oh, the list is long) for a drink (or two) we -- in consultation with the bartender -- highly recommend.