Midwest Pasta Company (2023 Cherokee Street; 314-772-7560) director of operations David Burmeister has been in the food business for more than twenty years, and he's no stranger to pasta.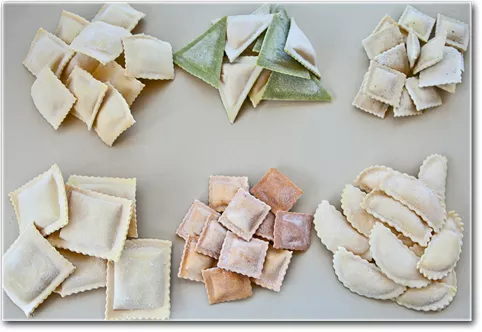 An assortment of frozen ravioli (clockwise from upper left): four cheese, ricotta with sun-dried tomato, butternut squash, white-truffle ricotta, black bean, goat cheese.
Having opened Midwest almost two years ago on the site of a former dairy at Cherokee and Illinois streets, these days the noodle-making team supplies pasta to more than 80 local restaurants and independent grocers (examples of the latter include Local Harvest and Vincents), hawk their wares at area farmers' markets and provide private-label fresh pasta to Schnucks and Dierbergs.
It all adds up to nearly a ton of pasta per week -- all freshly prepared and south-city certified.
See also: - Gut Check First Look: Midwest Pasta Company
Midwest Pasta Co.'s headquarters, at the corner of Cherokee and Illinois streets in south St. Louis, used to house a dairy.
Some fresh pastas are made by rolling the dough flat and cutting it. Others are created via an extrusion process, with brass dies that determine their shape.
Die-cut spinach rotelle. The name comes from the Italian for "wheel" -- you know, because they go round and round.
Rotini, another extruded pasta, gets its name from its spiral shape. This batch is made with beets.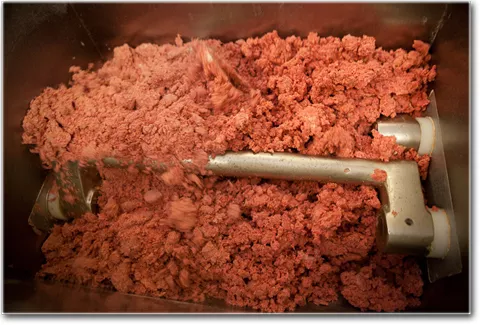 The beet rotini's "before" pic.
Here linguini is rolled out, sliced and then gathered up by hand. It's made with whole eggs and freshly milled new-crop durum wheat.
Once the pasta -- tomato-basil fettuccine, in this case -- is sliced, it's draped over rods to dry.
Black-bean ravioli with lime and garlic in a chipotle-and-red-pepper pasta.
Finished pastas are sealed in containers. Because they're made without preservatives, a layer of nitrogen helps to prolong their shelf life. Refrigerated unopened, fresh pasta packaged in this manner can keep for up to 60 days.
Midwest's retail counter is open six days a week.
For those who want to try this at home: Ravioli stamps in various shapes and sizes.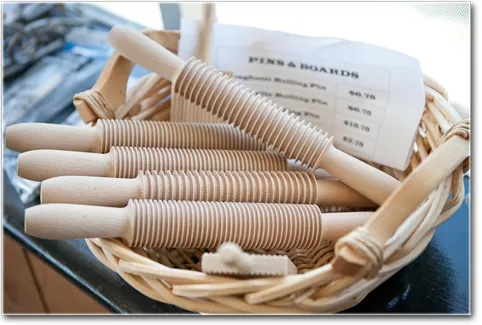 DIY necessity no. 2: Pasta rolling pins.
Editor's note: Sometimes food renders Gut Check speechless. That's why God invented the DSLR. In our continuing effort to cause your mouth to water onto your keyboard, we bring you our weekly Food Photo Essay.
More Food Porn! - The Block Restaurant Butcher and Bar - 2013 Stout and Oyster Festival at the Schlafly Tap Room - Gooey Butter Cakes & More from Ann & Allen Baking Company - Kakao Chocolate Revs Up for Easter - Companion Baking's Early Bird Outlet - Finned, Scaled, Shelled at Bob's Seafood - Songkran Festival 2013: Thai New Year Celebration