St. Louis' neighborhoods are gems in their own right: full of history, great people and, as far as Gut Check is concerned, fantastic food. Each week we'll take you into a specific neighborhood and point you in the direction of the best places to grab some bites.
Banner days are up ahead for Ferguson: The city aims to break the world record for Biggest Popcorn Ball on Friday; Saturday's Brewfest celebrates some of the area's biggest names in small-batch brewing; and its outdoor farmers' market is set to open next weekend on Saturday, May 4. To help navigate Ferguson's ever-expanding restaurant scene, we've rounded up a few of the highlights that can be found along the main drag of Florissant Road.
Whistle Stop Depot (1 Carson Road, Ferguson; 314-521-1600) Upbeat, old-timey piano music is the first thing that greets you at the Whistle Stop Depot, perched above Florissant Road and the Norfolk Southern railroad tracks. The second is the affable owner, Charlie Stork. Kids cram around the quaint shop's bay window hoping to catch a view of the freight trains, clutching their shakes, malts, concretes and sundaes: The "Smoke Stack" sundae is especially fun, a vertical take on a banana split. Whistle Stop Depot also shares its space with a small museum that showcases Ferguson's transportation history, which is periodically updated by the city's historical society. Sandwiches, soups and salads are available too: Make room for the "Pullman" sandwich, made with beef that's been smoked for six hours.
Cork Wine Bar (423 South Florissant Road, Ferguson; 314-521-9463) Modern art and sleek surroundings pair well with classic wine-bar fare such as flatbread pizzas and hummus at Cork Wine Bar, and the dozens and dozens of wines hit a nice range of price points, from a springy Pacific Rim Gewurztraminer ($20 per bottle) to Champagnes that cost a few hundred bucks a pop. Many vintages, though, are in that $40 sweet spot, and most of those are available as three- or six-ounce pours. Discover new favorites though Cork's wine flights: Costing between $10 and $15, each one brings three three-ounce servings. Live music stirs an already festive atmosphere on Fridays and Saturdays.
See also: - RFT Review, Cork Wine Bar - An Updated Guide to Maplewood Restaurants Along Manchester Avenue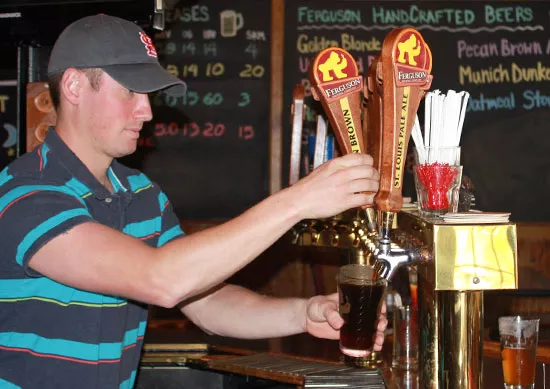 Ferguson Brewing Company (418 South Florissant Road, Ferguson; 314-521-2220) Bright, airy, spacious Ferguson Brewing Company (formerly Hill Brewing Company) is Ferguson's sole craft brewery, and it admirably represents its namesake north-county burg: Sure, it's got great, traditional pub grub (all of its meats are smoked in-house), but "brewing" is its middle name for good reason. There are about a dozen beers on tap here, from the American-style "St. Louis Pale Ale" to the deeply malty "Munich Dunkel," and seasonal beers are always in flux, so ask your server for recommendations. Outdoor seating and a banquet room is also available.
See also: - RFT Review, Hill Brewing Company
Faraci Pizza North (520 South Florissant Road; 314-524-2675) The Faracis like to boast that whether you bought a pizza at their place in the 1960s or today, the pies would taste very much the same. That's the deal when each pizza is made from scratch, after all. Thanks to its signature thin crust, spot-on seasoning and generous toppings, Faraci Pizza has been packing in customers in for decades. The popular "Faraci Special" brings a riot of sausage, pepperoni, bacon, mushroom and onion. But if this north-county pizza place is far from home, stock up and ask for half-baked pies. Pastas, sandwiches and salads fill out the rest of the menu -- take home of bottle of its homemade Italian salad dressing, too, while you're at it.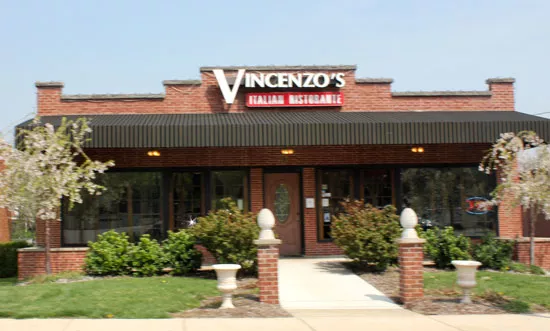 Vincenzo's (242 South Florissant Road, Ferguson; 314-524-7888) Mike Lonero's Vincenzo's evokes the Old World, swathed as it is in deep maroon walls and accented here and there with black-and-white photos, plants overflowing from their pots, and lots and lots of wine. Italian classics, like chicken Marsala, eggplant Parmesan and spaghetti Bolognese are well executed, but the staff points toward the "Amaretto Chicken" and the "Steak Domenico" as the bestsellers. The from-scratch desserts are all made at nearby Cose Dolci Bakery, and they change on a regular basis: Keep an eye out for the decadent tiramisu and cheesecakes.
Corner Coffee House (100 North Florissant, Ferguson; 314-521-4600) It'd be tough to find a sweeter start to your day than a stop at the Corner Coffee House: Each morning brings freshly baked goods, from rich baklava to cinnamon rolls to thick slices of pie. Heartier breakfast fare, such as the slinger, is also available. Better still, most everything is around $5. Its espresso drinks also provide an early-morning lift: Try the chocolate-vanilla-carmel "Milky Way." Not an early riser? Corner Coffee House also serves sandwiches, soups, salads and wraps for lunch.
More Gut Check Neighborhood Restaurant Guides: - Old Webster: An Updated Guide to Restaurants in Webster Groves' Old Webster Neighborhood - South Grand: An Updated Guide to Restaurants on South Grand Boulevard in St. Louis - Benton Park: An Updated Guide to Restaurants in the Benton Park Neighborhood of St. Louis - The Hill: An Updated Guide to Restaurants in St. Louis' Iconic Italian Neighborhood - Webster Groves' Old Orchard Business District: An Updated Guide - New Favorites, Old Friends: An Updated Guide to Restaurants in Lindenwood Park