The Veggielante has had it up to here with people bitching that St. Louis restaurants are vegetarian unfriendly. Sure, we'd like to see more restaurants offering more meatless dishes, but there are excellent choices out there if you take the trouble to look for them. We're not here to proselytize about greening up your diet. Our only motive is to spread the word about places where you can order good grub that ain't got no meat. To enhance your reading experience, we've settled on a handful of criteria we'll use to suss out a restaurant's vegetarian friendliness.
Tara Mahadevan
Sugo's in Frontenac.
Destination: Sugo's Spaghetteria (10419 Clayton Road, Frontenac; 314-569-0400)
Neighborhood: Frontenac
Cuisine: Italian
See also: -Hearty Vegetarian Italian Fare at Tavolo V in the Delmar Loop -Vegetarian Toasted Ravioli and More Meat-Free Meals at Sandrina's -Fresh, Bright Vegetarian Fare Shines at Sunset 44 Bistro in Kirkwood
Tara Mahadevan
Inside Sugo's in Frontenac.
Overview:Michael Del Pietro might be the definition of a St. Louis restauranteur. He and his family own and operate Sugo's Spaghetteria, Babbo's Spaghetteria, Via Vino and Tavolo V. When Del Pietro opened Sugo's in 2008, it seemed a tribute to family-oriented Italian restaurants, with a menu filled with classic Italian comfort foods. Vegetarians will find tons of options at Sugo's, including appetizers, pasta dishes, pizza, salads and more.
Highlights: During lunchtime, Sugo's has a meal deal that includes half a pizza, a half salad, or half pasta and half salad for $10. For our salad we chose the Del Pietro, Sugo's house salad, filled with iceberg lettuce, romaine, parmigiano cheese, onion and tomatoes tossed in a house vinaigrette.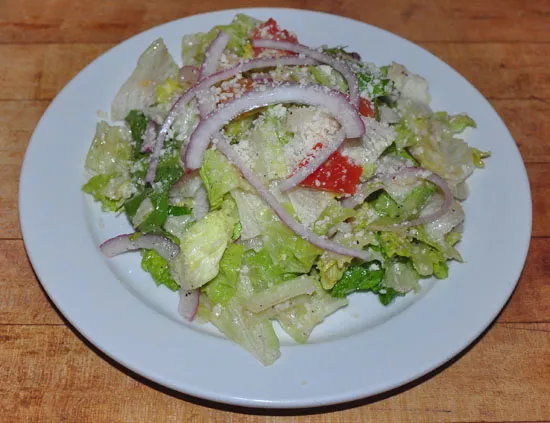 Tara Mahadevan
The Del Pietro salad at Sugo's.
We paired our salad with the Margheritta pizza, a classic Italian specialty. Olive oil, fresh tomatoes, mozzarella and basil are baked on a very thin crust; and in keeping with traditional Italian pizza, there was no sauce. The pizza was crispy, crunchy and light, and satisfyingly delicious.
Tara Mahadevan
Vegetarian Margheritta pizza at Sugo's.
Moving to entrées, the eggplant parmigiano is one of Sugo's most popular dishes. Three pieces of eggplant are pan-fried and baked, and served with Parmigiano-Reggiano and marinara sauce. Though listed under "antipasti" (appetizers), the eggplant is an entrée-size portion to eat alone or share.
Tara Mahadevan
Eggplant parmigiano at Sugo's.
Sugo's is connected to Del Pietro's restaurant Via Vino, which specializes in small plates and wines. Though a bit pricier than Sugo's, Via Vino also has a handful of vegetarian-friendly Italian dishes, too.