Krupa Panchal in front of her new food truck, Bombay Food Junkies | Kaitlin Steinberg
When Sid and Krupa Panchal moved from Mumbai (formerly Bombay) to St. Louis eight years ago, they knew they would miss the street food of the coastal Indian city. Finding that none of the Indian restaurants in town specialized in the kind of food traditional to Mumbai, the Panchals took matters into their own hands.
On Saturday the Panchals celebrated the grand opening of their new food truck, Bombay Food Junkies (@bombayfoodtruck), with a special five-course tasting menu for their friends, family and invited guests.
See Also: -Bombay Food Junkies Hits Kickstarter Goal for Food Truck -Bombay Food Junkies Truck Nears Launch, Turns to Kickstarter for Decoration Help -Bombay Food Junkies Truck to Bring Vegetarian Indian Street Fare to St. Louis
"The inspiration was we grew up the majority of our lives in Bombay," Krupa Panchal explains. "It's so famous for its street foods. There are only a couple of restaurants here that provide something like it, but nothing with the same taste."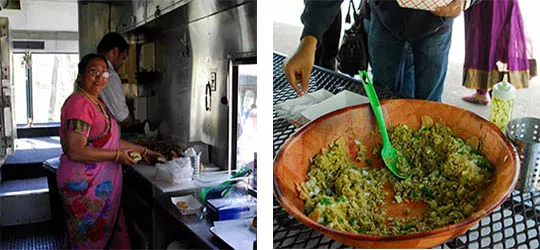 Krupa's mother-in-law cooking in the truck and bhel, a puffed rice snack | Kaitlin Steinberg
Sid and Krupa began working on creating their own food truck about six months ago. Krupa studied optometry and recently got a master's degree in gerontology. She worked in a doctor's office for a while but decided the food-truck route was her true passion. Sid is a computer engineer, and he plans to keep that job while helping out with food-truck events on the weekends. He, too, believes that Bombay Food Junkies is filling a niche in St. Louis.
"Others Indian restaurants in town are more northern Indian cuisine," he says. "It's not pick-up-and-go kind of food. You sit down and eat and have a proper meal. This is more quick, on the go. That works well with the idea of a food truck."
All of the recipes are Krupa's own, but she has had some help from her mother-in-law, who once ran a catering business back in India. Though Krupa herself is not a vegetarian, all of the cuisine that Bombay Food Junkies will serve is vegetarian, and many dishes can be prepared vegan by request.
"Ninety percent of Bombay street food is vegetarian," Krupa says, "but we don't really miss meat when we're in Bombay. We wanted to go with vegetarian because we want to have people know that there is nutrition in it, there is taste."
Vada pav, a potato cake or "Bombay Burger" | Kaitlin Steinberg
The Panchals took out a loan to fund the endeavor, but when it came time to decorate the truck, they realized they didn't have much money left. So they did what many restaurants have done recently: They turned to Kickstarter.
They launched a campaign in early March, offering pledgers everything from a dessert and a personalized thank-you letter for $10 to a private party for 30 people for $1,000. They met their $5,000 goal on March 26, and the truck was wrapped with their colorful design and logo.
The Kickstarter-funded behemoth. | Kaitlin Steinberg
The same friends and family who helped fund the truck's design came out for the grand opening on Saturday afternoon. The Panchals offered free tastes of some of their Bombay street foods, a henna tattoo artist and some Bollywood dances courtesy of Krupa. The menu included vada pav, a potato patty rolled in chickpeas and spices, then fried; pav bhaji, mashed vegetables and spices; bhel, puffed rice with chopped onions and potatoes; kulfi, an ice cream flavored with cardamom; and finally paan, a betel leaf filled with rose petals, fennel seeds and dried fruit.
The Panchals intend to mix up the menu, offering different items daily, but some dishes will be fixtures. Mango lassi, a mango and yogurt drink, will always be on the menu, as will kulfi and the "Bombay Burgers," vada pav.
Based on the reaction from the crowd at the grand opening (and the speed with which the food was devoured), it's safe to say that Bombay Food Junkies has indeed supplied something that St. Louisans were missing.
Pav bhaji, a dish of cooked veggies and spices with Indian bread | Kaitlin Steinberg
The truck will officially start service at SAIC in Earth City on Tuesday, and they'll be updating their schedule daily on their website and Twitter. Bombay Food Junkies will initially spend most of its time in St. Louis county before moving into the city once it picks up some momentum. Maybe someday it'll even be popular enough to keep the same hours as street-food stands in Bombay.
"You go out on the street any time -- it could be two in the morning -- and you'll find vendors selling food," Krupa says. "That's how popular it is."