Welcome to Girl Walks Into a Bar, a weekly Gut Check feature that spotlights local bars and bartenders. This week, Kaitlin Steinberg profiles Neil Minger of Three Sixty. Below is a Q&A with Minger, followed by his recipe for a "Detour Ahead."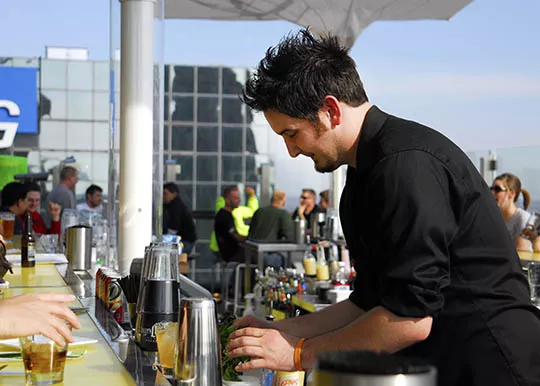 Ah, the rooftop bar at Three Sixty (1 South Broadway; 314-241-8439). It's swanky, it's sexy and, despite its club atmosphere, the bartenders actually know how to mix a mean cocktail.
Enter Neil Minger: bartender, conversationalist and witness to all sorts of crazy St. Louis shenanigans. Minger has been at Three Sixty since it opened two years ago, and he's seen it all from his perch high above the city -- downtown renovations, electrical storms around the Arch, Cards games and oodles of drunken high jinks. But don't worry. Your secrets are safe with him.
Describe your bartending style in three words. Fun, personable and quick.
A girl walks into a bar and orders _______. She has just earned your undying admiration. Tequila neat.
Where do you go to drink other than your own place, and what do you get? Taste has fantastic drinks. Sanctuaria, Blood and Sand. There are so many good places in St. Louis. When Tim (Rabior) was at Sanctuaria, his absinthe cocktails were fantastic. I also love anything with mezcal.
What is one thing that most people don't realize about crafting cocktails or bartending? It takes time, especially when we're backed up. We're doing the best we can to make a good product as quickly as possible.
Who would you most like to have a drink with and why? Honestly, my immediate thought was Hitler, but I felt really bad about that. I don't even have a reason, but that was the first thought that came to my head.
What is the most bizarre or worst drink someone has ordered from you? Yesterday, there was a guy who ordered Champagne and Guinness with maraschino liqueur in it. It was absolutely horrible. He said it was called "Black Velvet," but that's not what a Black Velvet is. He saw a recipe for it somewhere. I tried it, and it was not pleasant.
What's the coolest or weirdest thing that's happened while working at Three Sixty? A guy got tased and carried out. I saw someone grab a server tray and just whip it off the roof. We were like, "Did you really just do that?" He just frisbeed it. Um...a guy took four back-to-back shots with his friends, then threw up in his hat. That was pretty hilarious. We get the people here who don't need that last drink.
What do you think is the next big bartending trend? Everyone's doing this barrel-aged cocktail thing now. You see stuff blow up for a while -- like infusions -- and then they just die. But I think barrel-aged is going to be next.
What's your favorite ingredient to use in cocktails? My favorite ingredient come summer is St. Germain. Anything floral is great. Crème de Violette is good.
What's your favorite drink? I honestly just drink a nice reposado tequila. Nothing in it. Warm.
Detour Ahead
This is Minger's own recipe for a summery drink he calls a "Detour Ahead" in honor of all the construction going on at Busch Stadium that can be seen (and often heard) from Three Sixty.
2 oz Dewar's scotch 1.75 oz peach ginger syrup 6 drops Bittermens Boston Bittahs .25 oz lemon juice
Stir all ingredients together. Pour over ice. Garnish with lemon peel and mint. Sip in the sun.