Dana Loesch RFT cover shoot | photo by Jennifer Silverberg
File under: "If you can't stand the heat."
Last night St. Louis' vociferous conservative talker/tweeter Dana Loesch called out the chef de cuisine of Clayton's Little Country Gentleman after he took to Twitter to take a shot at fans of her radio show.
Responded Loesch, host of The Dana Show, which airs weekday mornings on FOX News Radio's KFTK (97.1 FM): And you wonder why I'm in favor of the Second Amendment...
See also: - "Patriot Dame": 2010 RFT profile of Dana Loesch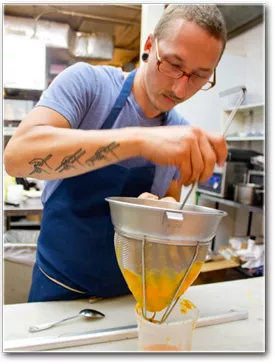 Little Country Gentleman chef de cuisine Dale M. Beauchamp | Mabel Suen
Loesch, a 34-year-old St. Louis native and graduate of Fox High School in Arnold, co-founded the St. Louis Tea Party in 2009. In an RFT profile of Loesch published the following year, author Kristen Hinman wrote, "Loesch lives in south St. Louis, shops at Costco and Trader Joe's, loves Stag and French-press coffee, sets off her tattoos with diamond earrings and likes to fiddle with hydrangeas and handguns. She can cite Scripture without having to open the Old Testament and digs the irreverence of Penn & Teller.
"She doesn't fit nicely in a box, you might say, and if you did, you'd also say that's exactly the political image she's cultivating. An erstwhile Democrat who votes Republican but prefers 'conservatarian,' she has packaged herself as 'the conservative alternative to old dudes.'
"It's a composite that has the GOP salivating. 'I think she's extremely smart, a natural leader who's extremely tech-savvy,' says Lloyd Smith, executive director of the Missouri Republican Party. 'She's reaching a younger demographic than an O'Reilly or a Hannity or a Rush Limbaugh. That makes her extremely unique in being able to get a message into a demographic that historically the GOP and conservative movement maybe have not been as good at as we should have.'"
The Little Country Gentleman chef, Dale M. Beauchamp, soon tweeted an apology -- and promptly locked down his Twitter account, @Dalebo.
But not before Loesch alertly screen-captured the mea culpa for posterity.
Commented Loesch: "This is what I don't get: I've never based commerce on politics. I've never told anyone to kill themselves over it, either. Yet left does."
And a few minutes later: "That said, I wouldn't feel safe eating at @LCGentleman as a result."
Whereupon Mike Randolph, who owns Little Country Gentleman, was compelled to enter the fray.
"We @ lcg in no way support the statement made today by a member of our staff. We believe the comments were reprehensible... ...in no way does it represent the beliefs of this restaurant and its employees," Randolph stated via his restaurant's Twitter account, @LCGentleman.
Loesch accepted the apology, stating, "Appreciate @LCGentleman 's quick response. I'm sure they understand it's a sensitive subject, considering current events. Thank you."
The Twittering prompted one presumed Loesch fan, @Jenny_IDLYITW, to quip, "Has a certain chef found himself out of a job, @DLoesch?"
Gut Check's not sure, but Little Country Gentleman is looking for help in the kitchen. Hours before the contretemps, Beauchamp tweeted on the restaurant's feed that LCG is "Looking to find a new sous chef. Need to be driven, excited by challenge and knowledgeable about fundamentals & new techniques."