Mabel Suen
Espresso hazelnut, pistachio and strawberry cannolis.
Cannoli, bomboloni, sfogliatella riccia, rum baba, cassata, spritz, giugiuleni. Fortunately, for those of us not fluent in the language of Italian pastry, all it takes to get one of the fresh-baked goods at Piccione Pastry (6197 Delmar Boulevard; 314-932-1355) out of the case and onto a plate is a simple gesture toward the dessert of choice. The 2,000-square-foot late-night bakery quietly opened its doors at the busy intersection of Delmar and Skinker boulevards this week with a grand opening slated for April 22.
Upon entering the fully outfitted casual storefront for the first time, Gut Check found ourselves unconsciously drawn to the brightly lit display case like a bug intoxicated by the glow of a warm lamp, only to get zapped with a sharp sugar rush. Behind the front line of sweets, uniformed staff and pastry chefs wrap up the final stages of production and prep for service on a long marble table. Tray after tray of colorful cookies line shelves against the back wall, containing plenty more treats to choose from.
Mabel Suen
Co-owner Elizabeth Nix, manager Laura Dignon, Grace Nix and chef Martin Lopez.
"What we try to do is recreate an Old World pastry shop in a modern way," says Richard L. Nix Jr., president of Butler's Pantry, the catering and restaurant business that got originally its start on Delmar Boulevard in 1966 and now operates concepts such as Bixby's and Cafe Madeleine.
Nix and his wife, Elizabeth, were inspired to open Piccione Pastry after visiting similar late-night spots on the East Coast. "Piccione" means "pigeon," but those birds would have to be pretty lucky to peck away at any of these expertly assembled crumbs. The name and location are a tribute to Nix's Italian heritage and family, including his grandmother Grace Piccione, who operated the Varsity Theatre (known for its raucous late night showings of The Rocky Horror Picture Show) with his uncle, Pete Piccione, more than 30 years ago.
Executive Chef Martin Lopez joined Butler's Pantry in June and has been developing the product line and training his staff on it ever since. His background also plays an important role in the company's identity, with Italian and Mexican roots proudly showcased in his cooking style. Lopez learned how to infuse the best of both worlds from his mother at an early age, taking inspiration from fusion dishes she created like poblano fettuccine. Take, for instance, his cannoli chips and dips, featuring crispy cannoli shell chips served with two ricotta fillings.
"All our items are baked in small batches to focus on really traditional baking," says Lopez. "They require a lot of skill and aren't just thawed products out of cardboard boxes. They're made with love from scratch."
The menu consists of traditional ricotta cannolis ($3.25) in flavors like lemon, strawberry, pistachio and espresso hazelnut; bombolini (three for $2.75), which are light, airy Italian donuts tossed in cinnamon sugar; a selection of pastries including cream puffs and flaky, buttery sfogliatella, which means "lobster tail"; cakes such as tiramisu, ricotta cheesecake and cassata cake (rum soaked sponge cake); Italian cookies including florentines, biscotti and sable pinwheels; and foccacia sticks ($1.75) in flavors like asiago and red pepper and prosciutto.
Caffeinated beverages feature Lavazza Italian coffees, including a specialty "cappucino crema" with whipped skim milk, ice and sugar that creates a meringue-like consistency over espresso and a flavored syrup of choice. Italian sodas come in a variety of fruity flavors like blackberry and lemon.
Mabel Suen
Cappucino crema with orange flavoring.
Does this press make Gut Check look fat? Well, you'd do best to avoid making eye contact with our cream-puff top in a couple months. Have we mentioned that Piccione Pastry is located conveniently just blocks away from RFT headquarters? Mamma mia... Piccione Pastry's hours are Tuesdays, Wednesdays and Sundays from 11 a.m. to 9 p.m. and 11 a.m. to 11 p.m. Thursday through Saturday. View a full menu online at Piccione Pastry's website.
Click through for more photos.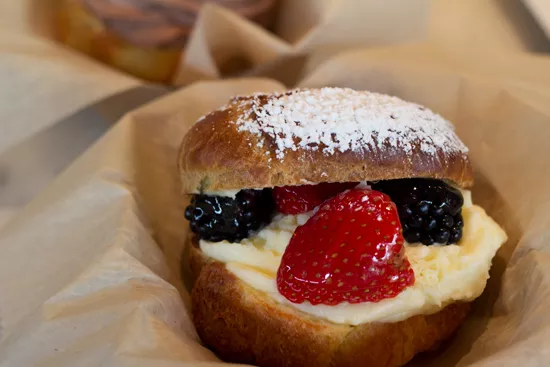 Mabel Suen
A cream puff filled with Piccione cream filling and topped with glazed berries.
Mabel Suen
Chocolate and coffee checker cassata cake, a rum soaked sponge cake.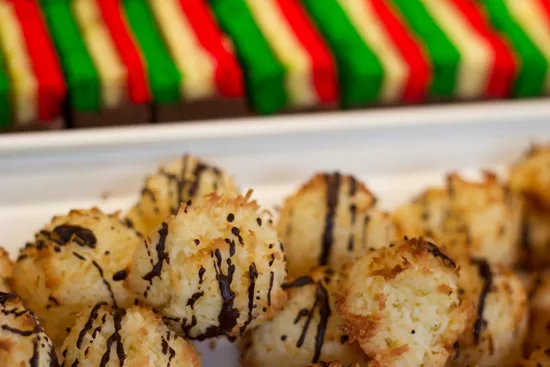 Mabel Suen
Italian tricolor cookies and coconut maccarones.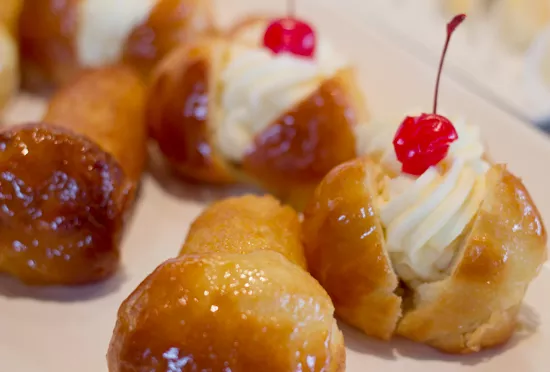 Mabel Suen
Rum baba, a rum soaked yeast cake with Piccione cream.