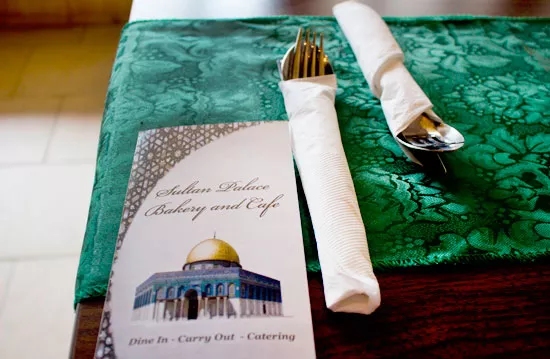 Sultan Palace Bakery and Cafe (4144 South Grand Boulevard; 314-875-9653) opened in Dutchtown only last November. A banner still hangs outside the Middle Eastern restaurant announcing its grand opening.
Signs that it is still open at all are not good.
See Also: - First Look: Sultan Palace Bakery and Cafe Serves Shawarma and More on South Grand
A Twitter friend first alerted me to the possible closure a few days ago. I've driven by twice in the last two days during its regular hours to find it closed. The list phone number rings through to a voice mailbox that is full and not accepting messages.
The restaurant remains furnished, however, with rolled silverware on the tables in the dining room.
More as we learn it.
Meanwhile, as long as we're on this stretch of South Grand, a few more updates:
- As we reported last week, the Vietnamese restaurant St. Louis Pho (3863 South Grand Boulevard; 314-664-4041) has new owners and a new name, Kim Ngan. These new owners were the original owners of the tiny Vietnamese spot Phuc Loi (3723 Gravois Avenue; 314-772-7742). Kim Ngan did indeed open as promised on Monday of this week.
- Finally, because I know at least one person who every now and then asks me what the deal is with this apparently short-lived place: the chicken-wing-centric Atlanta import J.R. Crickets (3737 South Grand Boulevard; 314-875-9848) still has not reopened.