This is part two of Gut Check's Chef's Choice profile of Brian Moxey of Pastaria. Read part one, a profile of Moxey, here. Part three, a recipe from Moxey, will be published on Thursday.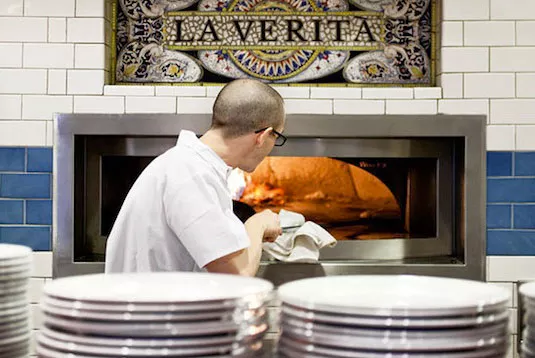 Brian Moxey slides a pizza into Pastaria's wood-fired oven. | Jennifer Silverberg
Though a native son of Sikeston, Brian Moxey made his bones as a young cook on the world's biggest stage: New York City. After graduating from the French Culinary Institute (now known as the International Culinary Center) in Manhattan, he worked at Craftsteak, from the acclaimed (and now television-famous) Tom Colicchio, and then at two of Marco Canora's acclaimed Italian restaurants, Insieme and Hearth.
The love of Italian cuisine -- not to mention the dedication to working ever harder -- that Canora instilled in Moxey prepared him for his return to St. Louis as the executive chef of the acclaimed Pastaria (7734 Forsyth Boulevard, Clayton; 314-862-6603).
Moxey and I met on a recent afternoon to talk about his journey from Missouri to New York and back again (read my profile of Moxey for that story), his early impressions of the dining scene in St. Louis and his love of pimento cheese and heavy metal.
See Also: - Brian Moxey Journeys from Starry-Eyed Young New York City Cook to Executive Chef of St. Louis' Hottest Restaurant - Pastaria's Italian Ramen: One of 100 St. Louis Dishes You Must Eat Right Now
What's a typical meal at home for you? I gravitate to simple pasta dishes when my wife and I do have time to sit down together. She's a school teacher, so we have polar-opposite schedules. Then with our [two-year-old] daughter and trying to get her to bed. [Afterwards,] we're like, 'Are you still hungry?' I try to keep it simple -- one-pan stuff. Maybe a nice salad, roasted vegetables and a roast chicken is one of my favorite things to cook. I like to roast meats at home for sure -- a big steak or something. On a weeknight, probably just a bowl of pasta or something.
Is your daughter an adventurous eater yet? When she was younger, I remember, we were out to dinner, and she ate salt cod, she ate octopus and all this different stuff. And now, no. She's not super open to it. That's another thing about why I love where I work right now. When she comes in, macaroni & cheese? No problem. She's a big fan of the Bolognese sauce, too. That's fun. But she's in a picky-eater phase right now.
Any guilty pleasures? Something we'd be surprised you like? Pimento cheese and gummi bears.
Together? [laughs] Not combined.
That would be surprising. Anything else? One of my favorite late-night snacks is the Oberle sausage, Haulty pimento cheese and Triscuits.
Pimento cheese is having a moment, you know. I know. Now it's like this huge thing, but I remember my dad eating those sandwiches when we were kids, and I still love it. It's delicious.
What's on top of your pizza? Canadian bacon and pineapple. I love it. If we're doing a delivery sceniaro, I'll probably destroy it with sriracha when it gets there.
What's your drink of choice? Probably a negroni. I like the balance.
Brian Moxey overlooks the line at Pastaria in Clayton. | Ian Froeb
What are your favorite St. Louis restaurants, not counting your own? Mai Lee is always delicious. We just had a great experience at Olio. We went on a Sunday night for the no-menu scenario. They were super grateful, took good care of us, the food was super delicious, really simple. I've got a birthday coming up. I'm taking a couple days, and I'm just going to attack a couple restaurants to see more of what's out there.
Which St. Louis chef most impresses you? Kevin Nashan (Sidney Street Café) is amazing. He just gives you a big bear hug every time he sees you. He's always concerned about what's going on. He's curious. He's larger than life almost. He's a really cool guy.
What's your favorite city for food and restaurants? I gotta say New York right now, I guess. I say that purely because that's still all I know. I'm excited about getting out more here.
What's your favorite restaurant elsewhere? A restaurant I went back to the most was Lupa Osteria in Manhattan, one of Mario Batlai's little casual places. It was really simple, really well excuted, great price point.
Anything we have in St. Louis you didn't have in New York City? Good barbecue. I definitely missed that.
I have been pretty surprised at the amount of different cultural foods that are available here. That's really comforting to me. We lived up in West Harlem, and all the different Dominican spots were just amazing. The little old lady who sold tamales out of her Igloo cooler. Incredible.
I haven't had Chinese takeout here. I feel like there were a couple places in New York that were really good. It wasn't just your standard sweet-and-sour chicken. I'm pretty open to try pretty much anything. I'm big on Vietnamese right now.
The most essential ingredient in your kitchen? Salt. Gotta have it. Fresh vegetables and fruit and all that stuff taste good, but if you're going to cook it, there's got to be a salt aspect there.
An ingredient you'll never allow in your kitchen? That's a hard one. I'm open to a lot. I'm not big on tripe, but I have had it and enjoyed it, so I'm not going to say I'm against it.
What music is playing in your kitchen? [I ask this question knowing from following Moxey on Twitter that he loves heavy metal, and he's already nodding because he knows I know this] I love heavy meatal -- love heavy metal - but Billy Joel has its time in place. I listen to a lot of different stuff.
Blanket answer definitely has to be metal, though.
Favorite cookbook? Cooking by Hand by Paul Bertolli is amazing. Right now I'm really big into Sara Jenkins' cookbook, Olives & Oranges.
Any advice or a favorite tip for the home cook? You probably need more salt in your water whether you're cooking pasta or blanching vegetables. When I go home and cook for family members, they're like, "You're putting that much salt in it?" Just calm down. Then they taste it and they're like, "Wow! This is great!"
Favorite kitchen tool? Chef's knife.
Most useless kitchen tool? Any single-use item, like a corn zipper comes to mind. It's like a vegetable peeler for taking corn kernels off.
What's the strangest or most memorable thing that's ever happened to you at a restaurant? We were at Insieme [in New York City]. We had a guy staging for the day. He had a 22-quart container of melted duck fat. And we're like, "Just put it in the ice bath."
And he was like, "The ice bath over there?"
"Yeah just put it in the ice bath."
And he said, "Straight in?"
We're like, "Straight in. Can't believe we're still having this conversation."
And he walked over and dumped the 22-quart container into the ice bath. That was one of those moments you're just standing there, like, "What the fuck just happened?"
He disappeared after that. He was like, "I gotta use the bathroom," and then he went and got his shoes and left.
This is part two of Gut Check's Chef's Choice profile of Brian Moxey of Pastaria. Read part one, a profile of Moxey, here. Part three, a recipe from Moxey, will be published on Thursday.