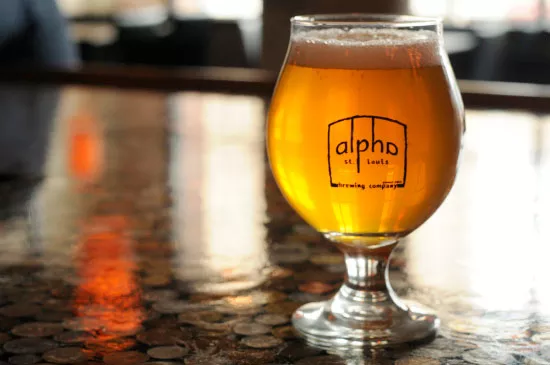 Caillin Murray
The Belgian Pale Ale at Alpha.
Just when you thought you've tried every beer there is in St. Louis, Alpha Brewing Company (1409 Washington Avenue; 314-651-093) opened its doors on Wednesday, April 10, and gave you ten additional craft brews to add to your tick list. Tucked away just off bustling Washington Avenue, the brewery and tasting room is a quiet refuge for those who just love beer. Come during the idle hours of the day, and owner/head brewer Derrick Langeneckert is happy to talk beer with you for as long as you let him.
Langeneckert's decision to open the brewery comes from his love of beer, and his passion is evident in everything from the menu to the artisan taps.
Each beer listed on the menu has its own accompanying paragraph in ode to the ingredients choices, as well as a few words on the brew's flavor profile. Langeneckert sees the recent "foodie" movement carrying over to beer, and he aims to inform his drinkers as much as possible on what they're drinking. The resurgence in the popularity of craft beers has people pulling away from the national chain beers such as Budweiser and Michelob, instead cozying up to local concoctions with ingredients like prickly-pear cactus and bull testicles. While you won't find any of these ingredients at Alpha, you will find a range of "aggressive" ales, with bold, punchy flavors that go down smooth.
"You know that if you get into craft beer, there's no going back," Langeneckert warns. "You don't say, 'Oh yeah, I like IPAs, but I usually drink Bud Light. Like, no one says that. You never hear someone say, 'Yeah, I'm an ex-craft beer drinker.'"
Once you go craft, you never go back.
Caillin Murray
Patrons sit at the bar at Alpha Brewing Company.
Alpha's beer list, while small, has a decent range. There's an obvious preference for pale ales and IPAs, but there's a red ale and a blonde ale for those faint of hop-heart, and Langeneckert has a wheat ale in the works for summer sippers looking for something light and refreshing. Alpha's pale ales are clearly Langeneckert's babies, and Gut Check tried the Simcoe Simcoe IPA ($6) and was not disappointed. Fruity and hoppy, it had strong notes of grapefruit that would make it the perfect replacement for a morning cup of orange juice...if day drinking is on the docket.
Caillin Murray
Langeneckert pours a beer for a customer.
Tired of all these pale beers? On the menu are two "storter" beers, a term Langeneckert humorously came up with in response to the Irish stout/English porter argument. "The English and the Irish, they hate each other and they have for 1,000 years," he jokes. "They both make this beer that's dark and roasty, and they call it different names." So he has cut the nonsense and compromised by calling his heavier, dark beers "storters." Gut Check tried the Alpha Storter ($5) and found it sweet and strongly malty.
Alpha has ten taps, but two of Langeneckert's brews haven't made there yet. So in the meantime, he's put in a Schlafly Hefeweizen and Kolsch as guest taps until his American Wheat ale and Rye pale are ready to make their debut.
Caillin Murray
The bar top has coins from all over the world set into the epoxy.
The bar itself has an intimate feel, with seating for 50. There's plenty of space at the bar, but there is also seating at a long wooden table for larger parties and a couch if you want to get more comfortable with a pint. A colorful mural decorates one wall, but it's hard to notice when the bar top is a work of art in itself. Set deep into the epoxy of the counter is what Gut Check assumes to be thousands of coins from different countries. "I like traveling; I guess it's my thing," Langeneckert claims. He has been to 43 countries, so it's obvious that it is, in fact, his thing, and the bar top reflects that. His taps double as artwork as well -- they're custom-made by an artisan welder in Wentzville.
There's no food at Alpha, but there's a list of menus from local restaurants behind the bar, which patrons can order from and have food delivered to the tap room. Currently in the works is a partnership between Alpha and Guerrilla Street Foods food truck, which slings Filipino-inspired dishes from the back of its intimidating jet-black rig.
Caillin Murray
Langeneckert chats with bar patrons.
Starting this past Saturday, April 13, Alpha has started holding brewery tours. For $20, Langeneckert's fiancée will take you on an hourlong tour of the brewery on Saturday at 1 p.m. Tour participants will get a flight sampler of all of Alpha's brews.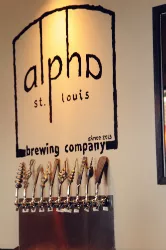 Caillin Murray
Alpha's artisan taps.
Langeneckert, 26, describes himself as a "noob" in the brewing world. He started off home brewing, and then got a gig working under John Witte at Square One Brewery. Emboldened by his experience at Square One, Langeneckert decided to go ahead and make the leap to start his own brewery. And he was certainly confident. Cocky, even. Alpha's website touted its beer as being "only the bestest, hoppiest, strongest, sourest, oddest, most maverickest of beers" before the place even opened.
Langeneckert's brewery journey was not certainly without help, though, with Schlafly offering its assistance to Alpha with the acquisition of necessary licenses as well as ingredients for the beer. Langeneckert says he didn't expect the bigger brewery to be so accommodating, but sees Alpha and Schafly as brothers-in-arms of sorts, in the battle against big-name domestic beers. "As soon as you can switch them over from getting a case of Bud Light for a party to picking up a case of Arrogant Bastard or Schlafly Dry-Hopped APA, then we won. That's it."