St. Louis' neighborhoods are gems in their own right: full of history, great people and, as far as Gut Check is concerned, fantastic food. Each week we'll take you into a specific neighborhood and point you in the direction of the best places to grab some bites.
Maplewood crams a lot of life into a relatively short stretch of Manchester Avenue: It's home to a cozy coffeehouse, a fantasy-sports mecca and the other king of St. Louis beers. Here's a list of some of the colorful, can't-miss places along Manchester before it turns from county to city.
See also: - Old Orchard: An Updated Guide to Restaurants in Webster Groves' Old Orchard District
Michael's Bar & Grill (7101 Manchester Avenue; 314-644-2440) From the red-brick interior to the sun-filled patio to the greeting at the door, the convivial Greek-American taverna Michael's exudes warmth. Appetizers run the gamut from wings to toasted ravioli to saganaki, though the standout is probably its fresh calamari which brings gorgeously tangled fried tenticles: "What part of the squid do those perfect rings come from?" an employee hypothetically asked us. Thanks to Michael's, we don't have to find out. Dolmades, moussaka and pastitio are among the most popular Greek specialties, while the "Michael's Burger" (spring for the fat steak fries) is one of the city's best.
See also: - RFT's 100 Favorite St. Louis Dishes: The Michael Burger at Michael's Bar & Grill - 2007 Best of St. Louis: "Best Bar Food"
Foundation Grounds (7298 Manchester Road, Maplewood; 314-601-3588) Maplewood has a handful of bright, locally owned coffee shops, but none offers more variety to customers than Foundation Grounds. Wedged at the intersection of Manchester Road and Oakview Terrace near the most bustling part of the neighborhood, Foundation Grounds features a wide selection of food and drink options, with an emphasis on catering to customers mindful of organic, gluten-free, vegetarian, dairy-free or vegan diets. Fresh sandwiches here include "A Perfect Pear," stacked with thinly sliced organic pears, organic spinach, organic apple butter, topped with melted brie and red onion, and "the Madahoocheese," with Tillamook cheddar, Parmesan, organic tomatoes drizzled with olive oil, topped with organic baby spinach. Other options include baked goods, soups, salads, quesadillas, breakfast items and kid-friendly dishes. While the food might be what keeps you coming back, the coffee drinks are probably what brought you in, and rightly so: The selection and quality of coffee, tea and smoothie drinks at Foundation Grounds is as broad as its food menu. The "Honey Cardamom Latte" is an especially rich, tasty treat, and like its eats options, drinks at Foundation Grounds are easily made dairy-free and vegan-friendly, with soy and almond milks available. In addition to its diverse menus, the cafe plays host to live music and hosts events and specials during the week, and offers a cozy outdoor patio for soaking up sun during warmer months.
See also: - 2012 Best of St. Louis: Best Salad - The Veggielante Visits Foundation Grounds
Boogaloo (7344 Manchester Road, Maplewood; 314-645-4803) Brining a sunshiny splash to this stretch of Manchester is the Cuban/Creole/Caribbean hybrid Boogaloo. Bright orange, lime greens, ornate mirrors and chandeliers punctuate the interior design, and patrons can sit on swings up at the bar. Crab empanadas and veggie-friendly plantain tostones are some of the most popular tapas dishes, while the "Caribbean Tripleta" sandwich, made with beef, jerk chicken, ham, Swiss and mango slaw is another bestseller. Get acquainted with Boogaloo's cocktail menu and its inventive takes on old reliables: Start with the potent "Coyote Campfire," its margarita made with fresh-squeezed lime juice. The hollowed-out rind is heaped with sugar, doused with Bacardi 151 and lit on fire, resulting in caramelized crystals and a buzz on the quick. Stick around for happy hour, too: Tapas are marked down by 25 percent a pop, as is wine by the glass.
See also: - The Veggielante: Boogaloo's Caribbean Cuisine Offers Vegetarians a Chance to Swing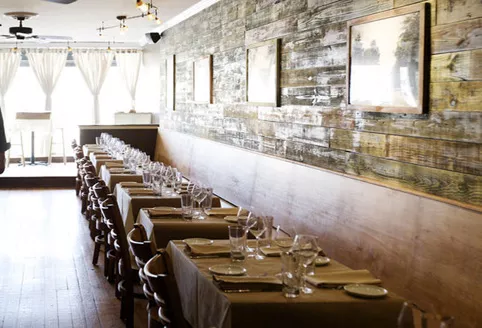 Home Wine Kitchen (7322 Manchester Road, Maplewood; 314-802-7676) It's a testament to Cassy Vires' Home Wine Kitchen that it is mentioned -- repeatedly -- by some of the city's best chefs as one of their favorite places to eat. Vires, who has penned a James Beard Award-nominated column for Feast, changes her dinner menu from top to bottom every week, but the focus of her contemporary American fare is fixed on using the highest-quality meat and produce from local purveyors including Salume Beddu, Ozark Forest Mushrooms, Ludwig Farms and Claverach Farm. Home Wine Kitchen's simple, rustic elegance shines bright throughout the menu, particularly in its unassuming burger made from grass-fed cattle and pork belly that's topped with garlic aioli, cheddar cheese, bacon and a fried egg. Its wine list is brief but excellent: Wine is generally $8 a glass or $30 by the bottle, though a few higher-priced reserve bottles are available, too.
See also: - RFT Review and Slideshow: Home Wine Kitchen - Chef's Choice: Cassy Vires of Home Wine Kitchen
Tiffany's Original Diner (7402 Manchester Road, Maplewood; 314-644-0929) Every neighborhood should have a 24-hour greasy spoon, not only for drying out after closing time is called at local bars, but for quietly drinking cup after cup of black coffee while reading the paper on Saturday morning. In Maplewood, that spot is the timeless Tiffany's Original Diner. Step inside for breakfast at Tiffany's and feel instantly transported to, well, the way stepping inside a diner should always feel. Simple, unpretentious decor, more than a dozen vinyl-topped stools and one '80s arcade game consume the small, sparse space -- the star here is the food coming off the griddle. Breakfast is served all day, and no menu item sets you back more than $11 (that's the twelve-ounce T-bone with fries or two eggs for $10.95, to be exact) with options such as a breakfast platter (served anytime), hot cakes (no, not pancakes), country-fried steak, a piece of pie or a tuna melt, among other classic items. A corner jukebox offers precious else outside the sounds of Johnny Cash and Meat Loaf, and the cooks and waitstaff vacillate between convivial and indifferent, though if you're lucky enough to drop in when a gaggle of regulars have bellied up to the bar, you're in for a treat.
See also: - Counter Intelligence: RFT stages an around-the-clock diner-thon - 2008 Best of St. Louis: "Best Diner"
The Post Sports Bar & Grill (7372 Manchester Road, Maplewood; 314-645-1109) Though the Post might best be known as St. Louis' grand poobah of fantasy-sports, make no mistake: This bar keeps it real. With its numerous televisions, huge menu (wings are a must) and energetic fans cheering the place into a near-constant frenzy, it's a great spot to watch a game. Food and drink specials abound when the home team takes the field, court or ice: It's particularly fun when Allen Craig smashes a homer, and everyone gets a round of the Post's "Redbird" shots, made with cherry vodka, on the house. Free trivia nights are also an option for those who prefer athletics of the intellectual variety.
See also: - RFT Review and Slideshow: The Post Sports Bar - The 6 Best Sports Bars for Food
The Crow's Nest (7336 Manchester Road, Maplewood; 314-781-0989) Much of the charm of a great dive bar is cultivated over time -- thread-bare bar stools, salty (ahem, experienced) waitstaff and dirt-cheap prices that haven't inflated over the years. Though the Crow's Nest in Maplewood feels almost too young to meet that standard, its a true dive bar through and through, offering a dimly lit, laid-back respite from its otherwise swankier neighbors on the Manchester Road strip. When it opened in 2011 it served as a reincarnation of sorts for its owners, who previously stirred the popular Bleeding Deacon in south city. A similar menu prevails at Crow's Nest, chock-full of hearty, stick-to-your-ribs comfort foods such as fish and chips, meat loaf and substantial sandwiches including "the Fidel," with pulled pork, maple Dijon, spicy pickled cucumbers, Swiss, bacon served on Pugliese, or the "B.A.M.," with bacon, apple aioli, mixed greens and tomato also served on Pugliese. (Both are $9.) In addition to satisfying eats, the Crow's Nest also offers a wide selection of draft and bottled beers, and happy hour falls every day of the week during different intervals: Monday through Friday from 4 to 7 p.m., with late-night specials Monday through Thursday from 10 p.m. to 1:30 a.m. and Sunday from 9 p.m. to Midnight, with drink specials including $3 rail drinks, $2 PBR and Miller High Life and $1 off drafts. Deals on food include $4 Caesar salad, house salad, hummus and truffle frites. Don't miss the restaurants Sunday "metal brunch" or its weekly "taco Tuesday" specials, either. Oh, and its jukebox selection rivals any other in town.
See also: - RFT Review and Slideshow: The Crow's Nest - 2012 Best of St. Louis: "Best Jukebox"
Schlafly Bottleworks (7260 Southwest Avenue, Maplewood; 314-241-2337) Though the Tap Room downtown is considered Schlafly's flagship location, Maplewood's Bottleworks is the city's first production brewery established since Prohibition's end. Much of Bottleworks' meat and produce comes from local farms (even its tofu and Match meat is made close to home), so its menu, like its draft beers, are seasonal. Schlafly is the city's most popular microbrew, and it crops up in lots of its food, such as the earthy spent-grain beer bread and the Hefeweisen-marinated bone-in pork chop. Schalfly-sponsored events throughout the year are always worth attending: Autumn's Art Outside is a three-day juried show filled with music and eats; Cabin Fever perks up the dreary winter; and the Schlafly Farmers Market, held on Wednesdays, heralds the arrival of spring.
See also: - Slideshow: Cabin Fever 2013 at Schlafly Bottleworks - 2007 Best of St. Louis: "Best Burger (Non-Beef Division)"
More Gut Check Neighborhood Restaurant Guides: - Old Webster: An Updated Guide to Restaurants in Webster Groves' Old Webster Neighborhood - South Grand: An Updated Guide to Restaurants on South Grand Boulevard in St. Louis - Benton Park: An Updated Guide to Restaurants in the Benton Park Neighborhood of St. Louis - The Hill: An Updated Guide to Restaurants in St. Louis' Iconic Italian Neighborhood - Webster Groves' Old Orchard Business District: An Updated Guide - New Favorites, Old Friends: An Updated Guide to Restaurants in Lindenwood Park