The Veggielante has had it up to here with people bitching that St. Louis restaurants are vegetarian unfriendly. Sure, we'd like to see more restaurants offering more meatless dishes, but there are excellent choices out there if you take the trouble to look for them. We're not here to proselytize about greening up your diet. Our only motive is to spread the word about places where you can order good grub that ain't got no meat. To enhance your reading experience, we've settled on a handful of criteria we'll use to suss out a restaurant's vegetarian friendliness.
Tara Mahadevan
Sandrina's in south city.
Destination: Sandrina's (5098 Arsenal Street; 314-601-3456)
Neighborhood: Southwest Garden
Cuisine: "Eclectic American"
See Also: -Fresh, Bright Vegetarian Fare Shines at Sunset 44 Bistro in Kirkwood -Truffle Frites and Other Vegetarian Delights at Maplewood's The Crow's Nest -Hearty Vegetarian Italian Fare at Tavolo V in the Delmar Loop
Overview: In a 163-year-old building at the corner of Arsenal Street and Brannon Avenue sits Sandrina's -- a 3 a.m. bar, with a 2 a.m. kitchen and an overly vegetarian-friendly menu. Sandrina's has been locally owned and operated by the Erwin family since 2007, with all members of the family taking over different aspects of the business. The Erwins run the business end of things while son Jeff manages Sandrina's books, and daughter Trish acts as head chef and manager of the kitchen and bar. Trish's goal is for everything on her menu to be housemade.
Highlights: A spin on a St. Louis classic, Sandrina's veggie toasted ravioli ($6.95) is a meat-free must-try. Eight toasted raviolis are stuffed with spinach, artichokes and cheese, doused in Parmesan and served with a side of marinara sauce. The toasted ravioli are one of the few dishes on chef Erwin's menu that aren't made in-house -- she will soon switch to making them from scratch.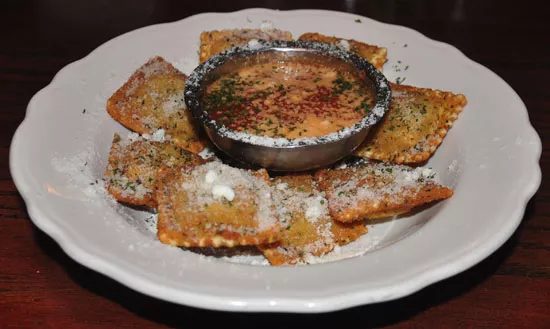 Tara Mahadevan
Spinach and artichoke toasted ravioli at Sandrina's.
Another omnivore delight turned on its head at Sandrina's is its vegetarian nachos: A bed tortilla chips is piled high with black beans, cheddar cheese, sour cream, salsa and jalapenos. This delectable appetizer will run you $7.95.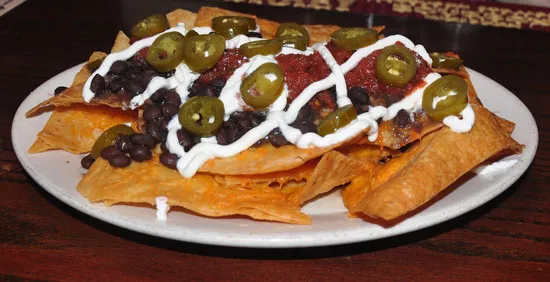 Tara Mahadevan
Vegetarian nachos at Sandrina's.
Last but not least are Sandrina's fried artichoke hearts ($6.95). Here eight artichoke hearts are fried to a crispy, golden brown and served with a lemon-butter sauce. This dish is simple and good for sharing with friends or gobbling up solo -- no judgement here.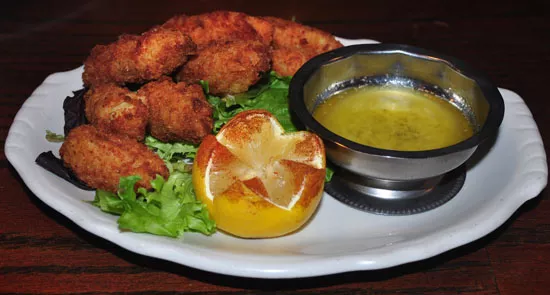 Tara Mahadevan
Fried artichoke hearts at Sandrina's.
Sandrina's has many other vegetarian dishes to choose from, including Gus' pretzels with choice of dipping sauce, tempura-battered onion rings, vegetarian chili, salads, falafel sliders with feta and cucumber sauce, triple grilled cheese sandwich, vegetarian lasagna, pizzas and more.