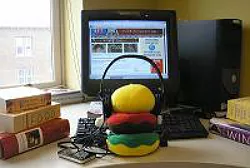 Gut Check dishes on our favorite St. Louis food blogs.
Cupcake Project: Stef launched a lovely new redesign of her blog, as well as a recipe for "Income Tax" cupcakes.
The Sweets Life: Natalie made sour-cream pancakes.
Eat Write: Judith shared chocolate-nut meringue cookies.
Family Style Food: Karen made Italian jam tart.
Iron Stef: Stef shared coconut risotto with lemongrass ginger chicken balls.
Eat. See. Home.: Amanda shared her trip to the Maplewood Coffee Crawl.
A Periodic Table: Shannon made peeled pear and winter greens salad with dill vinaigrette.
Rhubarb and Honey: Kimberly made spicy chili mac.
A Veggie Venture: Alanna shared how to cook eggs in a coffee cup in the microwave.
One Hot Stove: Nupur made okra sambar.