The Gut Check One Hundred is our accounting of the 100 dishes in St. Louis that you must eat right now. These are the best dishes at the newest restaurants and the newest dishes at the best restaurants. These are the 100 dishes that define St. Louis dining in 2013. Our list culminates this fall when the Riverfront Times Best of St. Louis 2013 names the "Best Dish" of the year.
The "Pork-n-Beans" at A Good Man Is Hard to Find | Ian Froeb
A Good Man Is Hard to Find, the second limited-time restaurant concept that chef John Perkins has hosted at Entre (360 North Boyle Avenue; 314-632-6754), ends on Saturday, May 4. That's Derby Day -- and if you have yet to try Good Man's Southern-comfort food, you, too, are in a race to the finish. There are only three weeks till it closes, and it's open only four nights a week, Wednesday through Saturday.
See Also: - Entre's John Perkins on Pop-Up Restaurant #2, A Good Man Is Hard to Find
At a dinner this past weekend with friends -- Perkins knows me dating back to when he helped my wife, Brooke Foster, on a feature project for the RFT, so I wasn't anonymous -- I was able to try several dishes from the menu. The best among equals was the "Pork-n-Beans."
The pork is a hunk of belly from a Berkshire pig (sourced through the local company Mac's Local Buys). Perkins brines the belly and then sous vides it with duck and pork fat, garlic, thyme, bay leaves and star anise for twelve hours. Order the "Pork-n-Beans," and the kitchen drops a belly in the fryer.
The result is a piece of pork belly that features both the fork-tender lusciousness of sous-vide meat and the crispness of bacon or chicharrones. The flavor is far more complex than a simple piece of fried pork -- I definitely tasted the star anise -- yet still, ultimately, porcine.
More pork flavors the Sea Island red beans served alongside the belly. These, Perkins reveals, the kitchen cooks with ham hocks. The greens, visible in my photograph beneath a fried egg, the kitchen braises with Coca-Cola. For a grace note, maple syrup and fennel pollen dot the dish.
And the egg? Well, the fried egg adds $3 to the dish's base $20 cost, but it's a farm-fresh egg from a small Mennonite farm in Illinois, and it increases the richness of the dish to the point where it's not simply comfort food, but Comfort Food.
Or, as Perkins himself tells me via e-mail, "The egg is optional, but optimal."
Is there a dish that you think belongs among the Gut Check One Hundred 2013? Let us know!
The Gut Check One Hundred 2013 (So Far)
Corn fritters garnish the seafood gumbo at the Kitchen Sink | Jennifer Silverberg
- The Kitchen Sink's Corn Fritters - Chop Shop's "El Camino" Roll - Quincy Street Bistro's BLT - Home Wine Kitchen's Fried Chicken - Riverbend Restaurant & Bar's Red Beans and Rice - Fork & Stix's Sai Oua with Naam Prik Nuum - Gobble Stop Smokehouse's Turkey Tips
The burrito (with spicy pork) at Seoul Taco | Ian Froeb
- Seoul Taco's Burrito - Five Star Burger's Green Chile Cheeseburger - Olio's Octopus Salad - Dressel's Porchetta "Louie" - Cleveland- Heath's Seared Beef Tongue - Cleveland-Heath's Cauliflower Soup - Pastaria's Italian Ramen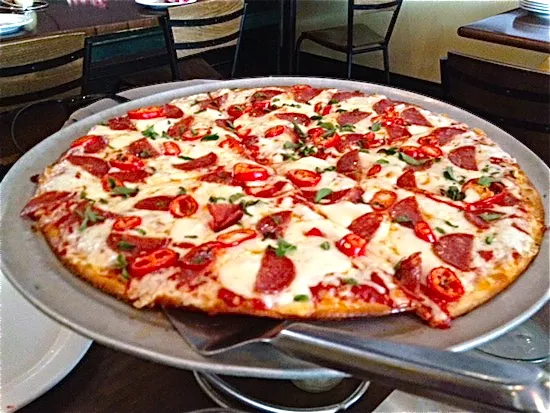 The "Grove" pizza at Pi Pizzeria | Ian Froeb
- Pi Pizzeria's "Grove" Pizza - Famous Szechuan Pavilion's Spicy Wonton Soup (Novice) or Yu Shan Pork (Advanced) - La Tejana Taqueria's Goat Soup - Hendricks BBQ's Ribs - Sauce on the Side's "Costanza" Calzone - Siete Luminarias' Guanajuato-Style Carnitas - Fork & Stix's Khao Soi