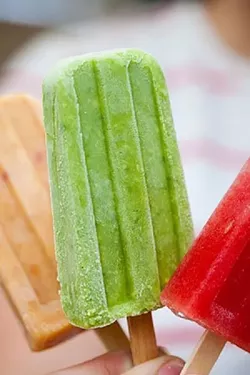 Pop Party @ Whisk - Saturday, Apr. 13
Friday (Apr. 12):
Tagine: Vessel and Dish @ Kitchen Conservatory In this hands-on class, learn all about the tagine, a vessel and dish, while preparing honey potato orange salad, mussel and clam tagine with Isaraeli couscous, spicy potato tagine with olives, beef short rib tagine with raisins and pine nuts and date ice cream with honey cookies. $60 per person. Register online via the Kitchen Conservatory website. 6:30 to 9 p.m.
Murder in Maybury @ Lemp Mansion Restaurant & Inn Watch a comedy-mystery dinner over a multi-course meal that includes soup, salad, chicken entree with vegetable sides, dessert, coffee and tea. Each seat costs $48.95. Call 314-663-8024 for reservations. Every Friday and Saturday night through April 27th at 7 p.m.
Saturday (Apr. 13):
Czech Festival @ American Czech Educational Center This Central European fest features live entertainment, cooking demonstrations and plenty of Czech food to consume including pastries and pivo (beer!). Admission is free. Doors open at 11 a.m.
Pop Party @ Whisk: A Sustainable Bakeshop Whisk celebrates the arrival of springtime and the start of the farmers market season with a pop-up pop shop. Ten flavors inspired by local and seasonal fruits and veggies will be available to choose from. 4 to 6 p.m.
10th STL Food Swap @ Local Harvest Grocery "Marie Rogers started STL Food Swap about three years ago, and she has held four swaps annually ever since. This Saturday is the tenth swap... Rogers encourages anyone interested in swapping his or her own homemade jam, lotion, baked goods or other products to join the fun from 5 to 7 p.m."
Jock Affair and Chili Cookoff @ Bad Dog Bar & Grill "Midwest Leather Weekend (coming up in October) is hosting the second annual Jock Affair and Chili Cookoff... It will feature all-you-can-eat appetizers, a cash bar with drink specials, entertainment and...demos. We're not sure what will be demonstrated, but we're guessing it involves leather. And maybe some balls." $20 at the door; $10 if you're entering the chili contest. 7 p.m.
Nursery Crimes @ Bissell Mansion Restaurant and Dinner Theatre Catch dinner and a show with a spooky murder mystery based on nursery rhymes. The dinner menu includes appetizers of crab rangoon and toasted ravioli as well as entree options such as an 8-ounce New York strip and chicken parmesan, all washed down with two glasses of white wine, coffee or iced tea. $52.95 per person. Call 314-533-9830 for reservations. Fridays and Saturdays at 7 p.m. and Sunday at 2 p.m. through April 2013.
Sunday (Apr. 14):
Trailnet Spring Chicken Bicycle Ride @ American Legion; St. Libory, Ill. Ride through the Kaskaskia River bottoms and buy some post-ride chicken and beer at the American Legion. The ride costs $15 for adults and $3 for children. More info on the Trailnet website. 7:30 to 9 a.m.
Cafe Flora brunch @ Missouri Botanical Garden Enjoy a la carte brunch items at the Spink Pavillion, with a view of the reflecting pools. Call 314-577-0200 for reservations. 10 a.m. to 2 p.m.
Beer & BBQ @ Randall's Enjoy access to more than thirty brews along with three entrees and two sides from Pappy's Smokehouse. $25 for all of the above or $10 for beer only. Call 636-527-1002 for more information. 6 to 8 p.m.