The Gut Check One Hundred is our accounting of the 100 dishes in St. Louis that you must eat right now. These are the best dishes at the newest restaurants and the newest dishes at the best restaurants. These are the 100 dishes that define St. Louis dining in 2013. Our list culminates this fall when the Riverfront Times Best of St. Louis 2013 names the "Best Dish" of the year.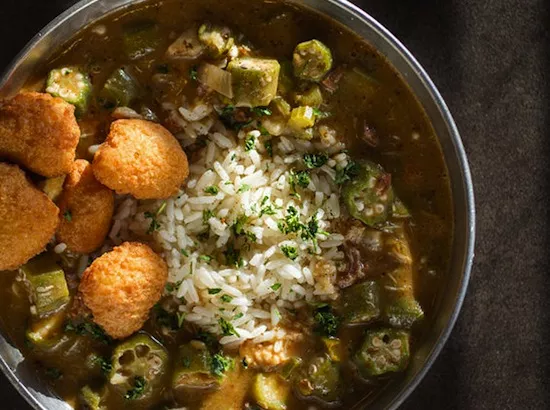 Corn fritters garnish the seafood gumbo at the Kitchen Sink | Jennifer Silverberg
The Kitchen Sink (280 DeBaliviere Boulevard; 314-261-4455) is a neighborhood diner -- and it isn't. It fills the traditional role of the neighborhood diner for the DeBaliviere Place and Skinker-DeBaliviere neighborhoods, but it eschews the generic diner approach for the Cajun-influenced creations of chef and owner Anthony Ellerson Jr.
If nothing else, you should visit it for the corn fritters.
See Also: - Ian Froeb's RFT Review of the Kitchen Sink (2013) - Jennifer Silverberg's RFT Slideshow of the Kitchen Sink
These, a side dish (a dozen for $2.50), look uncannily like Chicken McNuggets but are actually gobs of corn kernels, battered and deep fried. A bottle of Sriracha sits on each table at the Kitchen, and the pairing of the fritters with the chile sauce is a perfect partnership of hot and sweet.
If you want something more substantial than just corn fritters at the Kitchen Sink, know that they garnish several of Ellerson's Cajun dishes, like the seafood gumbo pictured above.
Personally, I'm partial to the jambalaya with andouille, tasso ham and chicken. It manages to balance the flavors of the meat with the aggressive profile of blackening seasoning and the holy trinity of bell pepper, onion and celery. The corn fritters add their crunch and sweetness -- but only if, unlike yours truly, you can resist the temptation to pluck them out and eat them before digging into the jambalaya proper.
Is there a dish that you think belongs among the Gut Check One Hundred 2013? Let us know!
The Gut Check One Hundred 2013 (So Far)
A Chop Shop roll nearly identical to the "El Camino" | Jennifer Silverberg
- Chop Shop's "El Camino" Roll - Quincy Street Bistro's BLT - Home Wine Kitchen's Fried Chicken - Riverbend Restaurant & Bar's Red Beans and Rice - Fork & Stix's Sai Oua with Naam Prik Nuum - Gobble Stop Smokehouse's Turkey Tips - Seoul Taco's Burrito - Five Star Burger's Green Chile Cheeseburger - Olio's Octopus Salad - Dressel's Porchetta "Louie"
The seared beef tongue at Cleveland-Heath | Ian Froeb
- Cleveland- Heath's Seared Beef Tongue - Cleveland-Heath's Cauliflower Soup - Pastaria's Italian Ramen - Pi Pizzeria's "Grove" Pizza - Famous Szechuan Pavilion's Spicy Wonton Soup (Novice) or Yu Shan Pork (Advanced) - La Tejana Taqueria's Goat Soup - Hendricks BBQ's Ribs - Sauce on the Side's "Costanza" Calzone - Siete Luminarias' Guanajuato-Style Carnitas - Fork & Stix's Khao Soi