Welcome to Girl Walks Into a Bar, a weekly Gut Check feature that spotlights local bars and bartenders. This week, Kaitlin Steinberg profiles Tim Rabior of Salt. Below is a Q&A with Rabior, followed by the recipe for a "Green Goddess."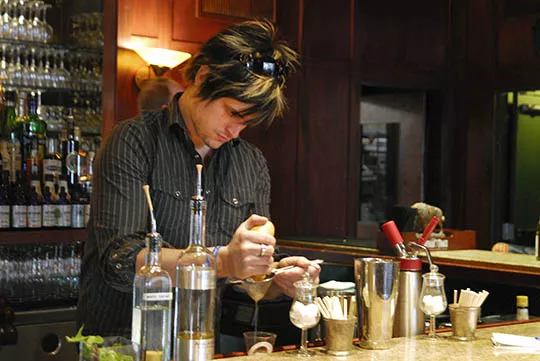 Tim Rabior has blond highlights and sunglasses that never leave the top of his head, but don't let this casual exterior fool you. This guy is serious about cocktails.
The bar manager at Salt (4356 Lindell Boulevard; 314-932-5787) started his bartending career at a high-volume "turn-and-burn" bar, but once he learned about mixology, there was no turning back.
"At one time, the extent of my craft was a shaken vodka martini," Rabior says. "There was a bit of flair, but as far as crafting drinks for a certain flavor profile, that just didn't exist. I heard some of my friends talking about mixology, but I didn't even know St. Louis was doing anything like mixology."
When he became interested in crafting cocktails, Rabior decided to apply for a job at Sanctuaria, which focused more on mixology than the bar where he previously worked. He arrived there for his interview with Matt Seiter and decided to kill time waiting by reading a local magazine, which happened to feature an article about spirits and liqueurs.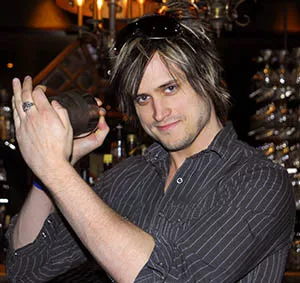 "There were a couple of articles about orange liqueurs and the difference between rye and bourbon. Then I had my interview with Matt, and sure enough, one of the questions was 'What's the difference between Campari and Aperol?' And I was like, 'Yes! I just read this ten minutes ago!'"
Rabior got the job, and he credits Seiter with teaching him everything he knows about mixology. After spending two years with Sanctuaria, Rabior took over as bartender at Salt. He's been there about a month, and he's already had a big impact on the bar. He's trying new techniques, inventing new cocktails and getting everyone around to drink just a little more heavily.
Describe your bartending style in three words. Flair (I'm not flipping bottles or anything though), technical and perfectionism.
A girl walks into a bar and orders _______. She has just earned your undying admiration. If you come in and order a scotch neat, I'm probably going to be in love with you.
Where do you go to drink other than your own place, and what do you get? I don't go out for cocktails very often. If I do, I love Taste. I love going back to Sanctuaria. Typically I get an Absinthe southside or a cognac Sazerac. Those are my go-to drinks.
What is one thing that most people don't realize about crafting cocktails or bartending? I think the number-one thing that I learned when bartending in general is that you're cleaning 90 percent of the time. It looks fun, everyone's having a good time, and you're kind of like the host of the party, but in reality, whenever you step behind the bar, realize that you're wiping stuff off 90 percent of the time.
Who would you most like to have a drink with and why? It would probably be Archer. I just think we'd end up having a fairly good time. Lately I've been getting into that series a lot. He seems to have a thing for bloody marys, so I'd probably get one too.
What is the most bizarre or worst drink someone has ordered from you? I've had people ask me, "What's the craziest drink you can make?" So I came up with this awful deconstructed Negroni flip. Basically you layer the Italian vermouth and the Campari, and then you lay an egg yolk on top of that, and then you layer the gin on top of the egg yolk. Then you shake the egg white and some orange bitters and shake it until it's literally a merengue. Scoop that out and layer it on top of the gin. It's one of those drinks that you look at and it's just...no. I've had one, and the texture kind of gets to you.
What's the coolest or weirdest thing that's happened while working at Salt? There are just ridiculously high levels of drinking. We had a guy come in and he bought everybody at the bar a shot of 144-proof bourbon. It's just something you don't mess with. Pretty much the whole place went downhill after that.
What do you think is the next big bartending trend? I honestly think it's going to go backwards. I think there's a level of pretentiousness that starts invading the industry when you're focused on craft cocktails and nothing else. It's great to have a knowledge of where you stand with your peers, but whenever you start using that knowledge to feel superior, it definitely does a disservice to the community. I think it's going to go back to the notion that it's still a bar.
What's your favorite ingredient to use in cocktails? I would have to say vermouth. It's got a subtle sweetness, it's got floral, it's got citrus and it's kind of low alcohol. You can use it with strong flavors like absinthe.
What's your favorite drink? Instantly, I think scotch. Over the past year, I've become an avid scotch drinker, and it would be the peatiest thing I could get my hands on.
Green Goddess
This drink is Rabior's own invention, and because he doesn't shy away from technical bartending, you'll need an iSi Cream Whipper to make this. You know, one of those metal containers that pumps out whipped cream. This can be used to create a rapid infusion. In this case, Rabior is infusing arugula with aquavit.
You'll also need:
5-6 leaves of arugula 1 oz grapefruit juice 2 oz North Shore aquavit 1/2 oz Marie Brizzard white cacao
Put all of the arugula except one leaf into the cream whipper with the grapefruit juice, aquavit and white cacao. Place one charge in the whipper and shake vigorously. Release the pressure and strain into a shaker. Add ice and shake. Strain into a martini glass and garnish with an arugula leaf. Drink, and feel good about yourself 'cause you're kind of eating a salad.