Mabel Suen
A Supreme-style slice of pizza with the works.
It's pizza. What more do ya need? How's about a freshly baked New York-style pie with crisp yet delicate crust, buckling under the weight of premium toppings and oozing with hot cheese? We realize we're angering the grammar gods in saying this, but don't nobody not like pizza. For those who want even more substantial bites, recently opened Empire Deli & Pizza (1131 Washington Avenue; 314-553-9999) offers a deli that has plenty of options to appease lunch-time to late-night appetites.
"We're trying to create an East Coast dining atmosphere. It's kind of fast paced, with authentic sandwiches and pizza -- the large street slice," says co-owner Michael Rook, whose brother Dave, formerly of Copia Restaurant & Wine Garden, heads up the kitchen. The Rooks come from a bonafide food family headed up by their father Lou Rook, Jr. (their brother Lou Rook, III is head chef of Annie Gunn's).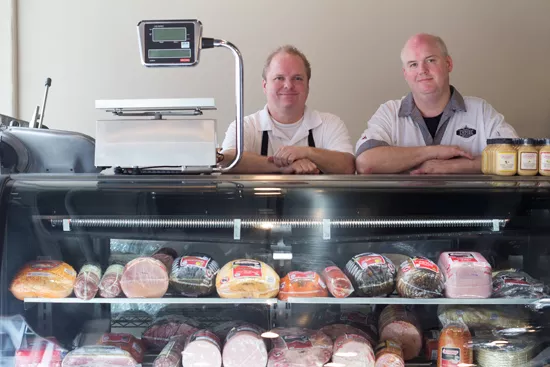 Mabel Suen
Brothers Michael and Dave Rook.
Empire D&P brings a bit of New York to Washington Avenue. Upon entry, patrons can approach a window filled with prebaked pieces of 'za ($2.50-$3.50 a slice) to choose from. Alternatively, the menu's options include whole pies made to order ($13 for a fourteen-inch and $16 for an eighteen-inch), hot dogs, salads, soups, sides and specialty sandwiches like the King Louie hoagie ($9) with mortadella, roast beef, hot capicola, pepperoni, hot ham, Italian aioli, lettuce and tomato.
Mabel Suen
A selection of Thurmann's meats and cheeses.
For $8, build your own sandwich from the deli's selection of Thurmann's (based out of New Jersey) premium sliced meats and cheeses. According to Michael Rook, the products are very lean and gluten-, preservative- and filler free. Among them are some more interesting options like braunschweiger, old fashioned bologna, headcheese and horseradish cheddar. A condiment bar awaits on the side to top it all off, and a few dozen seats are available in the simple, silver-toned dining area.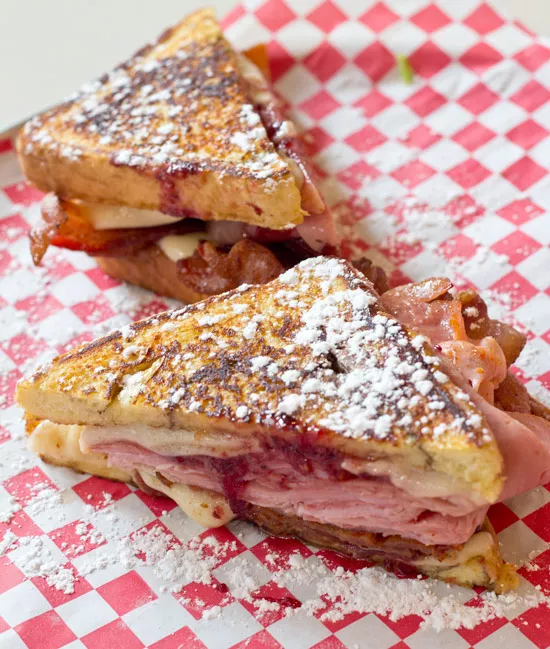 Mabel Suen
The Monte Cristo ($8) made with grilled French toast, raspberry jam, spicy mustard, hot Black Forest ham and bacon.
Empire Deli & Pizza's current hours are 11 a.m. to 11 p.m. Monday through Thursday and 11 a.m. to 3:30 a.m. on Friday and Saturday. Hours are subject to change whenever the Rooks' second concept, King Louie's, opens next door. Look for Empire's finalized menu when its website launches sometime in the next week at kinglouiesstl.com.
Click through for additional photos.
A close up of that crazy Monte Cristo.
A Philly cheesesteak with housemade chips.