St. Louis' neighborhoods are gems in their own right: full of history, great people and, as far as Gut Check is concerned, fantastic food. Each week we'll take you into a specific neighborhood and point you in the direction of the best places to grab some bites.
Once upon a time, Webster Groves' Old Orchard district was famed for its vintage clothing shops. That was back when men were men, middle school was junior high and kids wore army jackets they bought at vintage clothing shops (which were called "used clothing stores"). In more modern times, Old Orchard -- that stretch of Big Bend Boulevard between Laclede Station Road and the fork at Lockwood Avenue -- is somewhat more cosmopolitan in its offerings. Which is to say there's a Starbucks. (Kidding!) There's a wide range of eating options, many of which keep nearby Webster University students and faculty caffeinated and calorified.
See also: - Old Webster: An Updated Guide to Restaurants in Webster Groves' Old Webster Neighborhood
Scott Layne

Hwy 61 Roadhouse and Kitchen (34 South Old Orchard Avenue, Webster Groves; 314-968-0061) Highway 61, the road, winds from Minnesota to Louisiana. Hwy 61, the restaurant, draws inspiration from St. Louis and points farther south along the Blues Highway, and it's evident in the festive décor and dishes such as Memphis favorite "BBQ Spaghetti" and New Orleans-style po'boys. Sunday brunches go beyond the standard pancakes and omelets with eats such as beignets and cheddar grits, to say nothing of its top-shelf bloody mary bar. An episode of Diners, Drive-ins and Dives was filmed here, exposing Hwy 61 to a national audience and confirming what locals already know: While Soulard might be St. Louis' historical home of Cajun cooking and the blues, Hwy 61 admirably pushes that boundary westward.

See also: - Hwy 61 Roadhouse Owner Talks Diners, Drive-ins and Dives Episode, Meeting Guy Fieri - 2007 Best of St. Louis: Best Comfort Food

Weber's Front Row (8169 Big Bend Boulevard, Webster Groves; 314-961-4500) Weber's is a sports bar, and in that ever-more-crowded realm, it manages to stand out by being as homey and unpretentious as they come. It's not a giant-screen, knock-your-socks-off theme park. It's a bar. The kind of joint where the servers greet you like they're your neighbors, where everything on the bar-food-centric menu is prepared and served with care but without fuss, and where the beer is always ice cold. St. Louis is blessed with a heaping helping of bars like these, and we're very thankful for that fact. We're especially thankful for Weber's.

See also: - St. Louis' Ten Best Sports Bars - Best of St. Louis 2012: "Best Neighborhood Bar (Mid-County)"

Dvin (8143 Big Bend Boulevard, Webster Groves; 314-968-4000) You'd be forgiven for overlooking Dvin: The storefront is tucked off of Big Bend Boulevard, and it's easy to miss. If you do manage to find it, the posted hours, it seems, are merely suggestions. (Place a phone call and double check first.) But this Russian/Greek/Armenian place, run by mother-and-daughter team Lidiya Skiloti and Natalya Bryantseva, is a quirky jewel worth uncovering. Eastern European dishes including borscht, gyros and blintzes are as genuine as what you'd find a half a world away because everything here is cooked from scratch. Ukrainian dishes, such as vareniky (dumplings), are worth a go, and specials change daily.

See also: - RFT Review: Dvin
Cyrano's (603 East Lockwood Avenue, Webster Groves; 314-963-3232) Long, long ago, when Gut Check was just a pup, Cyrano's was drawing the young and romance-minded to Clayton -- first to a basement space on DeMun, later to more spacious digs on Big Bend. You went to Cyrano's for old-school decadent desserts: Cherries Jubilee. Bananas Foster. Frickin' Baked Alaska. And for the candlelight (if you know what we mean). The St. Louis institution closed in 1996 but was reborn less than a decade later, a few miles south in an old De Soto dealership in Webster Groves' Old Orchard shopping district. The current digs are prettier than the previous ones', the dinner menu has been utzed up to tempt diners to come for a full meal, but the old favorites -- and the young romance -- remain. One bite of a World's Fair Eclair and we're seventeen again.
See also: - The Ten Best Dessert Spots in St. Louis - Best of St. Louis 2010: "Best Desserts"
Cravings Gourmet Desserts (8149 Big Bend Boulevard, Webster Groves; 314-961-3534) Tim Brennan's Irish roots lend a European lilt to Cravings' menu, while exemplifying familiar American favorites. His heritage shines through in his family's recipe for cinnamon-pecan stollen, while Cravings' deep-dish (!) apple pie is as American as, well, you know. Brownies, bars, cheesecakes, tarts: The desserts are two-time James Beard Award winners, and the fact that Cravings also has an upscale lunch and dinner menu (think homemade seasonal soups, veal scaloppini and the like) is the cherry on top.
See also: - The Ten Best Dessert Spots in St. Louis
Stratton's Cafe (8103 Big Bend Boulevard, Webster Groves; 314-961-2900) With its focus ever fixed on the fresh and the fun, Stratton's lengthy breakfast and lunch menus are rays of sunshine. Standards, such as wraps and scrambles, are elevated a few notches here: Chipotle aioli brightens the huevos con salsa wrap, and locals will delight in the cheesesteak melt (made with Provel, of cousrse!) on lightly grilled Pugliese bread. Vegetarians and health-conscious diners will also find much to choose from here: Salads and smoothies are served in abundance, and gelato is a fine finish to any meal. Pints and quarts of the stuff are available to go, and Stratton's Cafe offers an extensive catering menu as well.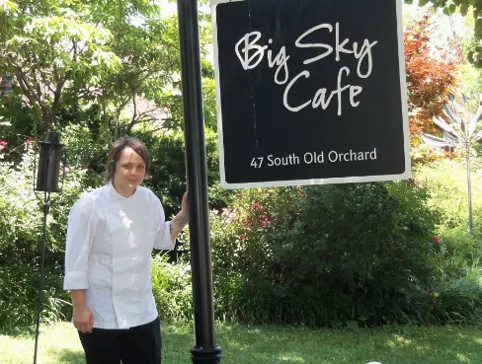 Chef Colleen Clawson of Big Sky Cafe. | Chrissy Wilmes
Big Sky Cafe (47 South Old Orchard Avenue, Webster Groves; 314-962-5757) Big Sky Cafe, sister restaurant to Clayton's beloved Remy's Kitchen & Wine Bar, committed to green practices before it was cool to do so, all the way back in 1992. But even today, it remains aligned with growers in Missouri and Illinois who share their bounty of fresh meat and cheeses and produce, all while maintaining an herb garden of its own: Sage elevates its mac & cheese into a can't-miss dish. Staff favorites include the veal parmesan and its rainbow trout, served with goat cheese and over a bed of spinach. Its monthly Sunday brunches, made even better with the addition of live music, are worth planning around, particularly when its lush outdoor seating is exploding in green. Its website pinpoints the dates months in advance; reserve your spot now.
See also: - RFT's Chef's Choice with Colleen Clawson of Big Sky Cafe
More Gut Check Neighborhood Restaurant Guides: - Old Webster: An Updated Guide to Restaurants in Webster Groves' Old Webster Neighborhood - South Grand: An Updated Guide to Restaurants on South Grand Boulevard in St. Louis - Benton Park: An Updated Guide to Restaurants in the Benton Park Neighborhood of St. Louis - The Hill: An Updated Guide to Restaurants in St. Louis' Iconic Italian Neighborhood - Olive Boulevard Asian Eateries & Much More: An Updated Guide to Restaurants Along Olive, Westward From University City - New Favorites, Old Friends: An Updated Guide to Restaurants in Lindenwood Park