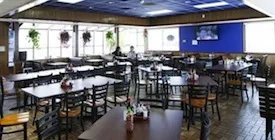 The interior of St. Louis Pho | Jennifer Silverberg
So here is a classic bad news-good news scenario.
First, the bad: We told you last week that St. Louis Pho (3863 South Grand Boulevard; 314-664-4041) had closed temporarily and would reopen under new management. Today, I can confirm that the restaurant will not reopen as St. Louis Pho.
This is a shame, as I enjoyed my visits to that restaurant quite a bit. I included its namesake dish among my top ten dishes of 2012, and the RFT honored it as last year's "Best Vietnamese Restaurant."
Now, the good news.
See Also: - South Grand Tidbits: St. Louis Pho Temporarily Closed, Hong An Coming Soon - New Ownership for Phuc Loi in South St. Louis - Top Ten Dishes 2012 #7: Pho at St. Louis Pho
Gut Check is always hungry for more restaurant news. Feed us your tips.
The reason I know that St. Louis Pho has closed for good is that this morning I received an email informing me that the new Vietnamese restaurant opening in its stead is named Kim Ngan. While that name might not ring a bell, the sender of the email introduced herself as Trang Nguyen, the daughter of the original owner of Phuc Loi (3723 Gravois Avenue; 314-772-7742), the tiny Vietnamese restaurant in a strip mall just off the intersection of Gravois and South Grand.
I loved Phuc Loi under its original ownership -- the banh mi with a fried egg was incredible. However, the restaurant changed owners last year. (I have yet to dine there under the new owners.)
The email from Nguyen says Kim Ngan's menu will be familiar to Phuc Loi fans, though that restaurant's steam table of daily specials will not be making a return. Instead, she writes, "We are planning on having a very big menu with weekly specials that are not available in other Vietnamese restaurants. These specials will most likely happen within the second month of our Grand Opening."
That grand opening is slated for next Monday, April 15.