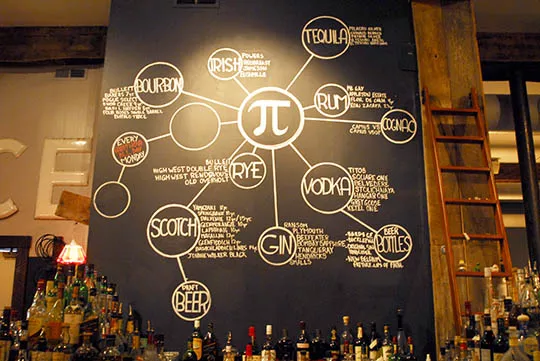 There are a grand total of four Pi Pizzerias in St. Louis, so you really have no excuse not to hit up one of them for a Pi Squared this evening. We sauntered over to the Central West End iteration where we met bartender Luke Carroll, who introduced us to Pi's most popular cocktail.
"I've heard a lot of people claim to invent it," Carroll says. Its true origin remains shrouded in mystery.
The Pi Squared is the type of cocktail you want to enjoy while sitting on a patio on a warm afternoon, but maybe not with pizza. It's a blend of fresh basil, agave nectar, fresh squeezed lime juice and Square One organic vodka, so it's a bit citrusy to stand up to pizza. Think a tasty margarita, only with vodka. This drink really calls for Mexican food.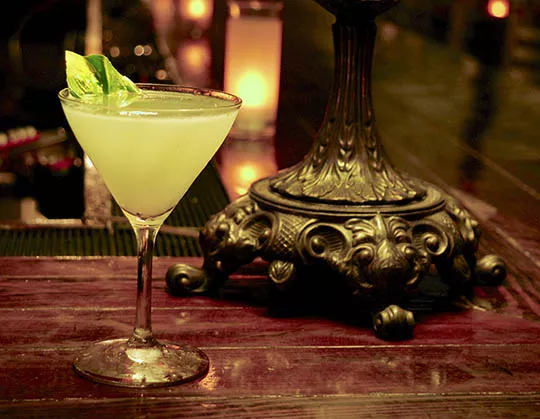 Pairing preferences aside, the Pi Squared is served at all four Pi Pizzeria locations. It's also the only cocktail on the happy-hour menu, so from 3 to 6:30 p.m. (at the CWE joint) you can get this refreshing beverage for $5.95.
Pi's hous-made sangria is also available at a special happy-hour price, and Carroll hopes that the "bartender's choice" cocktail will also be a happy-hour special soon. The bartender's choice is a surprise cocktail whipped up based on a brief discussion of a customer's likes and dislikes.
But back to the star of this show: the Pi Squared. After imbibing the entire drink rather quickly (that fresh lime juice is killer), we realized it was a stronger drink than we'd first imagined, based on its sweet, tangy taste. We also decided to eat the basil leaf garnish, but we asked Carroll about that move first.
"I don't have a problem with people eating garnishes," he says. "I'd say it's about 50/50 people eating the garnish versus not eating it. As long as you don't make a mess with it, I think it's fine."
We still felt a little gauche, but, um, sorry. We ate the garnish anyway. And that basil leaf, drenched in lime juice and vodka, was mighty tasty.
Editor's note: Wednesday. Hump Day. Congrats, you've made it halfway through the work week! Unfortunately, you still have two days to go.
Dunno about you, but in order to survive the midweek blues, we're going to need a drink. Which brings us to our Wednesday Gut Check feature: "Gut Check's Hump-Day Cocktail Suggestion."
Each week we take you to one of our favorite St. Louis bars (and, oh, the list is long) for a drink (or two) we -- in consultation with the bartender -- highly recommend.