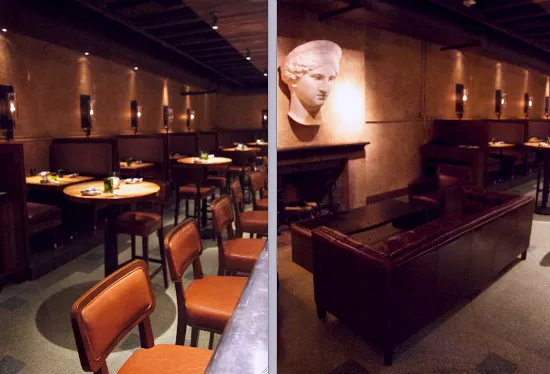 The interior of Basso | Liz Miller
Basso (7036 Clayton Avenue; 314-932-7818) should not be an afterthought. Yes, it is in the basement of its glitzier older (by a matter of weeks) sibling, the Restaurant at the Cheshire. But what a basement it is! The cavernous space features both throwback elements (a fireplace, gas lamps and a wood-burning oven) and a strikingly modern bar.
More vitally, it features the talents of Patrick Connolly in the kitchen.
See Also: - At Basso, Nationally Acclaimed Chef Patrick Connolly Pays Homage to St. Louis' Divisive Provel Cheese - Ian Froeb's RFT Review of the Restaurant at the Cheshire (2013)
A St. Louis native, Connolly returned home last year after finding success as a chef in Boston and New York. Among his many plaudits, the James Beard Foundation honored him as its "Best Chef: Northeast" for his work at Boston's Radius.
At Basso, Connolly oversees a concept described as "Italian gastropub." Sounds iffy, I know, but in practice it translates to mostly rustic pastas and wood-fired pizzas. Read my review of Basso, online this evening and on Gut Check tomorrow morning, for my view on these various dishes.
Spoiler alert: Individual dishes aside, I left Basso wondering whether I'd truly experienced the breadth of Connolly's talents. Rustic pastas and wood-fried pizzas can be great, but St. Louis has numerous standout examples of both. As at the Restaurant at the Cheshire, the overarching concept feels overly market-tested and utterly safe. Connolly is like a splurge-purchased sports car never taken out of the garage.
Or, to use one of our favorite newsroom metaphors, the Cheshire has buried (kinda literally) the lede.
Lodging Hospitality & Management has spent millions of dollars to turn the Cheshire into a dining destination, so I understand why they would err on the side of caution. Yet the elements for something more are all there: the twin gorgeous spaces of the Restaurant and Basso; an award-winning young chef; a restaurant scene that is especially fecund at the moment, open to new ideas and pushing the status quo.
If only someone would connect the dots.