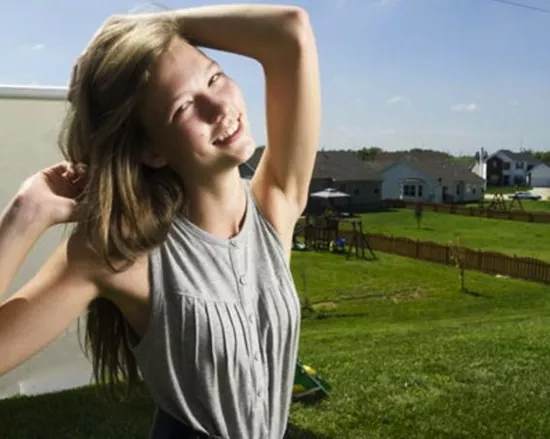 When Gut Check last checked in with St. Louis native turned international supermodel Karlie Kloss, she was collaborating with star pastry chef Christina Tosi of New York City's Momofuku Milk Bar on a line of "wholesome" cookies and an intentionally cheesy video to promote said cookies.
But Kloss' diet isn't always about gluten-free this and dairy-free that.
Sometimes, she reveals to Food & Wine this month, she's downright daring.
See Also: - St. Louis Supermodel Karlie Kloss and Momofuku Milk Bar Have Collaborated on Cookies and a 1980's-Style Exercise Video - OMG! Karlie Kloss Gets New Haircut! - "Best Local Girl Made Good" 2012: Karlie Kloss
In a sidebar to an interview with Bridesmaids director Paul Feig in the May 2013 issue, Food & Wine asks Kloss to describe her "adventurous eating." She relates a trip to Thailand where, in a Phuket market, she was "brave enough to try several deep-fried insects!"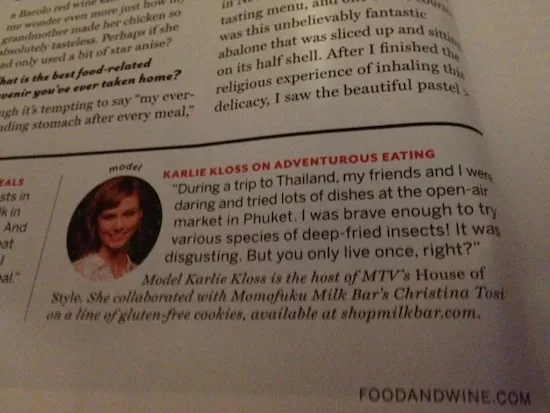 Kloss says "Phuket." | Ian Froeb
She describes the experience as disgusting and then is all, like, YOLO! (Is that how the kids would say it?)
At any rate, Gut Check is deeply worried that this experience has caused Kloss to form negative associations with Thai cuisine, which would be a shame, because it is one of the most beautiful and varied and delicious cuisines we know. (And we've never even been to Phuket!)
So, Ms. Kloss, we invite you to join us for a meal at our favorite Thai restaurant, Fork & Stix (549 Rosedale Avenue; 314-863-5572) on a day and at a time of your choosing. We guarantee that the cooking of chef Ken Wanna will make a convert of you. In fact, we're so confident of this that the meal is on us.
Feel free to bring along Sam Bradford, if that's still a thing.