This is part one of Gut Check's Chef's Choice profile of Chris DiMercurio of Vino Nadoz. Part two, a Q & A with DiMercurio, will be available Wednesday. Part three, a recipe, will be published Friday.
Chris DiMercurio of Vino Nadoz | Beth Clauss
You could easily miss Vino Nadoz (16 The Boulevard, Richmond Heights; 314-726-0400), dwarfed as it is by its showy chain-restaurant neighbors in the Boulevard shopping plaza, Maggiano's Italian Restaurant and PF Chang's. You shouldn't. The restaurant and wine bar adjacent to Cafe Nadoz (both are owned by Steven Becker Fine Dining) features thoughtfully executed seasonal cuisine of chef Chris DiMercurio -- a man full of passionate opinions about local chefs, a devotee of all things pork, a self-confessed comic-book nerd, a tattoo enthusiast and a rosy-cheeked newlywed.
DiMercurio returned to his native St. Louis a few years ago after attending the Culinary Institute of America in Hyde Park, New York. His local résumé is short, but impressive, with stints at Herbie's Vintage 72 and a couple of Gerard Craft's establishments.
"I came back to St. Louis after school and worked at Niche," he says. "I started on hot apps. I had never worked at that level of sophistication before, and having access to all the best toys was so fun. If you worked at Niche's kitchen and then moved to a regular kitchen you were pissed. You would be like, 'Hey, where is the anti griddle?' only to realize that not everyone has that stuff just lying around."
"Through working at Niche and at Taste, I got to meet some really awesome people," he continues. "[Niche chef de cuisine] Nate Hereford is a beast. He would simultaneously kick the crap out of you and teach you at the same time. He was a wealth of information and wanted everybody to know what he knew.
"After that I worked with Matt Daughaday who worked entremetier next to me -- he is like my big brother and is also so under appreciated. He is just now starting to get some recognition. And Michael Petres, who is now chef at Brasserie is a dominating force of consistent perfection."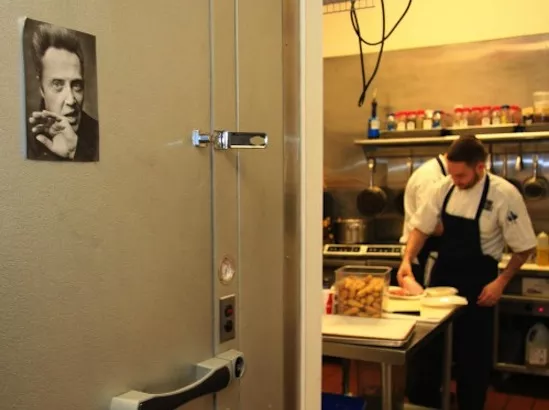 A view of DiMercurio from the kitchen's "Walken" fridge | Beth Clauss
Like many young chefs, DiMercurio was lured by the big dollar signs of a job at a large corporate hotel.
"I worked a short stint at The Sheraton which was just horrible," he explains. "I hated it. But I had to do it to know how bad it was. The money was great but I was there from five in the morning to one in the morning. When I first started there, I worked 27 days in a row without a day off. It was horrible. I started losing my hair from stress. I'm not even kidding. I was making incredible money but it wasn't worth it. So I left, and that's when Vino Nadoz was looking for someone."
DiMercurio "wasted no time" upon taking the reigns at Vino Nadoz: "The first thing I did was cut everything boxed and pre-made out of the kitchen and re-wrote the entire menu in a month. I utilized local purveyors like Andy Ayers, and we had everything on the menu pretty much coming from local farms. It was great, but it was so, so expensive. So it took a little bit of time, but we figured out a great balance."
Although some purveyors changed, DiMercurio continued to make almost every item in the kitchen from scratch. "We make pretty much everything here -- I mean, we make our own ketchup, for God's sake. I also change the entire menu once a season and then within each season I make two or three changes and there are always different specials depending on whats in season."
You might assume that with a consistently changing menu, running a full-service restaurant and cooking on the two-man line every night would be enough to keep DeMercurio busy, but he couldn't pass on a recent opportunity to cook in a competition featuring his favorite ingredient, pork: the 'Taste of Excellence' pork competition sponsored by the Missouri Pork Association.
"It was the first competition I had ever done," says DiMercurio, "and the people who were there were all very established chefs -- all American Culinary Federation country-club types with toques and neckerchiefs, and I walked in wearing a black chef jacket, skinny jeans and red Chuck Taylor's. I looked like an asshole. And I won third place with a dish called 'Aporkalypse Now.' It was pork nine different ways on one plate. A lot of old dudes were giving me a 'Fuck You' stare."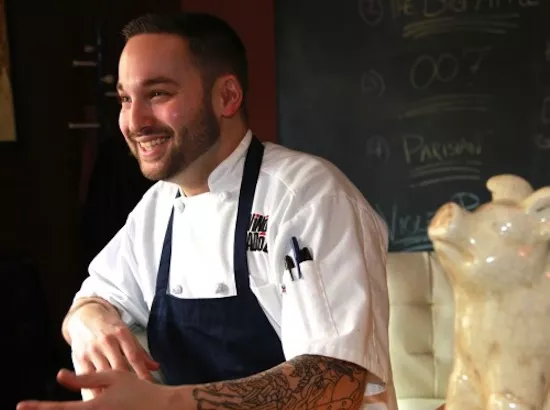 DiMercurio next to a sculpture of his favorite ingredient | Beth Clauss
DiMercurio's rebellious edge and playfulness ebbs as he talks about the challenges he faces as a chef.
"I wish people would learn to trust their chef," he says. "It kills me when people come in here and order scallops, and when I present them with a perfectly cooked, mid-rare scallop they tell me, before trying it, that it's undercooked. Or that they want the corn left off of the scallops because it's tossed with ancho chile, which is smoky, but they don't like spicy foods so they aren't even willing to taste it.
"I just want you to trust me, try it. If you don't like it, cool, I'll make you something else. I don't have salt and pepper on the table for a reason. Please don't salt your food before you taste it. Try it. Trust in the fact that your chef knows what they are doing."
DiMercurio's desire for the diner to trust him is an outgrowth of his abiding passion for the chef's life -- a passion that carried him through a time when he considered getting out of the food business completely.
"My wife changed my mind," he explains. "She basically asked me what do you love doing so much that you would do it for free? I said cooking. I love cooking. I love making people happy when they eat the food I made for them. And she was like, well why would you ever give that up?
"She re-scheduled her life for me so I could work at places like Niche where I was gone for fourteen hours a day, and [she] put going to nursing school on hold so I could figure out what i was doing. She worked more while I was earning less. Now it's my turn."
This is part one of Gut Check's Chef's Choice profile of Chris DiMercurio of Vino Nadoz. Part two, a Q & A with DiMercurio, will be available Wednesday. Part three, a recipe, will be published Friday.